David's Blog 2010 - 2011
2009/2010 Seasons Blog Chiba-Chan's Blog
8 May 2011
Well that looks like the end of the seasom on the lower Mataura, overnight rain has put the river out and with only a couple of weeks to go I don't think it will come right. The last week though has been absolutely superb and we got those spinner falls that I was hoping for, I hope you will be able to see the mayflies in the two shots I took of them. The whole river was covered like this on Tuesday and Wednesday afternoons, actually it wasn't the good fishing that you would think it would be as my fly was just one of millions of naturals carpeting the water.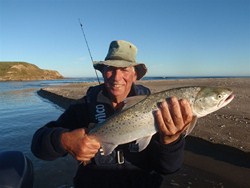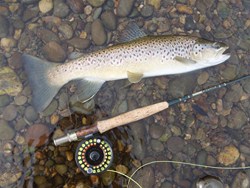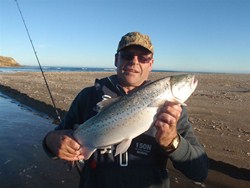 I took Thursday off and went to the lower Mataura with Tony Dawson targeting sea-run trout, I am no boatie but I loved it. We used very light spinning gear but next time I am going to try my fly rod as it was easy to see the sea-runs swirling near the surface well within casting distance of the boat.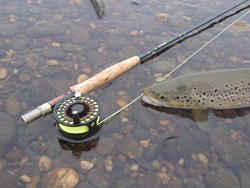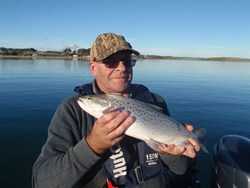 The season has been a bit of a mixed bag, it was great up until Xmas and then was continualy affected by rain in the back country and the later seaon hatches were not so good, although the last couple of weeks have been as good as it gets so with the river the way it is I think I will hang up my rod and see what next season brings.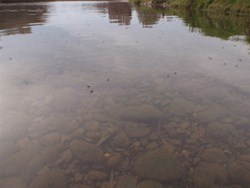 Tight lines
David
---
3 May 2011
It has been a great week on the Mataura, lovely, calm autumn days, trout rising every afternoon and the river at a perfect level. Early in the week the hatches were starting around 1/1.30pm but from Wednesday they have been going off like clockwork at 2.30 every day. All dun hatches except a mixture of duns and spinners on Thursday which went for over two hours but most activity has been over in an hour and yesterday's dun hatch would have been lucky to last 30mins.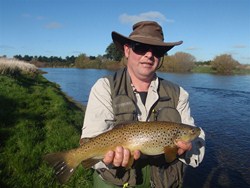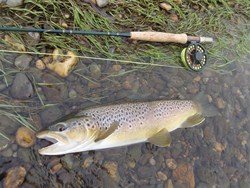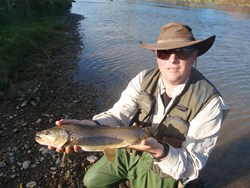 You could easily extend the fishing time by doing some nymphing in the morning and prior to the hatch. I bumped into Mike Hayes from Dunedin on Saturday and he had picked up half a dozen on nymphs and then at 2.30 he caught several on dries during the hatch and then went and caught some good fish after the hatch on nymphs.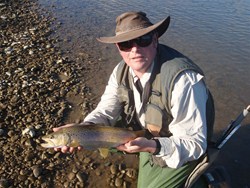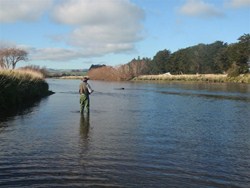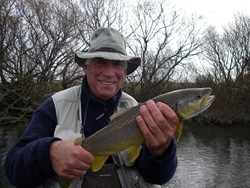 With all this calm weather I would have expected more spinner falls but there was only the one on Thursday, I don't know why this is but with calm, cloudy weather forecast for the next couple of days at least I will be looking for more spinners.
Tight lines
David
---
28 April 2011
The Mataura has been good since my last report, especially the last couple of days because they have been lovely autumn days. We have been getting to the river about 1.00pm and just waiting for the hatch which has been starting anytime from 1.00 until about 2.30 and going full on for about an hour. Although you can pick up trout before and after the main hatch they are not quite so easy as when the hatch is in full swing.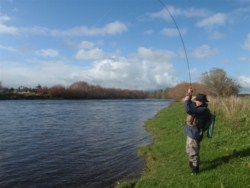 There have been huge numbers of mayflies hatching which says a lot for the health of the river as mayflies are like canaries in a mine and are the first to go so no mayflies and the river is in trouble. Although there have not been a lot of trout up considering the number of mayflies coming off, I presume those not up have other things on their mind as spawning time is upon us but those that are up have been feeding avidly and have provided good sport. I have not seen a spinner fall anywhere I have been for the last few days but with a few days of settled weather coming up there should be some good falls considering the vast numbers of mayflies that have hatched.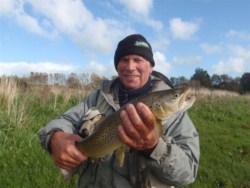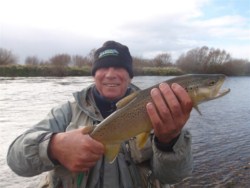 As we have only been going out in the afternoons we have not been nymphing but I saw a guide yesterday with a couple of clients and they were doing well on the nymph, although I think a couple of trout on the dry on an autumn afternoon is worth a dozen on the nymph. So a bit of nymphing before the hatch would be worth a go, it would make sense as there should be a lot of nymphs moving around prior to the hatch. I have been using my standard CDC emerger on an #18, they are just as easy to see as the #16 as the wing is almost the same size but I think the trout like the smaller body.
The weather looks really good for the next four days but remember after Saturday you are only allowed to fish up to the Gore bridge and the 7/8th of April are closed for duck shooting.
Tight lines
David
---
22 April 2011
The Mataura is again looking promising and I will be checking it out tomorrow, there is some rain forecast early Saturday morning but after that the week ahead looks great, maybe things are finally coming together. It should be about 1000mm at Wyndham by Saturday which is a good level and if there is not too much rain it should continue to drop all week.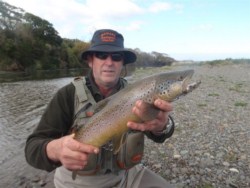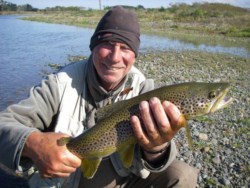 As the Mataura was up after the rain Graeme Clearwater and I took off to another river that had not been so affected by the rain. We caught quite a lot of trout, the one's in the photos were the pick of them although they were all good, strong fish and they were all caught on #16 hare's ear nymphs on a TMC 2499 hook with a 2mm tungsten beadhead. These TMC 2499's are a great nymph hook, they are strong with a wide gape and a short shank so you can tie a small nymph on a hook with a decent strong gape. The only problem I find is that they are very hard to get hold of, nobody seems to stock them.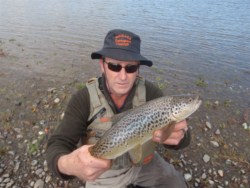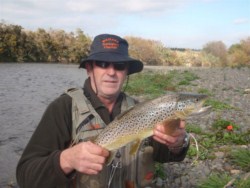 I have been playing around with these "Thingamabobbers" as indicators, they are quite good in the smallest size but they have always slipped down the leader after a bit of use. This was until a client showed me that once you have poked the leader through the hole, give it a twist and then loop it over the "Bobber", it worked like a charm and never moved all day. Although another client has just introduced me to "Lightning Strike" indicator yarn which I now think is the best I have ever used. It floats very high all day and can be easily split up to make smaller indicators, it can also be easily used again and again, I love it.
Lets hope that the weather Gods smile on us and we get some good fishing to end the season on.
Tight lines
David
---
18 April 2011
Well, the Mataura and most everything else is out again, what more can I say! The Mataura has 41 days of fishing left depending on what the weather does and there will still be rising trout in some of the slower pools even at high levels. We have found that the Mataura will fish well for the first couple of weeks in May but after that the trout are well into spawning mode and the fishing seems to go off. So there is really only about three weeks left to hope for some hatches, it does not look good, it certainly has not been a classic dry fly autumn on the Mataura.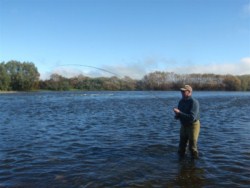 I guided Tony Dawson on Saturday, it was a nice day on the Mataura although still a bit warm and with a light east wind which was reflected in the small mayfly hatch that ocurred about 1.30/2.00pm. The nymphing was good though and Tony hit six in one ripple, even though he did not manage to hold on to all of them.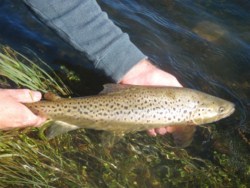 I thought Sunday held a lot of promise as there was a SW change, the temperature was 10 degrees and showers. The trout rose alright about 1.30 but the wind got really strong which made putting a fly down accurately very difficult so although fish were caught it wasn't much fun in those conditions. Also the willows have lost a lot of leaves in the last week and places that provided good shelter then are rather bleak now so from now on look for high banks for shelter.
I will be keep an eye on levels in the smaller streams and the slower, wider pools on the Mataura.
Tight Lines
David
---
13 April 2011
The Mataura is coming right and is around the 1000mm at Wyndham so I will check it out today and see what happens, although it has been very warm the last few days and if that keeps up it will inhibit the hatches. There is not much wind forecast so with this warmth and some cloud I will hoping for a spinner fall because there will have been mayflies hatching in the last couple of days even if it was only at night. It really has been a tough end of season and not one to remember.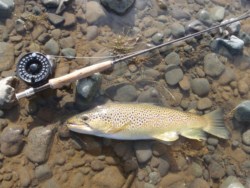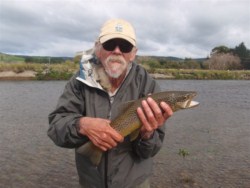 Gary Kulas came back for some more Mataura dryfly but unfortutunately the river has been out so we had to look further afield, Gary caught some nice fish but it was all nymphing.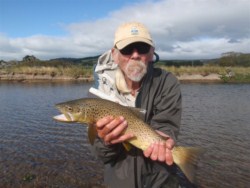 They are forecasting rain on Wednesday night and again on Sunday and Monday, we can only hope that it is not too much, again.
Tight lines
David
---
8 April 2011
Well, the Mataura is out again, I thought we might have just got away with it but there was more rain in the Waikaia catchment than we thought. It is starting to go down in Waikaia and there is a big high coming across so things may look better in a couple of days. It does not have to come down too much and there will hatches in the wider, slower pools but this looks like a pattern as the river is full and every time it rains up river it will go out again.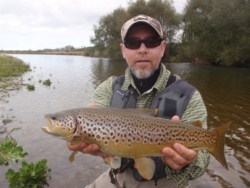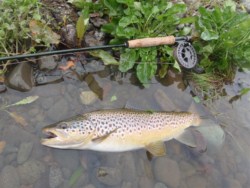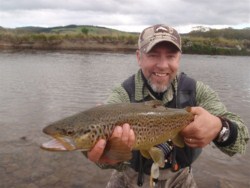 I had Mike Morawski for a day and as the Mataura was rising we tried another river, we had good nymphing and in the afternoon there was quite a good hatch, they were not chomping on mayflies as they do on the Mataura but with a little care Mike caught some nice trout. We came back to the Mataura in the early evening and there were quite a few rising in a wide, slow pool and they were not too difficult, probably because there was a bit of colour in the river by then.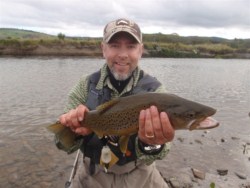 Hopefully this is the end of the rain for a while but I seem to have been saying this for weeks now and the weather has an end of season feel about it, even though there are still six weeks to go on the Mataura.
Tight lines
David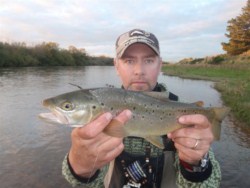 ---
4 April 2011
The Mataura is coming down although at around the 900 mark it is still high and it doesn't take much rain to put it out. The coming week looks good as far as cool temperatures go and should be good for hatches but there could be some rain as well which may affect levels.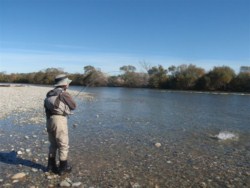 I have been guiding Jun Midorikawa for the last eight days and the last four days have been a good illustration of the type of weather the Mataura mayflies like. Jun caught some nice trout on dry flies early in the week but it was a wee bit warm most days and the mayflies never really got going. Then on Saturday a cold SW with rain and wind came through about 4.00pm, the temperature dropped 8 degrees, the mayflies poured off and the trout went mad until dark. The Sunday before was the same, 10 degrees, rain and wind, warm, cloudy, still days are great for spinner falls but there is nothing like a cold SW to get the duns going, you can tell from some of the photos just how wet and cold it is.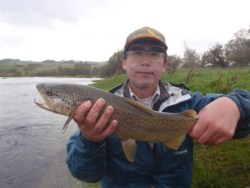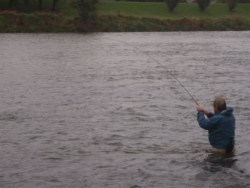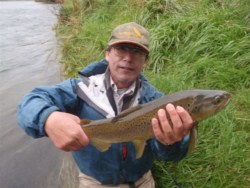 Every time I go to the river I take a note of the river level, I get this from the Eviroment Southland website under the heading, "Rivers and rainfall", I take the level at Wyndham but you can take it at Gore or anywhere as it is really just a relative figure. After a while the figures begin to mean something and you learn that a certain place is no good at such and such a level but another place will be perfect. This becomes important when the river is high as a lot of places will be out but you will be surprised at just what you can fish at these high levels. It is equally as important at low levels, some ripples will produce at a certain level but it only has to drop 20mm and the trout will move out but more usually a high ripple will drop the same amount and the trout will move in, probably just that little less water pressure.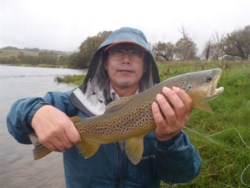 Hopefully we get this colder weather next week without to much rain.
Tight lines
David
---
30 March 2011
I think my moon and weather theory from my last blog was just wishful thinking as the good weather did not last very long. Although the Mataura is going down fast and I had a report that trout were rising around Gore last night, I will be guiding on it today and I am sure there will be rising trout somewhere.
I have been guiding Jun Midorikawa who is with us for eight days, Saturday there was a great spinner fall and on Sunday in the rain and wind we had one of the best dun hatches I have seen for years. The mayflies just poured off and Jun landed 19 from just after lunch until it stopped about 5.00, all on dries and I gather it was happening all over the river. They were all lovely conditioned fish and averaged 50cms (20") which is a 3lb trout. Jun was amazed at just how shallow the water was that these trout were feeding in, you can see in one shot he is only in ankle deep water and this is where he caught half of his trout.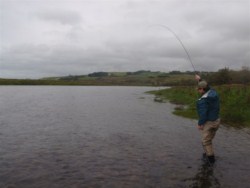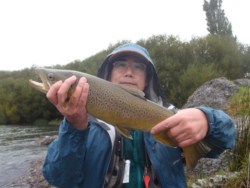 That was the good news and then the river went out so the next day we went to a river which had been on the low side but the rain had just freshened it up to a nice level. This was all nymphing but Jun got some very nice trout out of the ripples, these ripples are not much good when the river is at its normal level but after rain the trout move into them.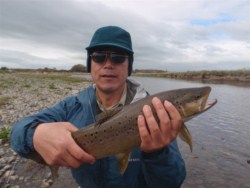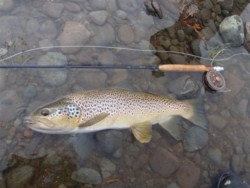 There will be rising trout in the Mataura over the next few days but then it depends on what the weather does as it looks like rain on Thursday night and Saturday night. The river is marginal and likely to remain that way for a while and even though it will become fishable it will not take much rain to put it out again. It seems to take less rain to put it out than it did a few years ago and the Waikaia branch seems to be the main culprit, there is a lot less tussock and more grass up there now.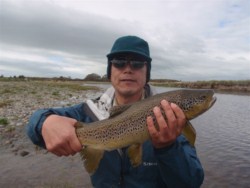 The mayflies will still hatch at this time of the year even though the river is high so it is just a matter of finding where they are doing it.
Tight lines
David
---
25 March 2011
It has been great to have some nice weather at last and the Mataura is at a perfect level and the water is cool, it was 12.4 yesterday. The trout have been rising although there have not been huge hatches. I fished on my own yesterday afternoon and although I did not see a lot of mayflies I picked up 15 trout in the ripples between 2.00 and 4.00pm on the dry. I have not done a lot of fishing myself as we have been busy guiding so I had a wee pig out, there were not many rises but I could see them swirl sometimes in the shallow ripples and I probably hit more than half of them blind.
I guided Ted Carney a couple of days ago and we had some good nymphing in the morning and then they were on dries in the afternoon but it was a bit like yesterday, only a few rising but if a fly went over them in the ripples they would take it. Ted showed me some indicators he uses, they are foam with a split in them and a piece of rubber inside that, you slip the leader into the split, give it a twist and it never moves, he kindly gave me a bunch of them so I will see how they go.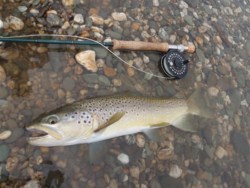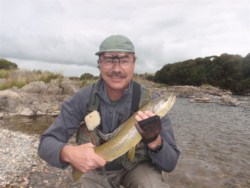 There is some rain coming on Saturday but it does not look as bad as I thought it was going to be and after that it looks good. I remember an old guy telling me years ago that whatever the weather was when the new moon came in, that was what the weather would be like for the month. It was good when the moon came in a few days ago so I hope he was right because we are due for some kind fishing weather.
Tight lines
David
---
21 March 2011
The Mataura is coming right and there was a good evening rise last night and I had a client hook and land six even though the river is still a wee bit high. So this week should see some good hatches, that is if we get no more rain and the river continues to drop but last week was tough.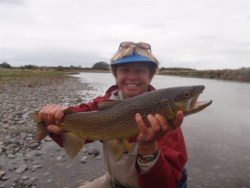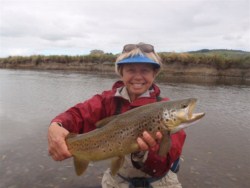 We have had Al and Helen Trompler here for five days, the first night Al had some great evening fishing but the next day was the day of the huge winds and then it rained and most everything went out. We managed to catch trout everyday, though not on the Mataura, although on his last evening with the river level at Wyndham a very high 1235 a few trout rose and he got one. I think it is the highest level that I have ever seen a trout caught on the Mataura, you can see Al smiling with the flooded Mataura in the background.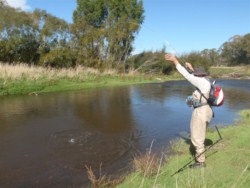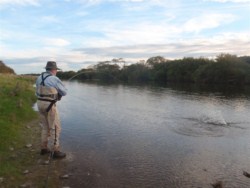 I was surprised at how well some of the smaller waters fished, usually at this time of the year we never leave the Mataura and I tend to forget that the small streams are also having their late season hatches. There appears to be no significant rain for the next week so as long as it stays cool we should see some good dry fly fishing.
Tight lines
David
---
16 March 2011
The Mataura has been fishing well although the hatches have tapered off over the last few days because it has been just too warm, although on Friday evening there was a huge dun hatch. The heavy rain of last night has put most everything out and it is going to be a few days at least before the Mataura is fishable. Although I have just been speaking to a fishing mate who went out for the evening rise and got three on the dry, Mataura trout will still rise in the slow pools in the evening even when the river is quite high.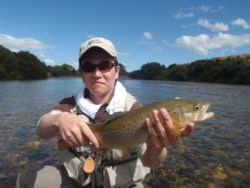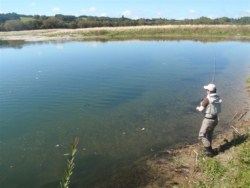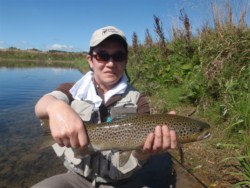 I was guiding Norio Myoshi for a couple of days and we had a great first day, we nymphed in the morning but it was a bit slow but after lunch we found rising trout in a shallow ripple. They keep going until about 5.00pm and he caught 15 on dries in only about 50m of ripple, they were really close and we could see most of them take the fly as the sun was out. It was a good lesson on drag as well though, because you could see trout drifting under the fly ready to take but if the tiniest bit of drag appeared they would instantly turn back to their holding position.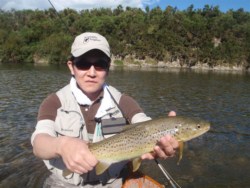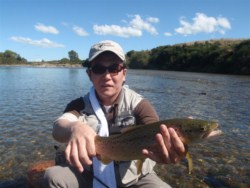 Yesterday was hell on the river as anyone who was out there will tell you, the NW wind was terrible and we only got a few trout in the lee of some willows. The weather looks good for the next few days and there may be some trout that remember what a cicada looks like in the tussock lakes because I think that that's all there is to offer.
Tight lines
David
11 March 2011
The Mataura is still in perfect condition and getting better by the day and I don't think the front coming through will do any harm, in fact the cooler SW should be good for some more mayfly hatches. Mayflies are coming off most afternoons and the day before yesterday we had a wonderful fall of spinners, the first I have seen for a while, there was no wind, it was cloudy and warm so it was perfect for a spinner fall. When you are fishing to trout feeding on spinners make sure that your fly has a reddish body, the natural has a mahogany red coloured body and Mataura trout really lock on to it.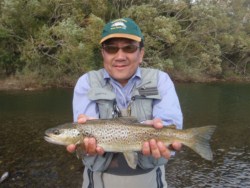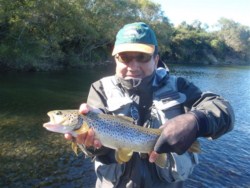 I have been guiding Jun and Miwa Wada who on their first day wanted to use spinning gear and they caught a lot of trout, Miwa san caught her first river trout but unfortunately I never got a shot of it. I was also guiding Hiroshi Tokura and he was on the fly, the others changed to soft hackles in the evenings and caught trout.
The nymphing has still been a wee bit tough but I think it is just pressure on the more visible ripples as I have some less obvious spots that I only use when I have to and they continue to produce. If you are having trouble nymphing, try some of the flat water, I have a Canadian friend who does very well in this sort of water, I saw a guide with a couple of clients the other day nymphing flat water with good results. I can nymph a ripple because it is a small defined area of water but the idea of starting at the tail of a long piece of flat water and nymphing all the way up it is something I just can't get my head around.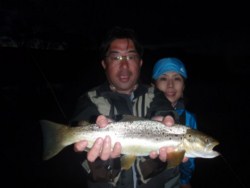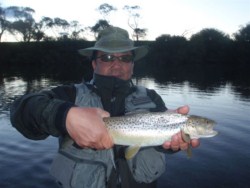 There is a lot of pressure on the river at the moment, the great Aussie hatch has started as well as anglers from other parts of the world but when the trout are rising you only need 50m of river all afternoon.
Tight lines
David
---
7 March 2011
The rain that I was worried about early Wednesday morning came to nothing and the Mataura is in absolutely perfect condition. Although this week I have found the nymphing a wee bit tougher than usual but the cooler change over the last three days has kicked off some good hatches. Not great blanket hatches but enough mayflies coming off during the afternoons to keep the trout looking up, especially in the shallower reaches.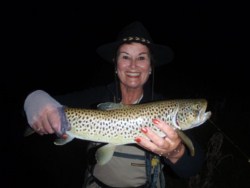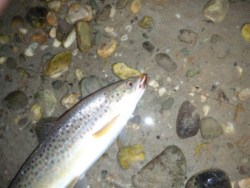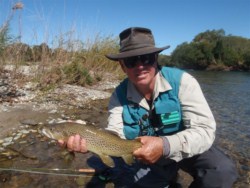 I have been guiding Alan Thorn and Elaine Roberts this week, Alan is a keen lake fisherman in the Rotorua area. They had been doing some evening fishing using soft hackle(wee wets) and as it got darker Alan suggested using fluro flies. These are flies tied with a flurescent body that glows for several casts after shining a bright light on it. The Mataura trout liked it, see the photo and this was a larger North Is lake fly but I am sure it could be applied here in smaller sizes and incorporated into the dubbing of the bodies of wee wets.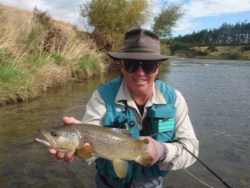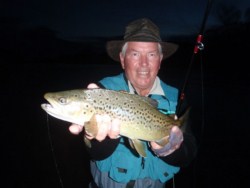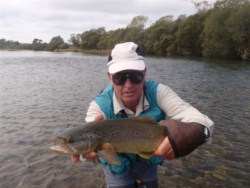 There have also been some super evening rises the last two nights, all to mayfly duns, I have not seen a fall of spinners for some time. We stomach pumped a couple of trout and even though there were heaps of mayflies hatching, they were full of mayfly nymphs, not emergers and only one or two duns. This is common on the Mataura, mayflies are hatching, the trout look like they are rising but really they are taking nymphs just under the surface.
Tight lines
David
---
As I sit to reflect on the past weeks fishing it seems almost unseemly after the tragedy that Christchurch has experienced during this time, a devastating earthquake and very heavy loss of life. It will take such a long time to heal this sadness as well as rebuilding lives, homes and the city our thoughts are constantly with everyone there.
We have had many calls, emails etc and thank all our friends for their thoughts. We wish everyone to know that we are fine here and only felt a slight quake on the Tuesday and we had no friends or family involved, we can only imagine how all those in Christchurch must be feeling and are so grateful for all the help from around the world.
---
28 February 2011
The Mataura went out again and we have only been fishing it for the last couple of days, it is looking good and coming to a good level but I am watching what looks like a period of heavy rain early on Wednesday morning. The nymphing has been good since the river cleared but there have been no mayflies, although my spy in Gore tells me that there was big hatch of duns on Saturday evening in that area.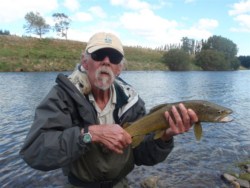 I have been guiding Gary Kulas who has been with us before and as the Mataura was not quite right we decided to check out a tussock lake. We could hear lots of cicadas but even though there was a stiff breeze none ended up on the water and nothing was rising, Gary caught several nice trout on #12 Humpys but that was fishing blind and to cruising sighted trout. Maybe that is the end of the cicada hatches but I will check the lakes again as I am sure the trout will still be looking up for a week or so yet.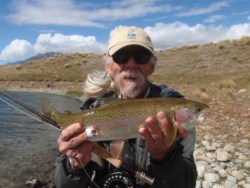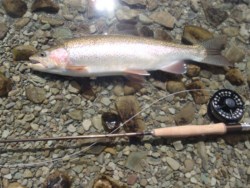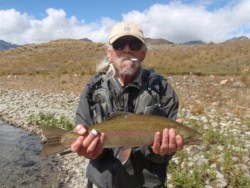 The Mataura cleared and he caught a lot of trout on nymphs but they did not come easily and it was a matter of picking up one or two in a ripple and then off to another ripple. The next couple of days look really good with cloud and not much wind, I just hope there have been some more evening dun hatches and as a result there might be some spinner falls tomorrow or the next day.
Tight lines
David
---
23 February 2011
The Mataura is still in perfect condition and fishing well, there have also been a few signs of mayflies hatching in the early afternoon and this cooler weather will bring them on.
We have had "Non" Murashima who owns the fly shop "Acropolis" in Japan, his two friends Oshiro san and Nakagoshi san with us for a few days. Graeme Clearwater took then out the first afternoon as I had another guiding job, the Mataura was still high but they caught ten good trout and lost a few in a ripple which performs well at high levels. He took them to another river the next day and even though there was a very strong nor-wester they caught some nice fish in sheltered backwaters. These guys had a great attitude, they could have caught heaps more trout than they did while they were here but after a few trout they would declare that they were satisfied and just sit on the bank and admire the view for awhile.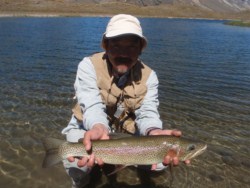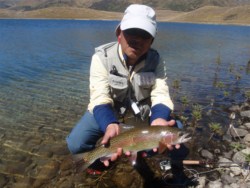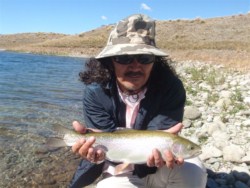 I guided them after that and with 26 plus degree temperatures in Alexandra the tussock lakes were the place to be and they caught a bunch of trout on dries, even though "Non" retired after 3/4 good trout and lay on the beach in the sun. You really need wind on these lakes as the first morning was dead calm and I think they only had one each by lunchtime but then the wind got up, blew the cicadas on to the water and the others ended up with about a doz each. I don't think you need specific cicada flies either as Oshiro san just for fun was changing his fly every time he caught a trout, most of the cicada flies I see look just too big.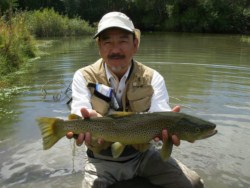 We came back to the Mataura each night in the hope of a good rise and even though they got 2/3 each, the evenings never came to much. Now that the evenings are drawing in and becoming cooler I think they may be over, although I don't think they ever really got going. I was checking through my diary and I see that there were some great evening rises in early December but that was all.
Tight lines
David
---
18 February 2011
The Mataura is in perfect condition now after several days of high water, the river is fishable now at higher levels than it ever used to be, once anything over 900mm at Wyndham was consider too high but on Monday we were having some really good nymphing at 1018. I really don't know the reason for this although someone suggested the other day that the river bed itself was filling upand changing the levels.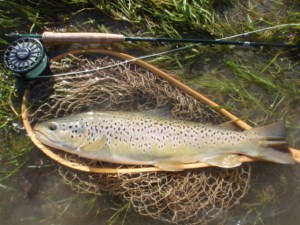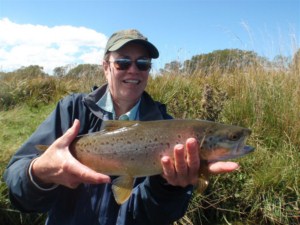 I have been guiding Alan Shaw and Marilyn and the first day the Mataura was definately too high so we went to a high country lake and got some nice trout on cicada flies. After that the Mataura was still really too high but even so the nymphing was good, we used #16 Hare's ear nymphs with a black tungsten bead head. This is not a particularly large nymph but it was still hooking trout in the high water, although Alan tried some deeper spots with a small piece of soft tungsten just above his nymph with good results.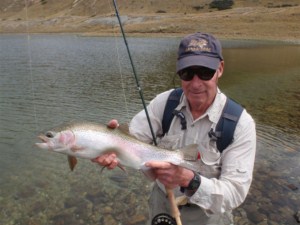 The evening fishing has been a huge disappointment this year with most nights being cool and the river high, it probably won't get a lot better now as the nights start close in. The cicada hatches have been just right, not too many that the trout fill up and stop feeding but just enough so that they are on the look out all afternoon. I have been wanting to try a cicada on the Mataura in the ripples the same as we were using beetles earlier in the season but the conditions have been against it but maybe in the next day or so it may be OK.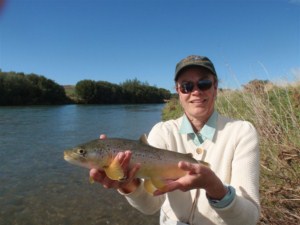 There have been no afternoon hatches of any note either but even though the last few days have been hot there has been a hint of Autumn in the air in the mornings. So hopefully the big afternoon mayfly hatches that the river is famous for are not far away.
Tight lines
David
---
10 February 2011
The Mataura is still high and it will be a few days yet before it is fishable although it is coming down fast in the upper reaches like Cattle Flat and the Waikaia. Some of the smaller streams like the Hamilton burn and the Waikaka should be fishable in the next day or two but all these waters have taken a fair hammering over the last few days and may take some time to settle down.
I was guiding Herbert Bremser who has been here before and Andrew David who was a first time fly fisherman for a couple of days before the Mataura went out and continued over the next couple of days as it was going out (as you can see by the photos) again nothing was rising. Herbert managed to get some on the nymph and Andrew as an absolute beginner started off swinging a wee wet through the ripples and nailed a nice wee sea-run on about his second cast, over the next few days he went from wet flies to catching a trout on a dry fly.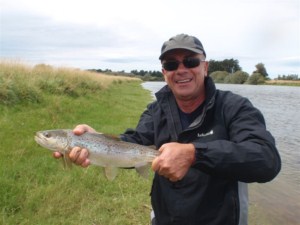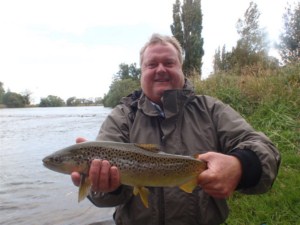 As you can see in the photos everything was getting more and more discoloured so we headed off to some high country lakes to see if there were any Cicadas around. Conditions were not perfect on the lakes so anything that rose was cast to but basically they just cast out 7/8 metres with the wind behind and let the wind bobble the fly along, mending as required and then recasting when the fly got too close to the shore. I have heard this technique called "Walking the dog" and this is exactly what it feels and looks like. Trout in a lake are usually moving into the wind so if you see a trout rise in a lake always cast your fly up wind of the rise. With this "walking the dog" technique the trout generally sees the fly first as it is cruising up wind.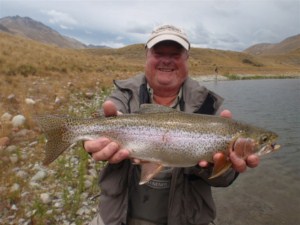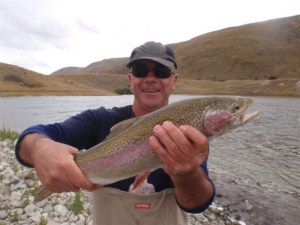 There were some Cicadas around but the weather has been probably too cool and unsettled for good cicada hatches but with the rivers like they are it is all we have. I like to see a predicted temperature of 25/26 degrees in Alexandra and a NW breeze before I head off to any of the high country lakes.
Tight lines
David
---
4 February 2011
The Mataura is at 1049mm at Wyndham, it is coming down slowly but it will be a couple of days before it is right again. We have been catching fish but it has been tough, the trout have not come to the nymph as freely as they have been, there has been very little mayfly action, no spinner falls and most evenings have been cool and showery.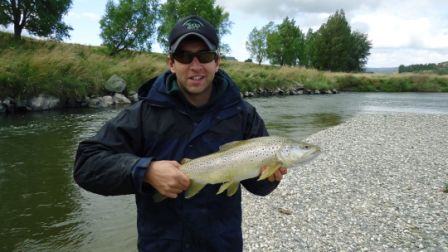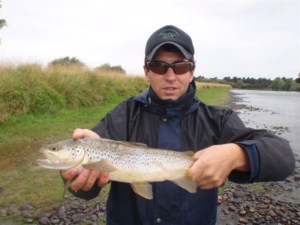 We have had James Dixey from England and his son Paul who is playing professional cricket in Dunedin with us for a few days and I have been guiding them. They caught most of their trout nymphing although Paul caught some on a dries and soft hackles on one of the few nice evenings we had. He also had a great run swinging a #16 Hare's ear partridge soft through a long ripple, he must have hooked 4/5 and his father hit three.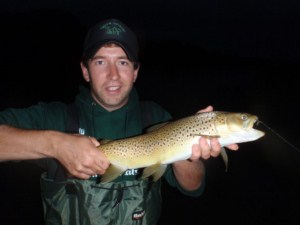 I have finally got on to a cheap source of indicator for nymphing, it is called "sports cord", it comes in several colours and at $1.39 per metre from Spotlight it is a fraction of what you pay for indicator in any of the sports shops. We soak it in Hydraloon, leave it to dry in the sun and when on the river we unravel, cut off what we need, tie it on to the leader with a slip knot, rub a little floatant on it and it will float all day.
Tight lines
David
---
30 January 2011
The Mataura has been in perfect order this last week but the weather has been not so good with some strong wind that looks set to wind up over the next few days. The weather up until Christmas was great with very little wind but since then it has been awful and this has been the reason that we have not done much evening fishing. The nymphing has consistantly produced but mayflies have been rare and everytime we plan to go out in the evening a cool wind or rain puts an end to that.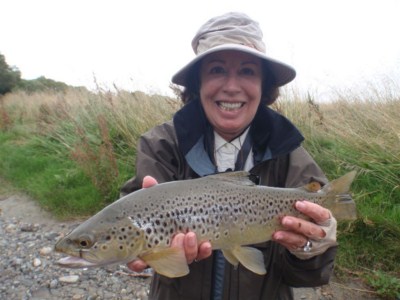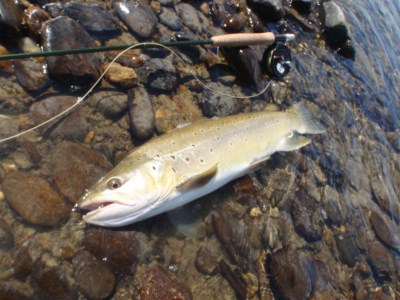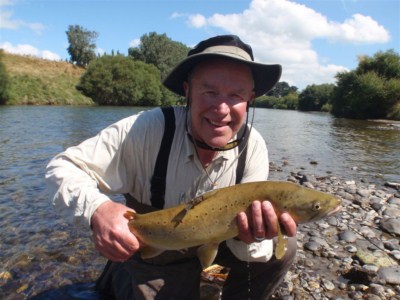 We have had Dennis Urie and Mina O'dell with us for a few days and they caught some nice trout, mainly nymphing and Dennis got a very nice sea-run of 59cms, see photo. Unfortunately the evenings were cool and showery so we never got to see some dryfly action, although one day while we were having lunch there was a short lived spinner fall that was pretty spectacular.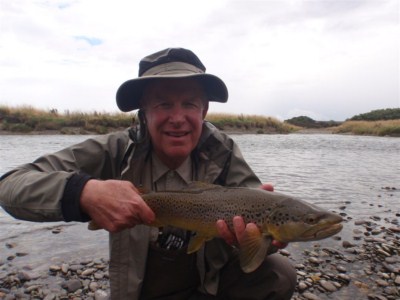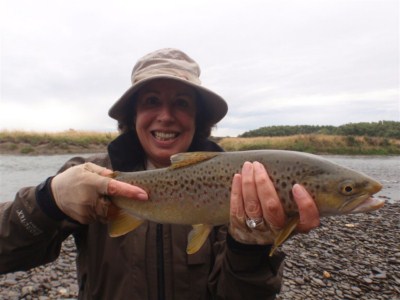 As guide I am always picking up little things from clients and Dennis had several interesting tricks up his sleeve. Probably most of you have seen this but I never had and I think it is brilliant. I had always been taught when reeling up to bring the leader around the reel seat and hook the fly about halfway up the rod, this prevented a kink forming in the leader at the rod tip. I had never liked this because everytime I spotted a trout and wanted to unhook fly and leader quickly I would most times end up with a tangle and still have to pull some line from the rod and it was too slow. So I always just reeled in, hooked the fly in the keeper and put up with the kink and having to pull out more leader.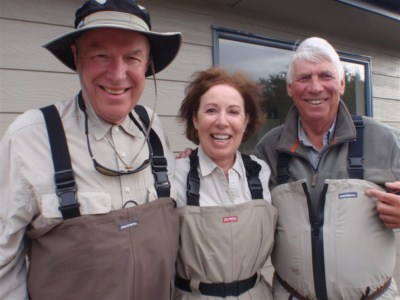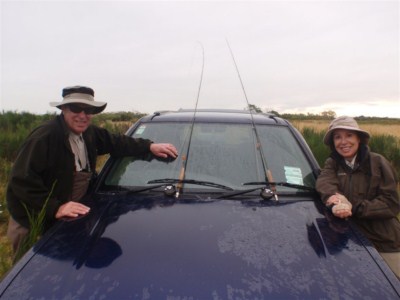 Dennis showed me to hook the fly up in the 2nd or 3rd rod guide, then take the leader back around the reel seat and wind up the slack. Then when you want to unhook quickly, take the leader from around the reel and drop it, tap the front part of the cork handle and the fly just releases itself and falls on the water or bank, now all the leader is out and you just start casting.
The other trick which is perfect for the short hops that we are always doing from pool to pool on the Mataura was to hook the rods, reel handle up under the windscreen wipers ( see photo). I thought he was having me on when he first suggested it but it works like a charm, it is quick, easy but don't drive under any low hanging branches and don't turn your wipers on!
Tight lines
David
---
25 January 2011
I have just had a couple of days between clients so Graeme and I went over to check out the lower reaches of our best new river. It was very low so we were able to see a large number of very spooky trout in the long slow pools, we managed to hook a few but most of them just bolted at the first cast.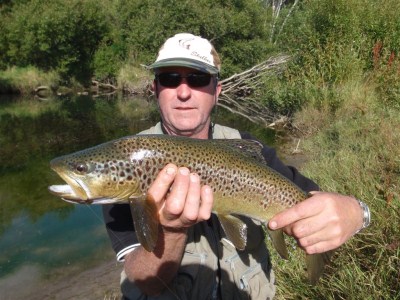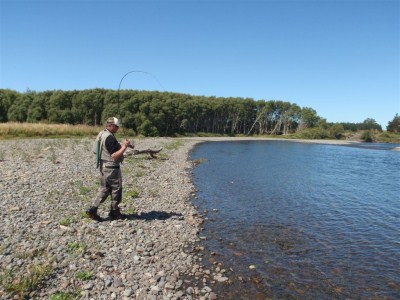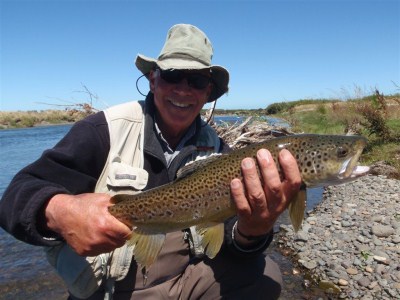 Nymphing in the ripples was more productive and the backwaters were a lot of fun, the trout seemed to take no notice of us against the trees, we became so engrossed in one backwater that we realised a one stage that we had been there for over three hours. Most of these backwater trout were on willow grubs but would take a small twitched nymph. Graeme nailed several with a #16 Hare's ear( no weight) twitched just under the surface and the trout took the same nymph ginked up and on the surface as well. How this looked like a willow grub I don't know but it is the only time have seen seen one fly consistantly take willow grubbers. I got some good photos of him in action but unfortunately I managed to delete them on my computer so I was only left with the three above shots.
The Mataura is in good shape but it is getting warm, it was 19.6 degrees at Wyndham today which is plenty warm enough.
Tight lines
David
---
20 January 2011
The Mataura is getting a small fresh through it right now as a result of rain up in the Waikaia but it will not be a problem and will help the summer flows.
I have been guiding Tadatomo Kuriya for the last four days and although he caught plenty of trout it was a bit of a mixed bag. The nymphing was very good as it has been all season but for some reason we hardly saw a mayfly all the time he was here. For example, Tuesday which was cloudy, warm and with no wind, ideal conditions for a spinner fall but there was only the odd rise on the flat water.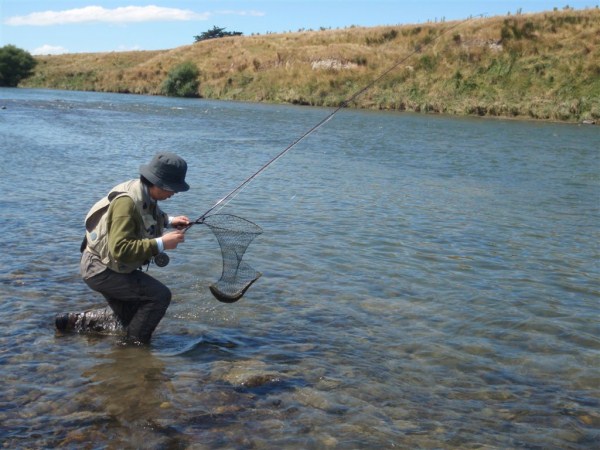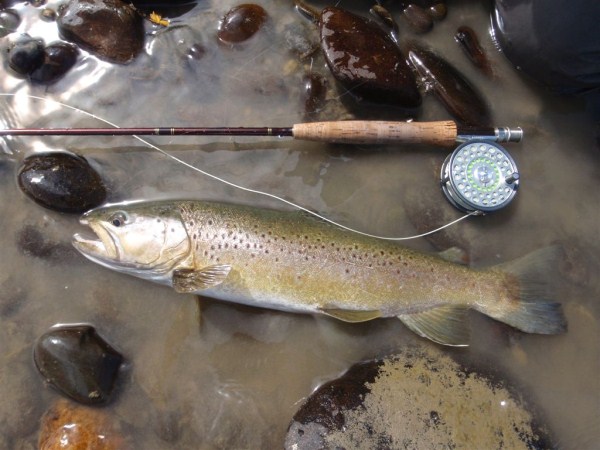 The other strange thing was our inability to catch trout fishing across and down in the ripples with a soft hackle, usually good nymphing and wee wets go together but not over the last few days, they were even difficult in the evenings. Kuriya san is a soft hackle fan and we gave it our best shot but it was tough.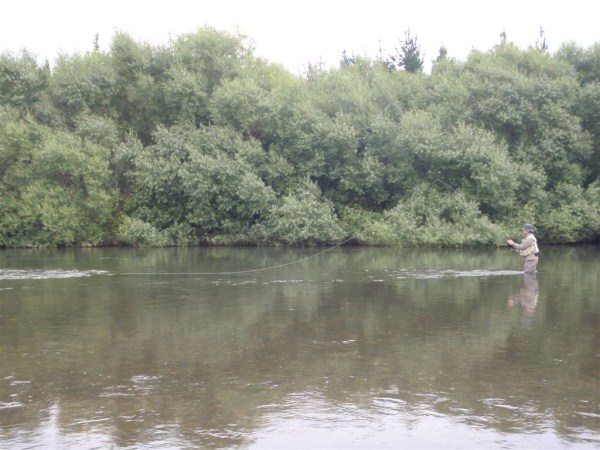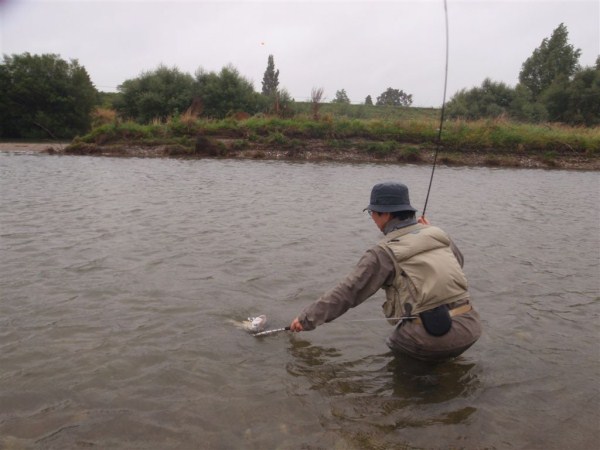 He gave me a demonstration of spey casting with his 11" double handed rod and I was impressed with the distance he got but I don't think I will rush out and buy one. Although I will try some of the spey casting techniques when I am fishing a wee wet, I liked the ability to pick up the fly and present it again without drying it out with a false cast.
Tight Lines
David
---
15 January 2011
The Mataura has been fishing really well the last few days in spite of the wind, it is now approaching a good level and is clearing fast. In fact the two freshes through it, although annoying at the time have prolonged the summer fishing as the river was getting too low before the rain, the small streams have also benefitted.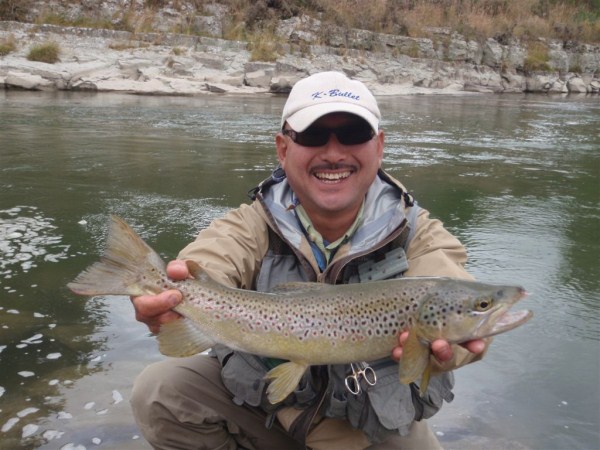 We have had Kenji Sugisaka and his son Yutaro staying with us, Kenji is one of the top fly fishermen and fly casters in Japan, I have guided him before and it was an absolute delight to again watch his sheer technical brilliance. There was a lot of spey casting influence and they made far more use of the roll cast than we do, I made a mental note to practise my roll cast more. But the big thing was their accuracy, their first cast was in the exact, right spot, first time and the trout was virtually forced to take it. I gave up keeping a tally of what they caught after the first evening which was in the "Shag Rock" pool below the Maori reserve, below Mataura,they must have caught 7/8 each.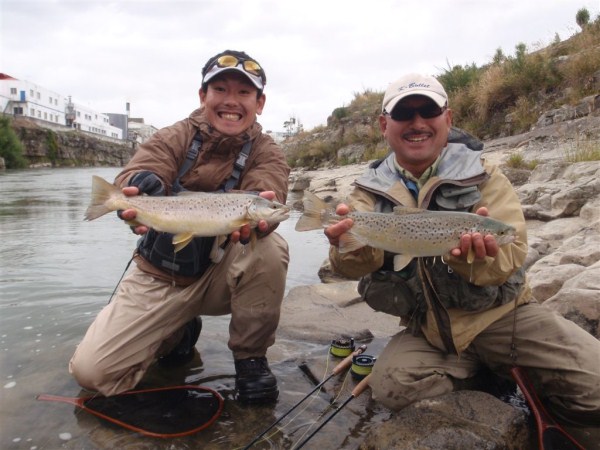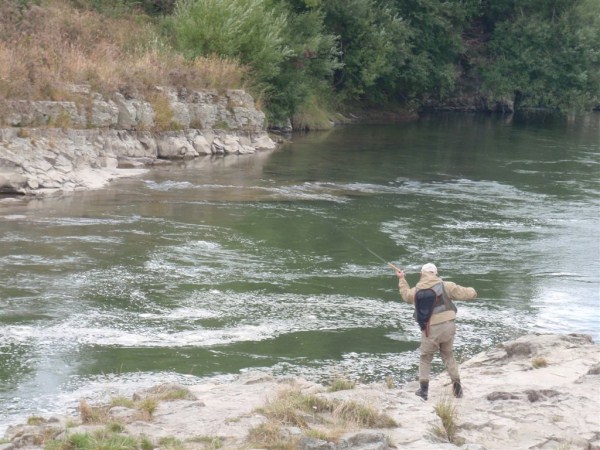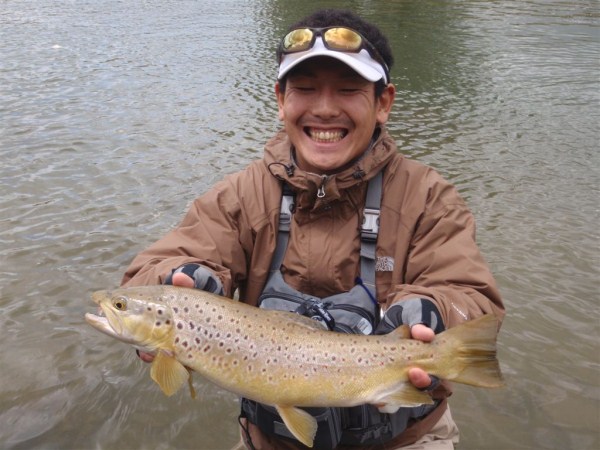 So for all their spectacular almost flamboyant casting and unusual flies, for me it came down to their perfect presentation, the fly was in the right spot, first cast with no drag and this is the secret of the Mataura.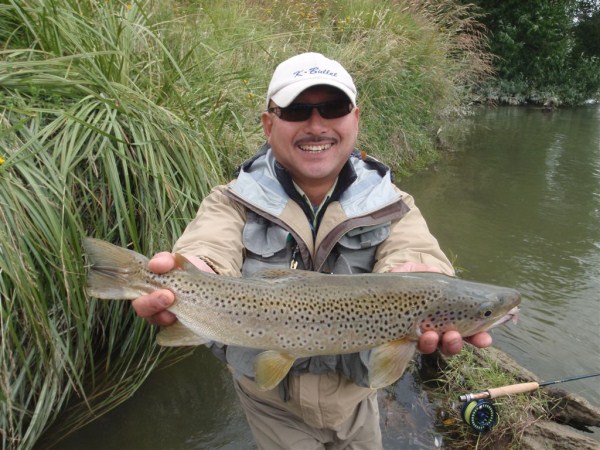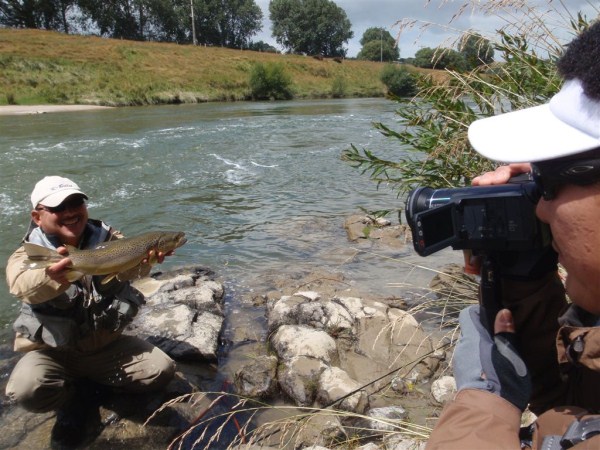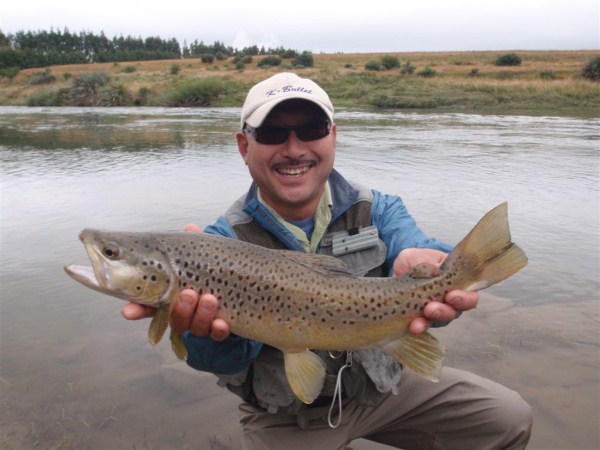 They only used two flies all the time, a spinner type #16 with a bit of orange aero wing on for visibility during the day and another version of the same fly for the evening with a black post that would have been 10mm high. I was very surprised just how visible the black post was in the evening light. If someone had given me these flies I would have thanked them profusely and confined them to the far corner of my fly box, instead I gratefully took some and they are now on my tying bench. I may rave on about presentation and other than size, the fly is not that important but to a fly tier a new style of fly to play with is a lot of fun, once I have these new flies sorted I may share them with you.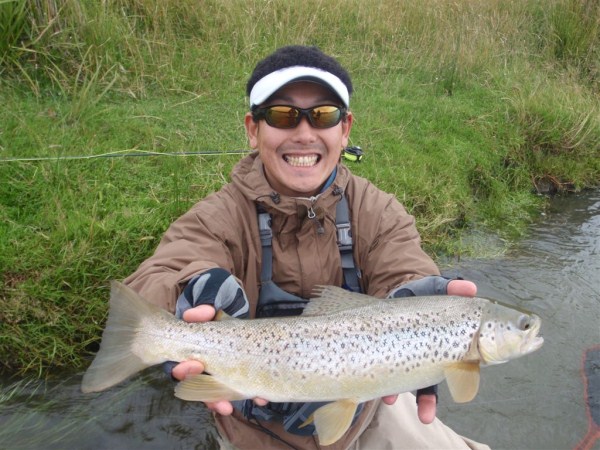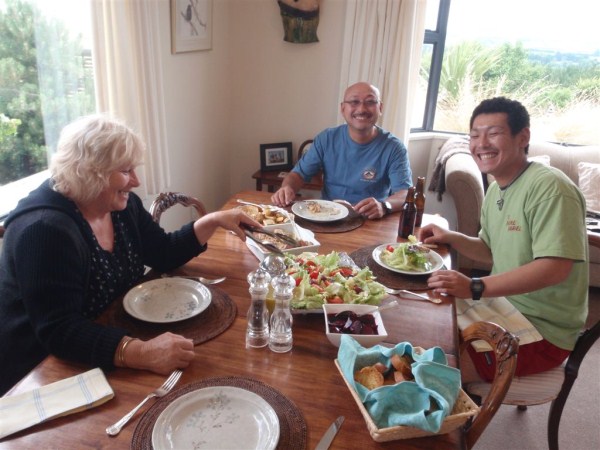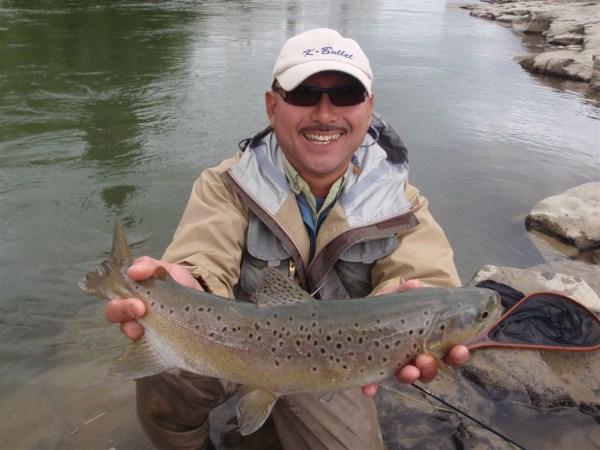 Tight lines
David
---
11 January 2011
The Mataura went out last week and is only just coming right today and should be perfect in a couple of days. We have had Hide and Miyu Morimoto with us for the last eight days and due to the fluctuations of the Mataura we ended up all over Southland.
The Mataura was out when they arrived but our wee rainbow lake saved the day and they caught several nice rainbows in the 2/3lbs range drifting a bushy dry fly through the wind lanes, Miyu san also hooked several on a woolly bugger. The Mataura was still not too good so we spent a few days on a small stream and caught some very nice browns on beetles in spite of it being willow grub hell!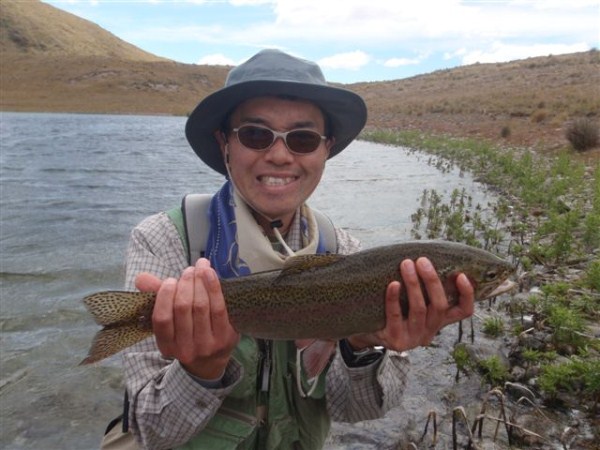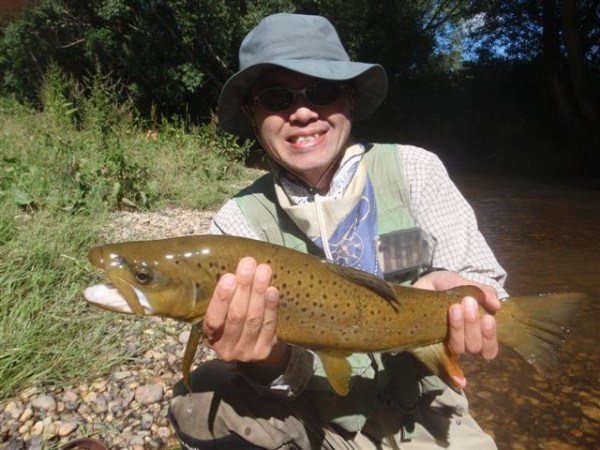 They had a good evening on the Mataura and then a couple of good days nymphing before it went out again and is only coming right now. The small stream went out as well so we headed off to the lower reaches of a river that I have never really rated but I was very pleasantly surprised. They caught some very nice trout in ripples and backwaters on nymphs and in hindsight they probably would have taken dries in the ripples, I am going back there tomorrow to find out. Hide hooked some good trout in a backwater on nymphs and the only Damsel fly imitation we had, they were feeding on adult damsel flies that were hovering just over the water. Up until a few years ago I didn't think that they took flying Damsel flies but they do and since then I have always carried some imitations. The only fly I had left that resembled a Damsel was a green-bodied #12 parachute pattern with a white wingpost and an extra large gray dun hackle and tail. The trout took this quite happily after rejecting quite a few other dries that we tried trying to imitate the hovering Damsels.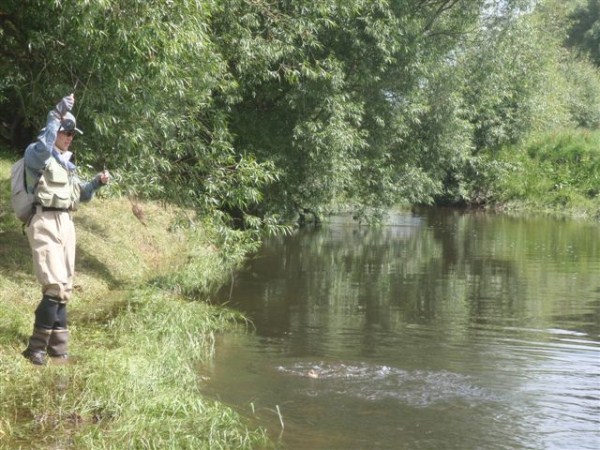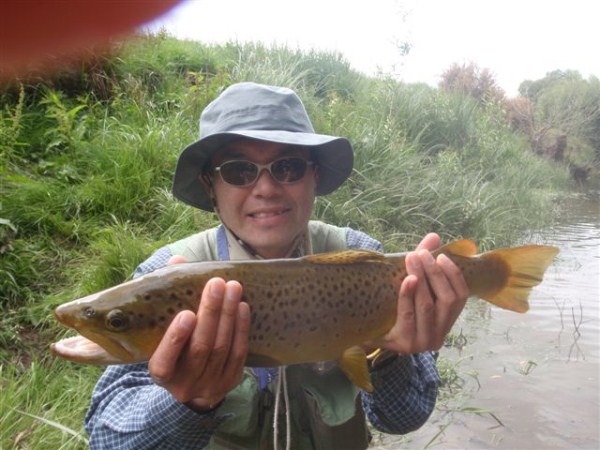 I used to tie up quite a complicated pattern to imitate adult Damsels with a long tail and zeelon wings but over recent years I just tie a slim red bodied parachute simillar to a parachute Adams but with an over large blue dun hackle and over spread tail.
Unfortunately some of the photos of Miyu with fish did not come out that well due to my grubby fingerprint on the lens. All in all it was a pleasant few days fishing and just goes to show the range and diversity of fishing we have in Southland.
Tight lines
David
---
6 January 2011
The Mataura came down for a couple of days on Sunday, Monday and then due to heavy rain in the Queenstown area it has been too high ever since, it is coming down but it looks like there is going to be a simillar dollop up there today which could put it up again.
I mentioned in the last blog how good the nymphing has been in the Mataura and I wondered how it would be after the last rise in river levels. Graeme my head guide, guided Morimoto san and his wife for me Tuesday on the Mataura, while I guided another couple in a small stream. He had a fabulous day nymphing, they hooked into heaps of good trout in the 3lb range, they didn't land them all but it showed that the nymphing was still good.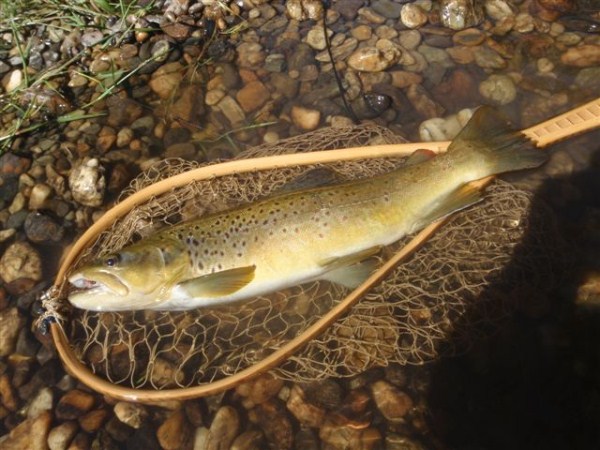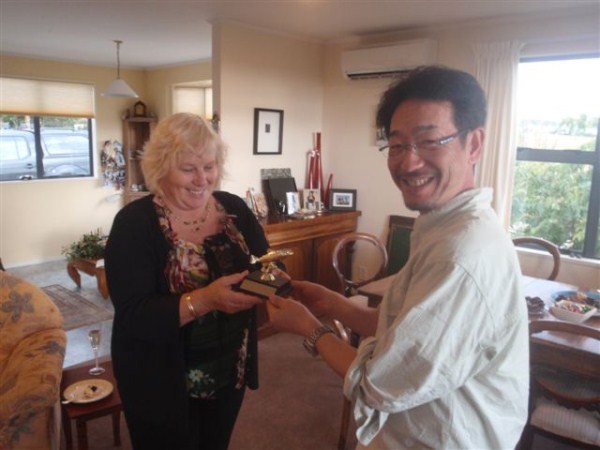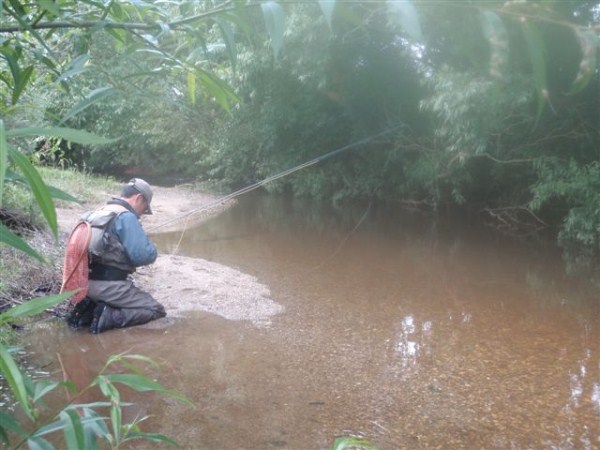 I guided Miki and Hiroshi Ozaki who have been coming to the Mataura for many years and this year Hiroshi won Bev's New Years Day Biggest Fish competition for the second time with a 60cms trout. I don't have a photo of this trout and I must apologise for the quality of these photos as I managed to put a grubby finger print on the lens of my camera. Most of the trout were on willow grubs in the small stream but everything we hooked was on a beetle pattern. I know some people have willow grub patterns that they say work but I have never seen them, we seem to get them on beetles OK but the important thing is to land the fly just in front of a cruising trout so that he doesn't have time to think about it.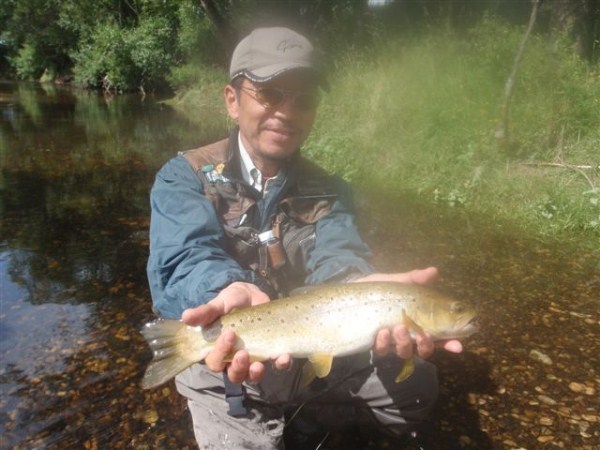 I hope we don't get too much rain, it will depend on how much they get upstream but after that the weather looks settled for at least a week out.
Tight lines
David
---
31 December 2010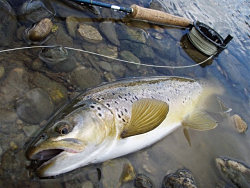 Things have been very busy around here with Xmas, guiding and the Mataura going out which forced us into long travel times to find clean water. We had Katsuhisa and Kazuyo Tomii from Shizuoka with us for several days after Xmas and they had some wonderful fishing in the Mataura and then the rain came. The Mataura has been nymphing as well as I have seen it for years and it will be interesting to see if this continues when the river comes right again. This could be a few days yet as it came down to 1000mm very quickly but it only dropped 20mm today and still has a lot of colour.
We managed to fish the Mataura right up until tuesday afternoon as you can see from the fish being landed in the rain but it was going out fast. We then managed to find a pond with lots of small rainbows which keep us going the next day and now several of the small streams are in perfect condition and they should see us right until the Mataura drops another 150mm.
Tight lines
David
---
20 December 2010
The Mataura has got even lower in the last four days but is still in good condition although the water temperature was 19.3 today. I have just been fishing in the mornings, the nymphing has been good first thing and if there is no wind or you can find shelter there have been good spinner falls around late morning, lunchtime. After that according to reports from other anglers it has been pretty tough.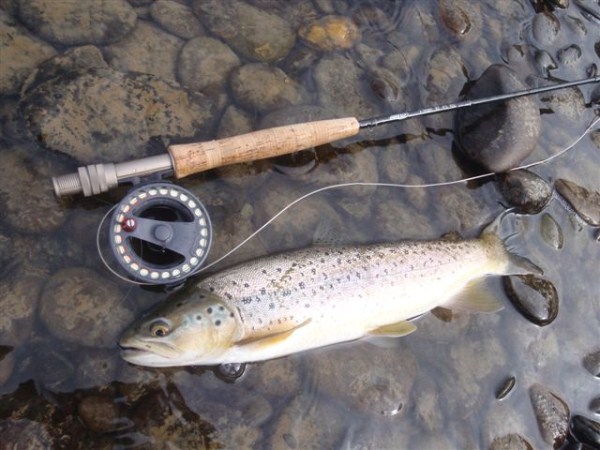 The trout have been tough too, Mataura trout are pretty bomb proof when there is plenty of water in the river but at these levels a cautious approach is the answer. During the late morning spinner falls when they are up and going for it they are not too bad but even so, too many casts on the water and they just drift away.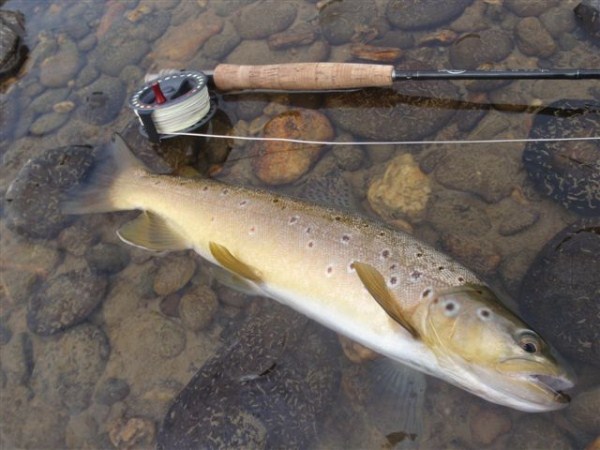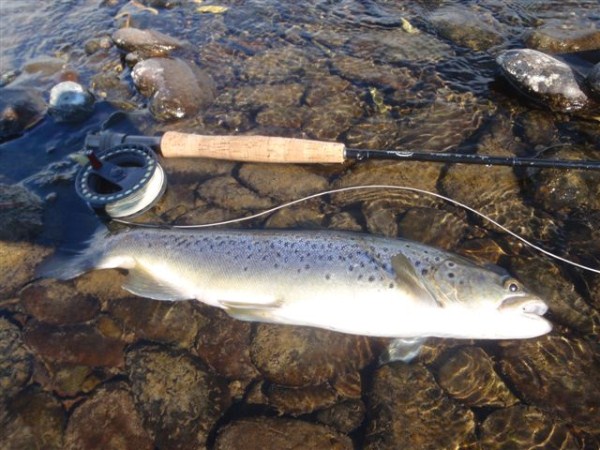 Hopefully we will get some rain out of this low which is coming across on Tuesday and if we don't get that much down here, maybe there will be more up in the Waikaia and upper Mataura.
Tight lines
David
---
15 December 2010
The Mataura is starting to get very low, it was 580mm at Wyndham and had a water temperature of 19 degrees this afternoon. It is still very clean and it seems to handle lower levels much better now than in the past, the main worry is the water temperature getting too high. I have been fishing it mainly in the mornings, it is cooler, there is less wind and it seems to fish better than in the afternoons.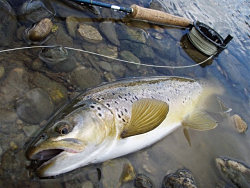 One thing a lower river does though is open up opportunities to fish water that under normal conditions is impossible to get to. Forget about your favourite spots because they are probably too low by now and look around a bit, as the river drops new ripples appear and new runs can be waded to. I nymphed a ripple this morning that over 600mm is a waste of time but at the present level and lower it turns into a cracker, I think the trout move into it at the slightly slower flow.
We are still picking trout up on beetles and I am staying with #18 nymphs even though there seemed no difference between a #16 and an #18 a few days ago. I haven't been out in the evenings for a while as the weather has not been so nice so I don't know what is happening then.
A neat wee trick I learn't the other day was to cut your tippet on an angle, this gives you a sharp point and makes it easier to get through the eye of small hooks.
Tight lines
David
---
10 December 2010
I have just had Steve Lambert an old client from way back this week and the Mataura has been fabulous, Steve averaged over 20 trout per day and we were not doing evening rises. The Mataura over the last couple of weeks has fished as well as I have seen it for several years, mayfly duns were coming off all day, every day and today with very little wind there were several large spinner falls.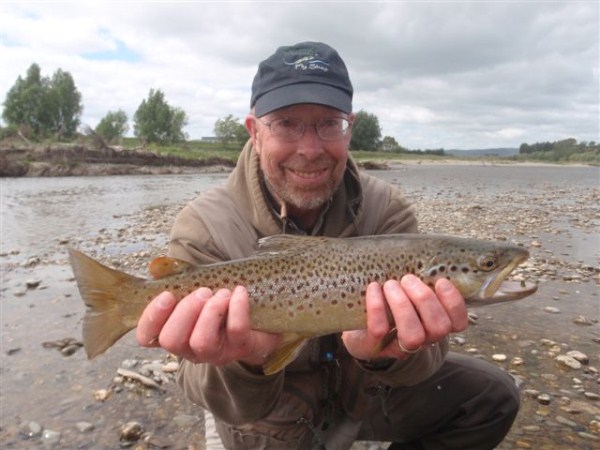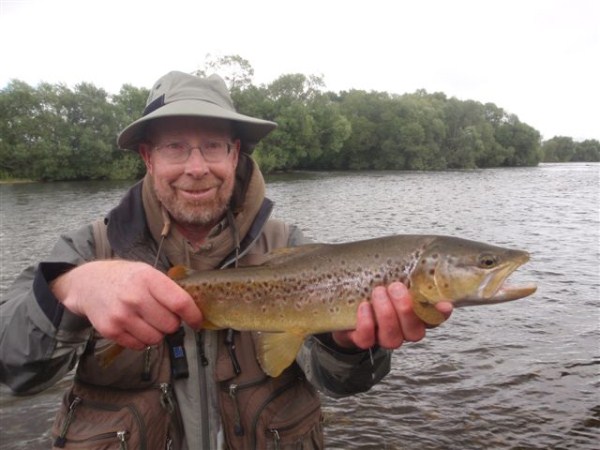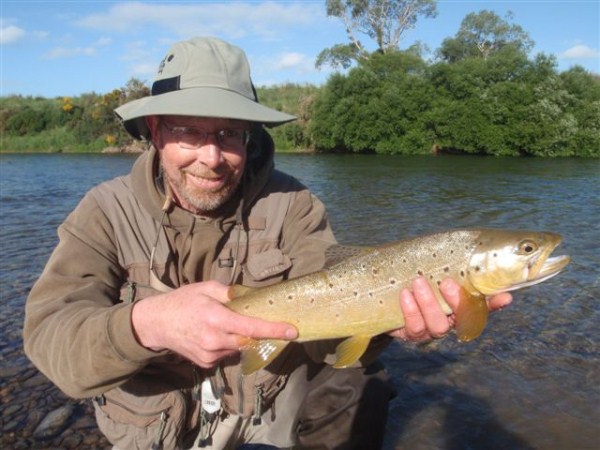 Most of the rising trout have been in shallow water and have not been as easy as they looked, they have been moving around and in that shallow water their window must be very small and until the fly goes right over their head they just don't see it. So keep working on a trout before you start furiously changing flies, just stick to #18/#16 sparse tied flies, reddish mahogany bodies if you think they are on spinners and gray or brown if they are on duns. If you can't find anything rising on the flat water just sit and watch a ripple for a while and when I say ripple I mean something knee deep or less.
The nymphing has been very good, the reason I think is that with Mayflies dribbling off all day there must be a lot of nymph activity under the water. I got a bit excited about #18 nymphs last blog and while they are proving very effective Steve and I tried #16 and #18 nymphs in different ripples and decided there was no real difference.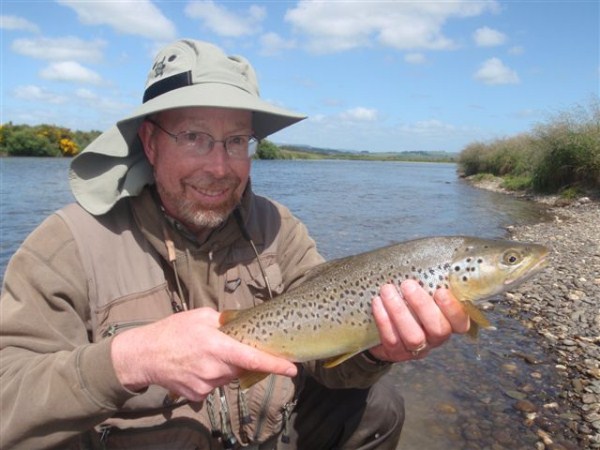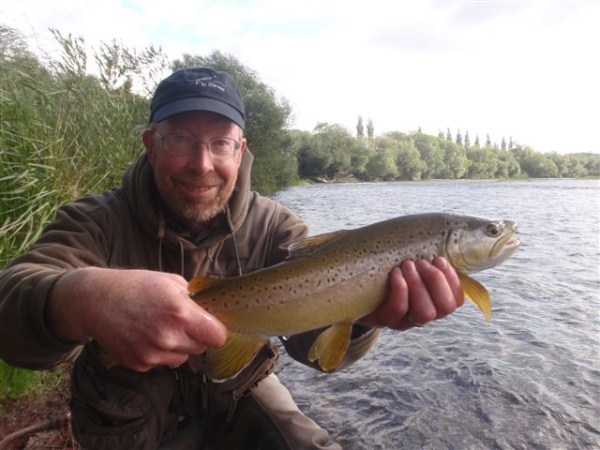 The Mataura is at a perfect level but will start to get low soon if there is no decent rain, cool nights have kept the water temperature down and as long as the water doesn't get too warm the fishing should remain good.
Tight lines
David
---
5 December 2010
Most of last week I was guiding Yoshiyuki Nafuji and his two friends Yoshinao Tanaka and Tomoyuki Arisaka, it was fairly full on and that is why my regular blog is a few days late.
We did the Oreti and saw good numbers of big trout, anything that was up and rising was fairly easy and they got those on #14 standard Adams but anything just sitting on the bottom or in the ripples were tough. I have not fished the Oreti for years and we left early to get up there about 8.30am expecting to see people but the first day there was no one and the second day there was only one car in the carpark. Michael Hartstonge gave me a hand as there were three clients and we took a side each so I don't think we missed much.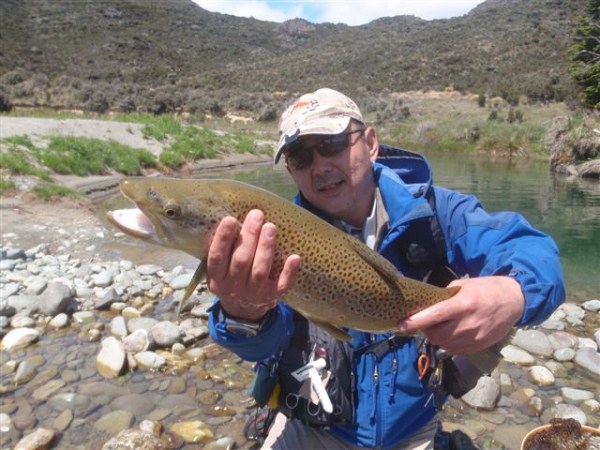 I was happy to get back to the Mataura which is fishing really well right now even though the water temperature is getting up, on Saturday which was our best dry fly day the temperature was 19.1 degrees. The Mataura is also nymphing better than it has for years, once nymph fishing was a sure way to catch lots of trout but over the last few years as everyone agrees the ripples havn't produced what they used to. Over the last couple of years I have been using smaller and smaller nymphs and getting good results, this week on the Mataura an #18 with a 1.5 tungsten bead head was taking a lot of trout. Many fishermen think they need weight to get down to the trout, that may be so for rainbows but a brown will come up for the nymph and we took some good fish on light nymphs in heavy water.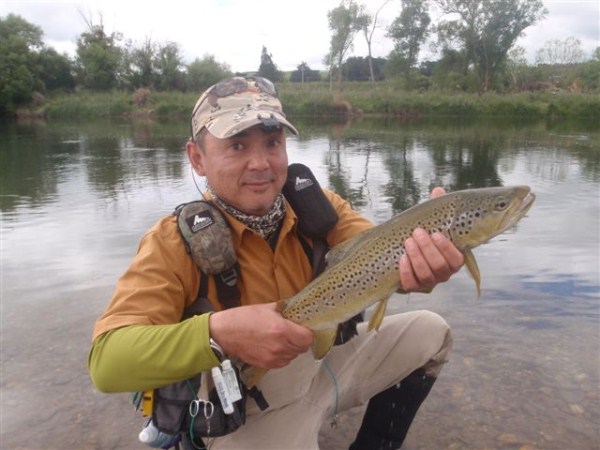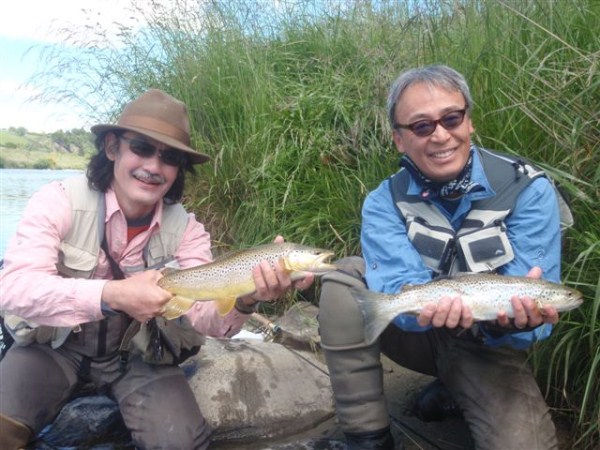 The evening rises have not been great in the Wyndham area although we had a pure dun hatch starting quite early one night which was fun and I have heard of some very good, almost "mad Mataura rises" around Gore in the last few evenings.
Tight lines
David
---
27 November 2010
The Mataura is in good condition, fishing well and at a nice level of around 725 at Wyndham, I actually don't like it any lower than this. Unfortunately over recent years once it gets to about 800 the levels drop dramaticaly every day and they seem to do it faster than used to be the case. The water temperature is 16.8 today which is high enough, any higher and the fishing will start to drop off.
Even so the fishing has been good, no great afternoon hatches as it has been too warm but some mayflies dribbling off all day. A very reliable source who is a bit of an early bird told me they were going mad at 5.30am this morning and if this warm weather keeps up that is when you are going to have to look for dun hatches. We will still get spinner falls when it is warm, cloudy and no wind at anytime of the day and in the early evening but the duns will generally wait until night time. I have no scientific basis for this theory but I believe that the deleatidium on the Mataura have started hatching at night as a result of the warmer temperatures during the day. On several occasions I have gone to the river at midnight just to look and there have been big dun hatches.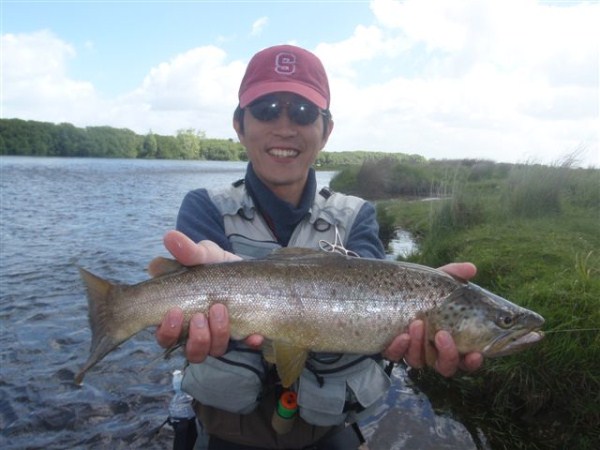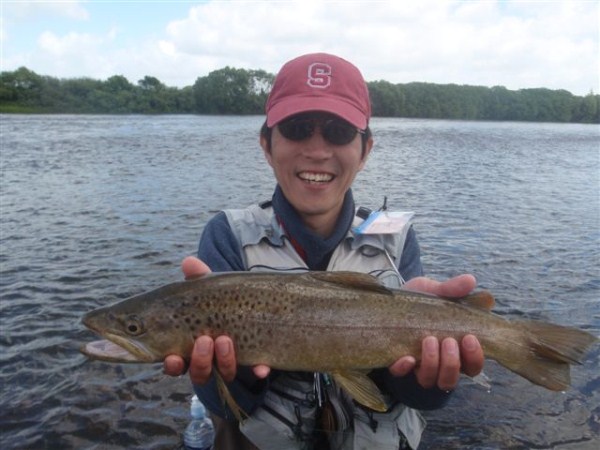 We have had Kazuyoshi Ro and his wife Kyoko with us this week, Ro san is an exellent flyfisher and he caught a lot of trout. We found a couple of good nymphing runs and he did well on a #16 Hare's ear with a black bead head but he prefered dry fly so he went through ripples with the beetle pattern and I am sure he took more trout this way than with a nymph and had a lot more fun. There were no big hatches but enough rises that he was able to pick up trout here and there on the big smooth flats with #18 CDC style flies. He did really well in the evenings as there were some big spinner falls most nights that they were here.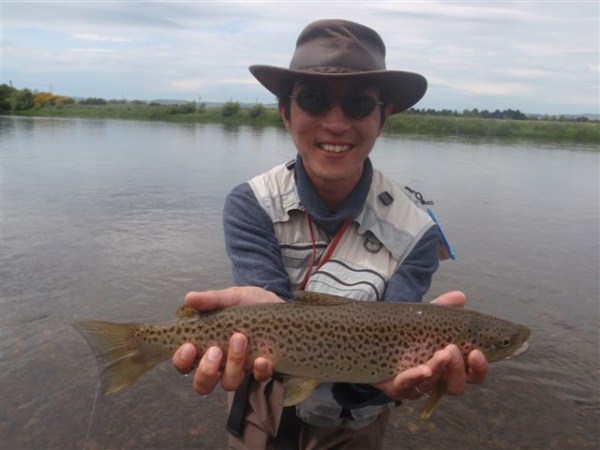 It is an amazing river the Mataura, in that it caters for an expert like Ro san and also his wife who had never fished before and was able to catch trout as a raw beginner after only a few minutes of instruction. I had her pull off enough line that she could let swing and then lift it off and cast again in one motion, not using her left hand and holding the line and the rod at the same time in her right hand.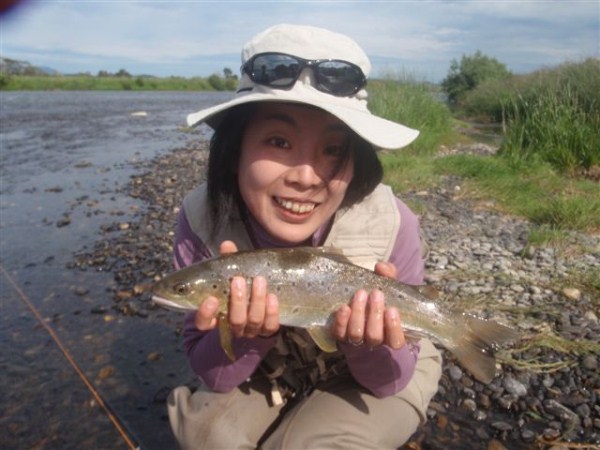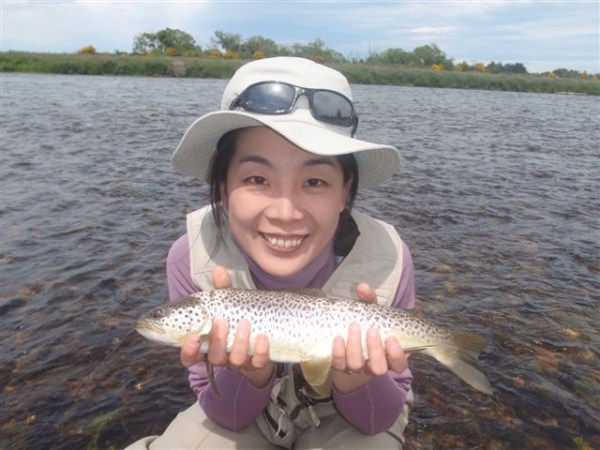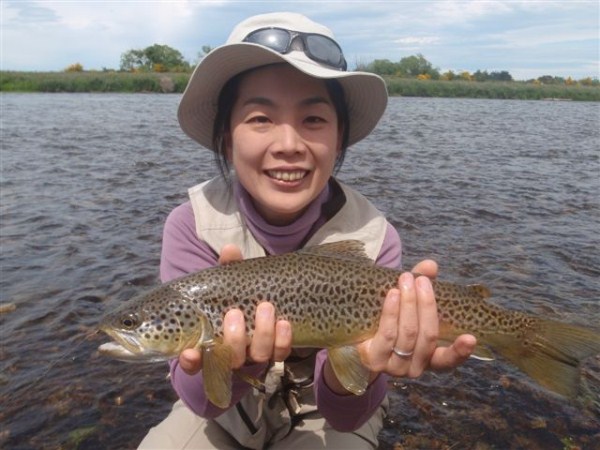 On her best day she picked up 9 in shallow ripples and then in the evenings she was hooking 3/4 most nights on a #16 Hare's ear soft hackle wet fly. The soft hackle can be deadly in the Mataura and you don't have to have much line out, especially in the evenings, I doubt that she ever had more than 6/7m out that would include the leader.
Tight lines
David
---
22 November 2010
The Mataura has been fishing very well in the last few days as a result of the cooler weather, although it is now coming up with the recent rain but I don't think it is going to be anything serious. We had some very good foam line fishing yesterday, foam line fishing is a great source of trout when not much else is happening and it's a lot of fun, also after the hatch has tapered off on the flat or ripple water, the trout are generally still going in the foam. Another bonus is that the trout in the foam are generally a wee bit bigger than the general run, the trout in the top photo is a sea-run that came out of a foam line yesterday.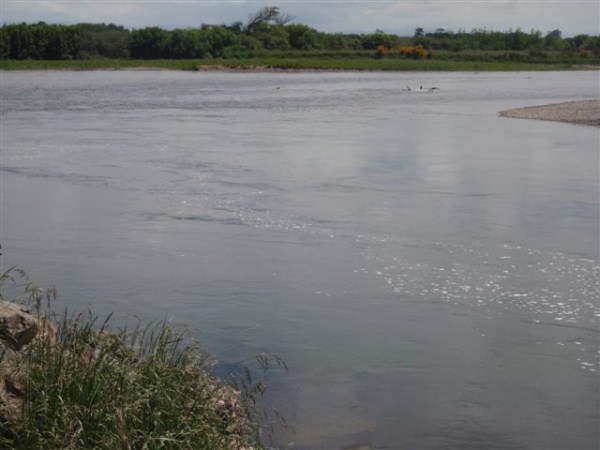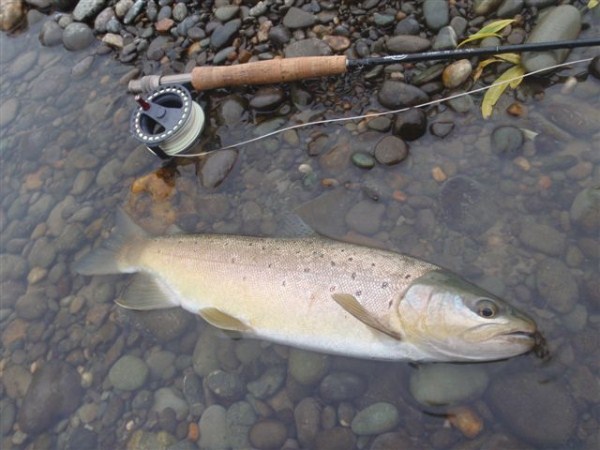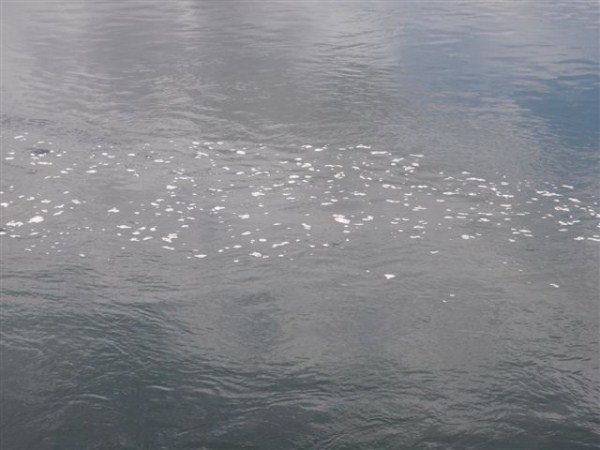 Foam lines are easier when the sun is out and you can see the trout, they don't hold their position as they do in a flat or a ripple, a trout will rise and then move quickly a yard or two up, down or across. So its not much use to cast to the last rise as the trout has usually moved, the answer is to get a wee bit of height so you can see the trout and there are plenty of foam lines on the Mataura where you can do this. Then with the help of the sun you can see the trout, they will be moving around the foam just under the surface looking up so a fly popped in front of them will usually get their attention. CDC flies are not much good as the foam seems to gunk them up, a parachute adams with a coloured wing post is as good as anything, a red, orange or green wingpost is easily seen in the foam. You will often get a refusal but it is still fun to see them come up for a look.
It is a very exciting form of fishing as one minute there is nothing to be seen and then from nowhere two or three trout will suddenly appear so you have to be quick. It is more like hunting than fishing and its no use fishing blind, just wait and as soon as one is in position get on to it fast. Also watch the foam as the trout are always under it and the foam moves around, one minute it seems out in the middle and the next it is right in close. Foam lines are worth checking out anytime because there is often something going on even if it is only one fish and sometimes you have to watch carefully before you see anything.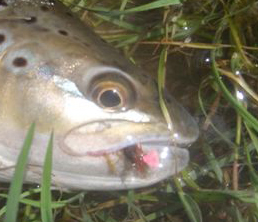 So if there is no rise on the flat, ripple or even the foam, put on a beetle and fish through some ripples or along a bank, its a lot more fun than slogging through a ripple with a nymph. The wind got up this afternoon and put any hatch down, I had a client who wasn't very keen on nymphing so he put on a beetle pattern and fished a ripple along a bank. He picked up six nice trout on the beetle and the day was saved, you can see the beetle in the above photo, it's the same one we were using a few days ago in a small stream.
Tight lines
David
---
18 November 2010
The Mataura looked pretty good today, the level had dropped after another blip of snowmelt had come down and through, the temperature was 12 degrees with a cool SW and it looked perfect for a mayfly hatch. But after a week of warm weather, no mayflies and snowmelt we had lost faith in the Mataura so Graeme and I decided to go to a small stream in Western Southland, at least there will be mayflies over there we told ourselves.
Well we were wrong as we only saw a few mayflies and nothing rose as we walked down to our start point which was most unusual as the trout in this stream are very free rising. So as it had been so warm last week and it was halfway through November we both put on brown beetle patterns and fished them blind. We caught several trout each all the same size as the ones in the photos and they just came out of nowhere to hit the fly. All except the last trout of the afternoon which Graeme had spotted lying in a ripple just above a drop off and this fish drifted under the fly for over a metre before it slowly sucked it in without breaking the surface.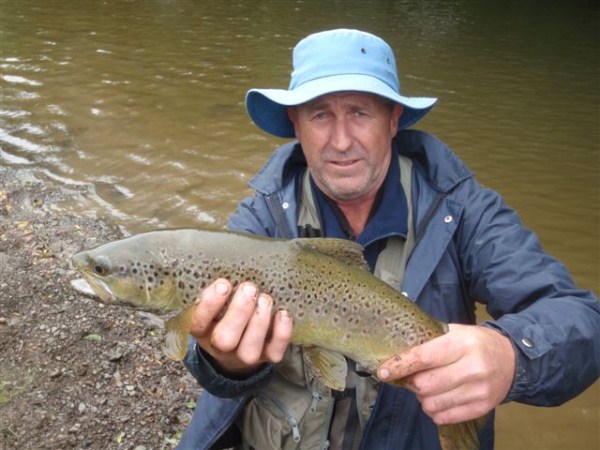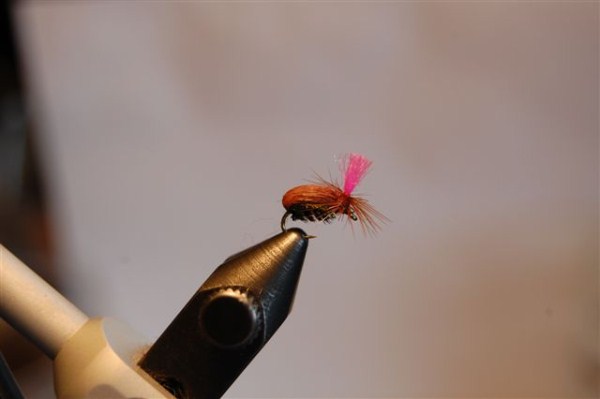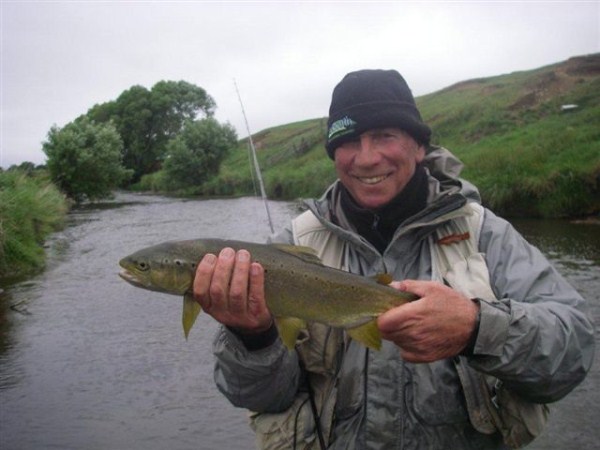 So they are looking up for beetles and this will make for some great fishing over the next few months as the brown beetles morph into the green beetles over xmas and into the cicadas of February. The brown beetle works very well on the Mataura too as they can be fished through the ripples blind just as you would with a nymph and they are just what the bank feeders are looking for.
Hopefully this cool spell should get the mayflies going again on the Mataura, if not plop a beetle up a bank or through a ripple.
Tight lines
David
---
13 November 2010
The Mataura started off really well on Monday afternoon but it has been all downhill ever since due to the very warm temperatures which have discouraged mayfly hatches. I had a good hatch in very shallow water on Monday afternoon, hence the shot of my feet to illustrate just the sort of water these Mataura trout were feeding in. I love fishing these shallow ripples, a lot of people walk right past them but if you sit and watch one at this time of the year you will be surprised what is there. The rises are not easy to see, they are not like proper rises out in the main river, sometimes it is a slight swirl, or the water flow will change, or your fly will just disappear as a trout sucks it under with no displacement of the surface.
I caught quite a few trout like the one's in the photos and they really take off when they are hooked as there is no deep water so even a small trout can have you into your backing in a flash. You may have to cast over a trout several times as they have virtually no window and the fly has to go right over their nose, also don't worry about spooking them because in this shallow water they don't see an awful lot. I was using an #18 Hare's ear floating nymph and as more and more duns appeared I changed to an #18 CDC emerger.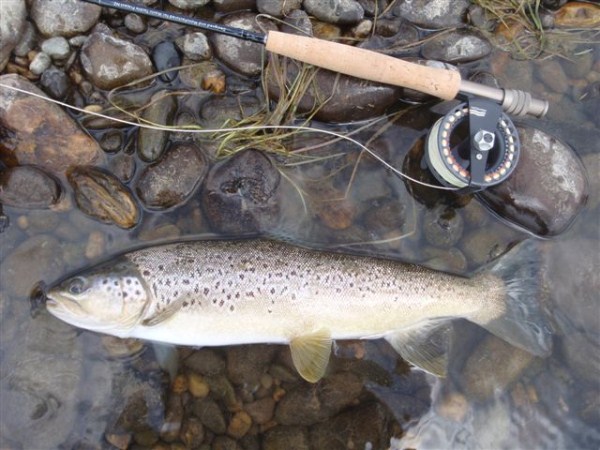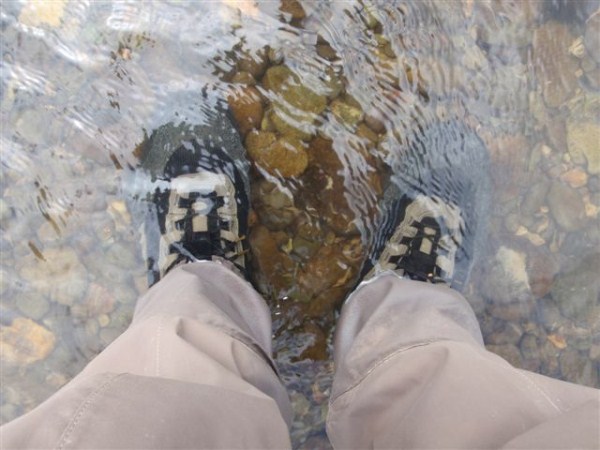 On Tuesday afternoon absolutely nothing rose, it was just too hot and it was the same every afternoon including Friday, the perfect conditions for the mayflies on the lower Mataura are cool and showery with a SW breeze. That is why, during the summer they prefer to hatch in the evenings or at night when it is cooler and hatch in the day in the early and late season when it is also cooler. I think this is also the reason we are not seeing the great hatches we used to see in March, they are now occurring in late April and early May when it is cooler. I believe all this is because of climate change, it is a lot warmer on the Mataura now than it was 10/15 years ago.
The evening fishing this week has been great and it has been mainly spinner falls, the duns seem to be hatching just on dark which is a wee bit late for me. There is a thin dividing line between evening fishing and night fishing, I can't define it exactly, it is a visual thing and there is a point that I stop, just before I start flailing about in the dark.
Tight lines
David
---
9 November 2010
On Saturday my fishing mate Peter Lenihan and I went up to the opening of our wee rainbow stream in North Otago. The weather and stream conditions were perfect and we started fishing just before lunch and finished about 4.00pm. Peter fished the stretch where we park the truck and I went downstream for a ways, mainly to see what fish numbers were like, over the last three to four years there have not been the number of trout in the river that there used to be. There were one to two trout in most pools compared to 4/5 in every pool as there used to be, the currant population is plenty but I would be interested to find out the reasons for the decline. There has been an increase in dairy farming in the lower reaches and the main river is full of didymo, maybe these factors have had an effect.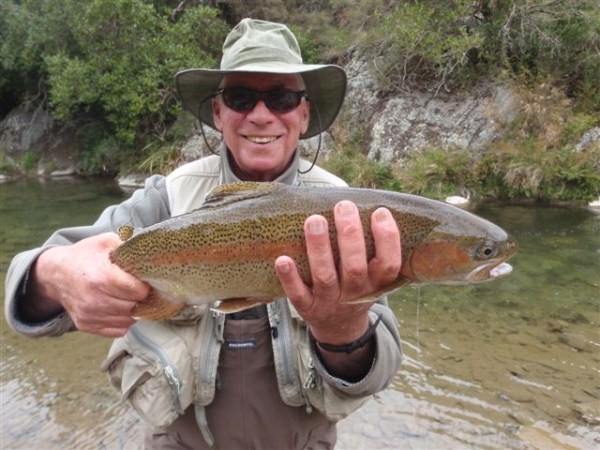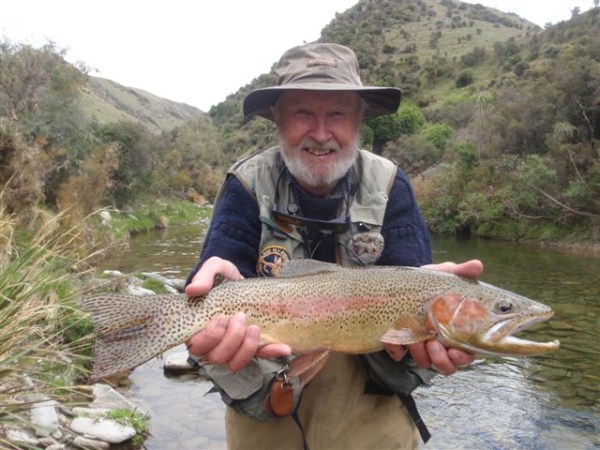 It is a lovely wee stream to fish as the trout are easy to see and readily take a dry fly, although I found one that was feeding in a shallow run that even though he was rising now and then would take none of the dries that I gave him. In the end I put on a #16 Hare's ear nymph and he grabbed it first drift through, it was the first time I have ever used a nymph in there and it rather spoilt my 100% catch rate on dries but I was curious to see what he would take. When we first started fishing this stream the trout would take just about any old dry but over the last few years of lesser trout numbers they have sometimes become very picky. I normally use a #14 traditional upright Adams but the last couple of years I have had to use at times Mataura style CDC emergers, this of course all adds to the fun but it is most unusual for post spawning rainbows.
I felt the trout were a wee bit bigger than usual this season, they generally range from about three and a half to four and a half pounds and a six pounder is the biggest I have seen in there, although I had a Japanese guy catch an eight pound brown several years ago.
Tight lines
David
---
5 November 2010
We have just had Chuck Goller and his daughter Katherine from Vermont with us, the weather was great while they were here but the Mataura was still being affected by snowmelt from the Waikaia. The Mataura was still too high for decent nymphing and there was virtualy no rise so we swung a soft hackle across and down. Katherine who had never used a fly rod before hooked into several trout which shows just what a good method on the Mataura this is for beginners. She stripped off 6/7 metres of line, held the line and the rod in the one hand, cast across and down, let it swing and then picked it all up and did it again, no left hand at all.
In the evenings there was a bit more activity but the rises were splashy, not many of them and now and again a trout would jump clear of the water. This is a sure sign that the trout are feeding on caddis pupa, the caddis pupa on the Mataura rise quickly, pop through the suface, fly away and don't spend much time on the surface. This is why I have never had much luck with a caddis fished dry but a soft hackle lifting when it reaches the point of its swing imitates the hatching pupa perfectly.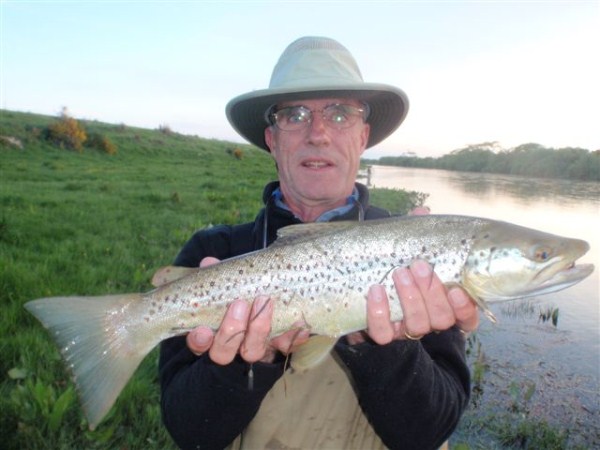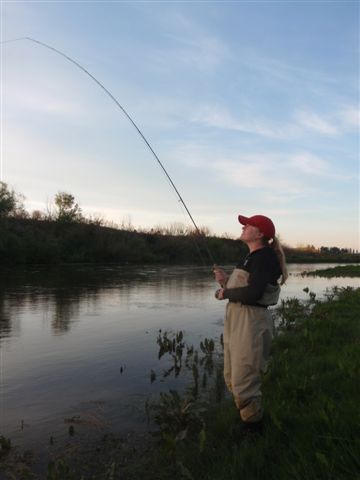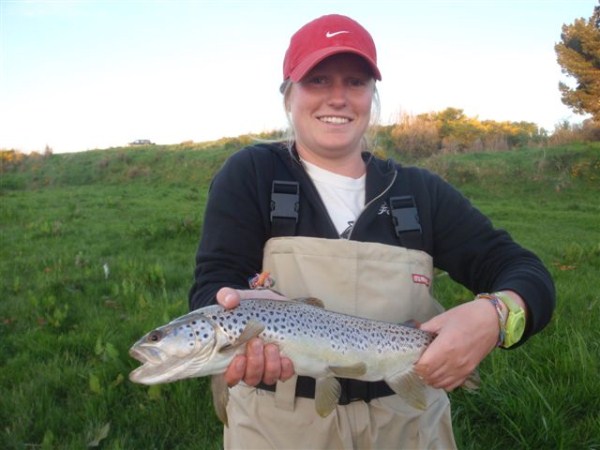 Chuck got a nice trout on the dry early on when there was a small spinner fall but soon changed to the soft hackle when the trout started on the caddis. Chuck broke the first couple off as he struck to hard when he felt them take the fly, the secret is to slowly lift the rod and they will hook themselves. The combination of the fly starting to lift, the force of the current, the weight of the fish downstream plus the strike will break off even small fish.
The Mataura is now at a very fishable level and I had a good rise to duns yesterday between 1.00 and 2.00 and then about 3.00 the wind died away, it got cloudy and there was a good fall of spinners.
Tight lines
David
---
31 October 2010
This past week has been very tough on the Mataura although the small streams have been good according to reports from fishing mates. I have a regular client coming in a few days who only likes to fish the Mataura so I have spent the last six days checking it out when I probably should have been on the Waipahi, Waikaka or the Waimea.
It has not been overly high but the level has fluctuated everyday with snowmelt from the Waikaia area but I hope this is slowing down and the next few days will show a big improvement. The hatches have been non-existant with just a brief flurry between 1.30 and 2.30pm, also the trout have been tough, they wouldn't look at a CDC emerger, the few I picked up were taken on a floating, unweighted Hare's ear nymph fished just under the surface. There have been a few rising in the evening but they have been difficult on the dry but quite receptive to a Partridge and Orange swung across and down.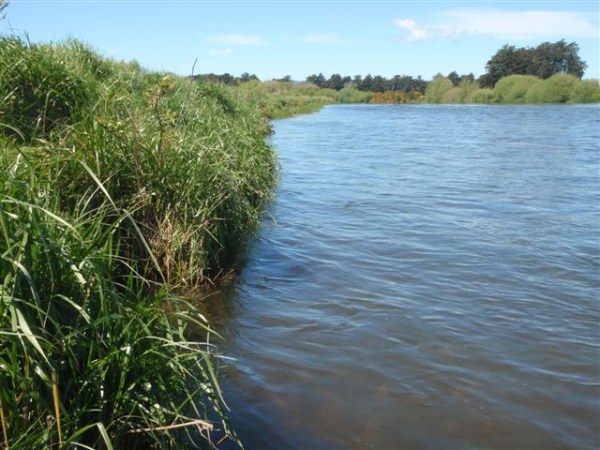 In my last blog I talked about "Bank feeders" and since then this has been the most successful method, in the photo you can see what I consider a perfect bank with the right amount of flow and depth. I have been picking my way up various banks, fishing blind with a #14 Adams parachute, no more than a metre out and doing quite well.
We are into November now, one of my favourite months and the fishing should really pick up.
Tight lines
David
---
25 October 2010
The Mataura is very slowly getting better and we have been catching trout for the last three days, it has been OK if you are a local but I would not encourage anyone from Dunedin hopping in the car and driving over. There have been trout rising sporadicaly between 1.00 and 3.00pm in certain places but the nymphing is not good, there is just too much water in the ripples. Even the smaller streams are just a bit too high at the moment.
Another technique which is good when the river is high is to find a grassy bank without too much flow and with a depth of water of half a metre to a metre. Carefully fish a dry upstream and no further than a metre from the bank, it doesn't matter much what sort of fly you use, parachute adams or a caddis type as these trout are not that fussy. This is a good method to use when the river has been high and is coming down, we call these trout bank feeders and I think there are quite a few of them against the banks all the time. It is just that they are easier to target when the river is still a wee bit high.
There is still quite a bit of snow up in the Waikaia and this is inhibiting the mayflies but things will improve hopefully over the next week.
Tight lines
David
---
20 October 2010
The Mataura and the smaller streams have been high the last few days but should start to improve as they are trending down and the weather looks better over the next week. I have been catching up on fly tying and as I was tying some parachutes I thought I would pass on this method of finishing off parachute flies. It was shown to me by an old Japanese tier and everyone that I have shown it to has never gone back to the old standard way. In the old way the hackle was wound around the post and tied of at the head, this was awkward as one had to lift the wound hackle up to tie off. Also this was the only point that the hackle was secured and one bite from a trout and the whole thing would unwind. In this new method the hackle is tied off underneath itself and around the post, this is easier to do and makes for a much stronger fly.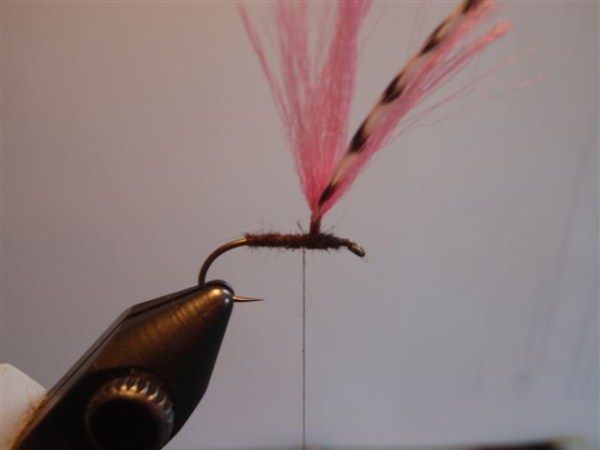 Start the fly as you would a normal parachute style fly but after you have put on whatever style of body you want make sure you leave the tying thread behind the post and hanging down on the far side.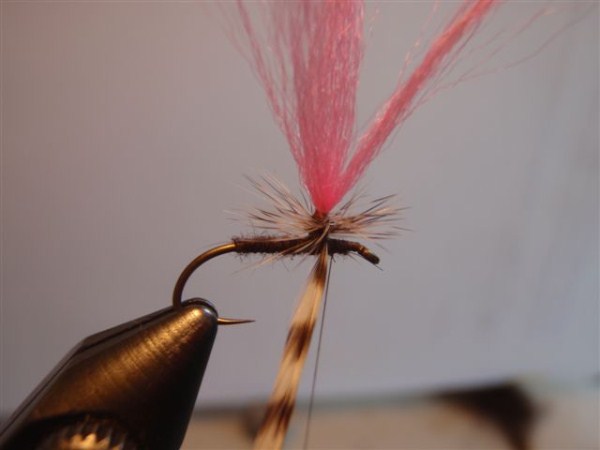 Wind the hackle as normal, I always try for a gap between the hackle and the body so that the body sinks in the film supported by the hackle and wingpost which have had floatant applied. Then holding the excess hackle wind clockwise at least 4 times under the hackle, this secues it and helps lift the hackle above the body. In fact you can exagerate this, one guy I know wraps his hackle high on the post and then winds thread well up to it.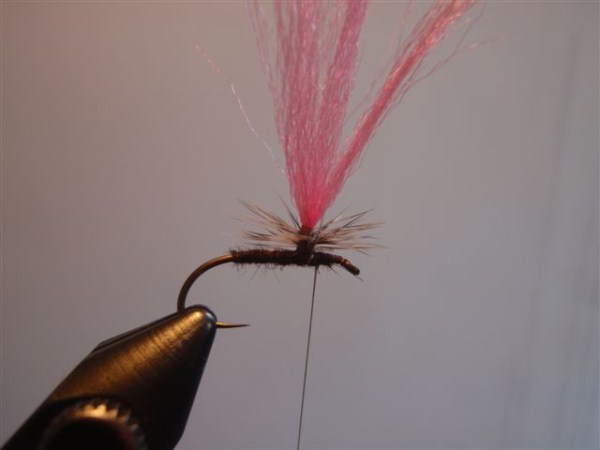 When you have finished winding the thread, clip off the excess hackle and leave the thread hanging in front of the wingpost but on your near side. I like to use saddle hackle because it is much easier and when it gets short I use a pair of those articulated hackle pliers. They are great for parachutes but not much good for standard dries.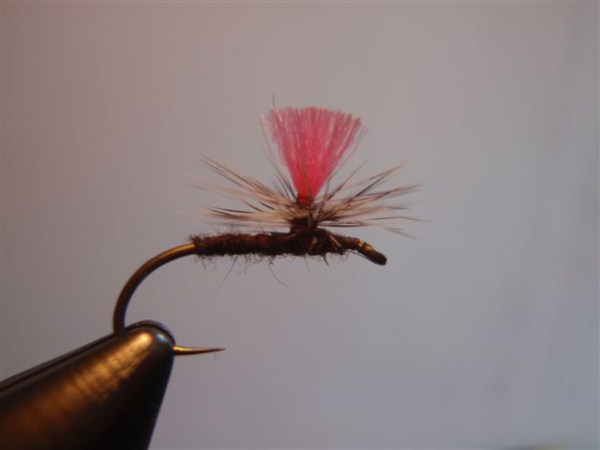 Now just tie off under the wing, I use my fingers, form 3/4 half hitches, drop it over the post and hackle then pull it up tight, cut the thread and apply head cement under the hackle. I use quite a bit as I like to see it soak up through the hackle and into the post. I also always use woman's nail hardener for head cement, I use a brand called Sally Hansen, it seems to soak into things better and goes rock hard. You can also tie off using a whip finisher but I find it easier just to use my fingers. The demo fly was just a combination of colours to make it easier to photograph but I am sure it would work somewhere. If anyone trying this method has any problems, feel free to ring me on 03 206 4935 and I will try and explain.
Tight lines
David
---
16 October 2010
Last Wednesday Graeme and I went on a road trip to find some fishable water as the Mataura was just too high. Most of the places we checked out were too high, although the Aparima up at the Hamilton Burn end was surprisingly low but we did find one stream where there were some rising trout.
These were two long slow stretches and about 1.00pm there was a huge hatch of deleatidium that went on most of the afternoon. There were not a lot of trout up on them though but we kept a fish each and they were full of nymphs so that was what most of them were probably doing. We caught several on CDC emergers and messed up a lot more, none of the trout were that big as you can see in the photos of Graeme and I but they were very strong and they were quite a handfull when first hooked.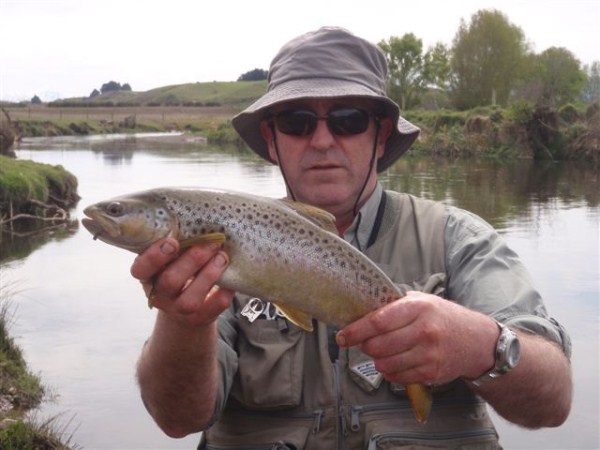 I went to the Mataura this afternoon about 1.30 and checked out a long slow pool, they started rising about 2.00pm and I caught several small but very strong trout, that is one in the photo with the rod. All the trout I have caught in the Mataura so far this season have been in good condition and have fought very well. Now some people may think the Mataura at 1100 at Wyndham on the Eviro-South river flow chart as it was today is too high to fish but if you avoid the fast water because that is only going to be faster and higher and go to the wide slow pools as they won't be any faster just a bit wider and if there is little wind you will find trout rising, especialy at this time in the early season.
These are the same conditions as Graeme and I found on the small stream, anything narrow was too fast but the long slow pools were no faster only wider and also there was no wind.
Tight lines
David
---
13 October 2010
The Mataura went out after the rain on Saturday and is going to remain that way for a while as the warm weather predicted for the coming few days is also going to melt a lot of snow. It looks like the small streams again, in fact Graeme and I are going on a road trip today to check a few out. So while the river has been out it has been a chance to tie up flies and I thought I would put up my mainstay Mataura emergers on the blog.
The first one is my CDC emerger that I have been using unchanged for nearly 15 years now, I use it in #16/#18 but in recent years have used it more in #18, the wing is just as easy to see in the smaller fly but I think the trout like the #18 body better. All these patterns can be used at any stage of the hatch, the thing to remember is that when the trout are taking duns they will also take emergers but when they are on emergers they won't look at the dun. When there is fly on the water check the duns and see whether they are being taken, many times it looks like they are up on the duns but in reality they are feeding just below the surface.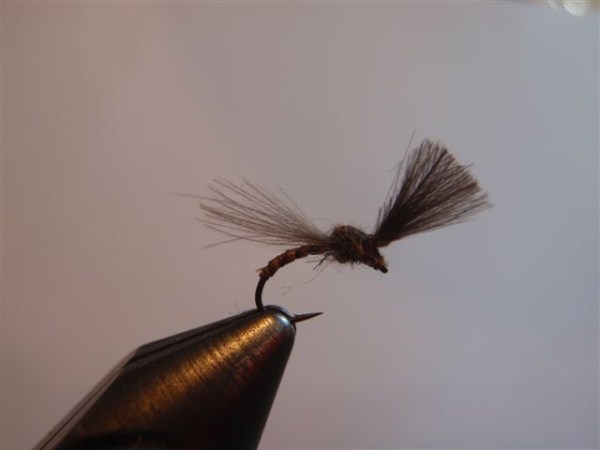 This is when I use the next fly a lot, in fact I have a mate who uses it all the time. It was given to me several years ago by a Dunedin angler so I have always called it the "Dunedin Dun". It is really an unweighted hare's ear nymph, it is fished with no floatant and is sometimes on or just under the surface, it is hard to see but you are generaly casting to a specific trout so when you see a boil or a flash, tighten up. On the Mataura trout spend a lot of time feeding on the drifting nymphs just under the surface, they look like they are taking off the top but they are not.
The third fly is what I call a Quill emerger and it is the only shuck type fly I use, I have never had much luck with the other shuck types. I think this one works as the shuck stays floating on the surface and the body hangs down just like the natural. It is surprising just how selective the trout are on emerger types, I find that sometimes I have to experiment, the one they were on yesterday is not the emerger they want today.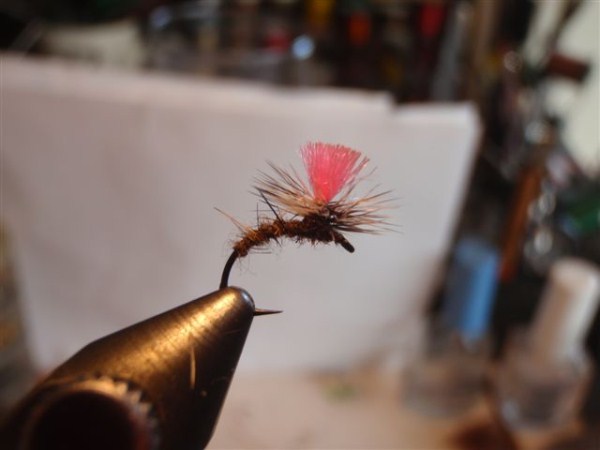 I credit the last fly to a Dunedin angler, Jeff Grainger who tied this fly and called it his "First choice", I have used it for many years. This one is tied with a pink wing post and I use it in foam lines for more visibility but for general Mataura fishing I use one with a white post. Just put floatant on the wing post and the hackle and wet the body so it hangs under the surface.
Tight lines
David
---
9 October 2010
We have just had Koji Sakamoto and his mother staying with us for a few days, Koji has been coming to me for eleven years now and starting as a beginner has developed into a very good dry fly man. This time he bought his mother, Chieko san, who had never cast a fly in her life before but caught six on her first day! She used a black bead head hare's ear #16 nymph and swung it across and down through the riffles on quite a short line. This is a good system for anyone to use, especialy if there is a downstream breeze, just cast across at about 45 degrees, mend the line upstream, let a bit of slack out, point the rod tip at the fly and at the same time take a couple of small paces downstream. This allows the fly to sink some more before the line tightens causing the fly to lift, the majority of your hits will occur then. Don't strike hard, just lift the rod slowly and the trout will hook itself.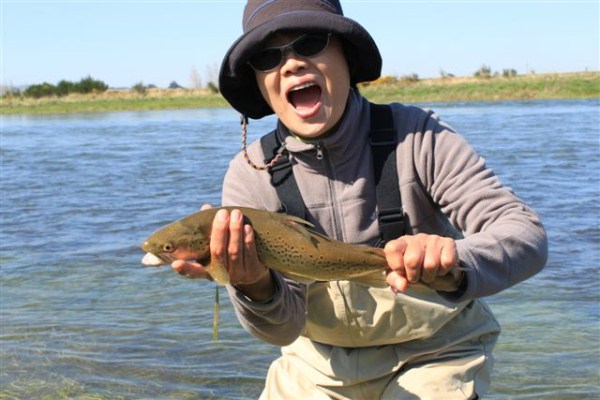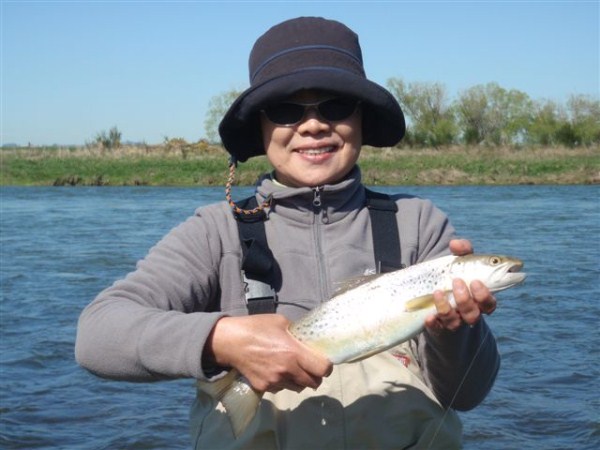 The Mataura is still a wee bit high and will probably go out again as there is still a lot of snow upstream and a couple of warm days will start sending it down. The hatches were not that good over the last few days as I think there was some snow seeping in, the mayflies don't mind cold water but if there is any hint of snowmelt it seems to inhibit the hatches. So we had to hunt around to find rising trout, about 2.00pm there was some activity and foam lines always seemed to hold a couple of risers. I havn't checked any small streams yet but the levels look OK and they should be fine from now on.
Tight lines
David
---
29 September 2010
Conditions in Eastern Southland look bad for opening day, the Mataura is high but coming down although there is still a lot of snow up in the headwaters and in the Waikaia. All of the small streams are also high although again they are coming down so it looks like Friday will be no good but after that things may improve. Never the less I plan to get in the truck and check out a few small creeks, at least it will get me all geared up for when things improve.
Best of luck to everyone for a good season coming up.
Tight lines
David
---
15th Sept 2010
This is a 12lb sea-run that my fishing mate Graeme Clearwater caught a couple of days ago in the same spot as the one I caught in my last blog. Graeme said that there were quite a few other sea-runs swirling about as there is probably more whitebait moving now. Unfortunately I was unable to go with him as I am busy tying flies for orders and outlets, if anyone is interested in buying flies that are tied specificaly for the Mataura give me a ring on 03 206 4935 or send an email.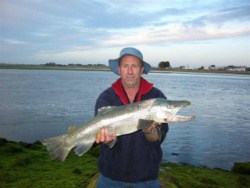 The Mataura is running at 1170 at Wyndham which is too high and I don't like the look of the forecast for the next few days as this could leave some snow up in the headwaters. Last season the Mataura was in great shape on opening day but this is rare and it looks like the small streams will be the go on the 1st. I usually go to a small creek up behind my house which I can jump over but for the first couple of weeks holds some good trout and this is the case with most small waters.
Most of the experts will be telling you to check and clean all your tackle and put on new tippets etc but I will do as I always do and take down my rod from the rack where it has been since last season, same fly still tied on and head off. Although this year will be different as Chris Dore who is the agent for Manic tackle has an offer on some rods that is so good I bought two. I bought them for clients but will try them out first, if anyone is interested in what Chris has to offer, email him at
chris@troutsafaris.co.nz
Tight lines
David
---
6 September 2010
A few days ago, Graeme Clearwater and I decided to go and stay at his crib in Riverton, the plan was to target sea-runners, explore the lower water that is open at this time of the year and spear some flounders.
We had two evenings at the flounders but for some reason the sea was too dirty, maybe it had been caused by the high winds of the previous days. So the next option was to try for sea-runs, Graeme is a bit of an expert in this area having caught several over 10lbs in recent years and thinks the hour before low tide is the best. That first evening Graeme hit two and lost both of them, one he thought was a seriously large trout but that was all. We tried again the next morning and evening but touched nothing even though we saw a few swirling, the catch rate for this sort of fishing is very low but as we were only fishing for an hour at a time it was very pleasant.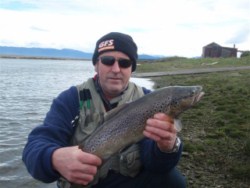 The next morning again was quiet, Graeme thought that perhaps the trout were not in yet and then just before we were about to finish I saw one swirl close to the beach and just below me, I put a cast in front of where I thought it might be and it was on. It took a #8 grey ghost and I don't know what it weighed but it was 72cms long(see photo).
That afternoon we did some exploring and ended up in a large backwater of the lower Waiau, we saw some rising when we arrived but the wind soon put them down. All the same they were quite takable as the tide came in on grey ghosts and green woolly buggers, Graeme caught the largest of 3lbs and the rest were tough 2 pounders.
It was a fun couple of days and shows the possibilites for winter fishing in the area.
Only 25 sleeps to go!
Tight lines
David
---
1st September 2011

I have not been long back from an incredible trip which started in Beijing, through Mongolia and Russia on the Trans-Siberian railway and ended in St Petersburg. This took over two months and mainly involved sight seeing, although I did manage to catch grayling in the Angara river near Kurtusk in Russia. These were caught nymph fishing using #14 bead heads but they were very small, about the same size as the ones I caught in the Itchen in England, see the photo of a grayling in my hand. I fished a couple of rivers in Mongolia without success, although I was told by the locals they held Taimen and Lennock, maybe I missed something in the translation.


I spent nearly six weeks in England, mainly based in London but thanks to some English fishing friends I was able to fish some very hallowed waters. I spent a delightful few days with Peter Mansfield who is a Mataura regular, we fished the Itchen below Alresford which is about five miles above Winchester. This area is where Skues fished and developed his nymphing, it is absolutely beautiful, very clear and the trout and grayling are easy to see in the open patches. The beats are about 200m long and in the photo which was taken at the top of my beat you can see the length of Peter's beat up to the old bridge.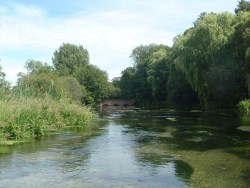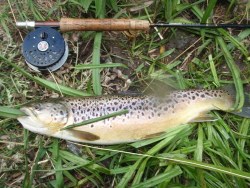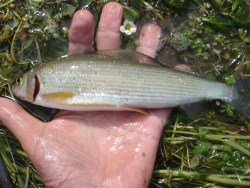 There was no hatch but mayflies were in the air and trout and grayling were rising, I kept calling them mayflies but was told that the true mayflies only appeared in May and the rest were called pale morning duns, baetis, blue winged olives etc. I tried several types of my Mataura CDC emergers, they would look but I couldn't get them to take so I used a green bodied sparkle dun that Peter had given me and they liked that. I found them not too difficult as long as there was no drag and I caught over a doz by the time I got to the top of my beat. The trout were all about the size of the one in the photo lying on the weed with the rod, not big but very pretty colours.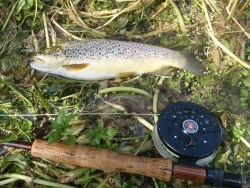 The highlight was the day we fished Halford's stretch of the Test at Mottisfont, this was his personal water and there are two shots of his original fishing hut and one of the inside, the hut has been restored and we had lunch there with Phill Marshall who manages the fishing. After lunch I fished the beat above the hut but nothing was rising as there was quite a wind blowing so I sat on one of the seats( see photo) beside the river and waited. Only one trout rose which I caught on a parachute adams #18, Halford must have turned in his grave! This was the best trout, maybe just 2lbs that I caught on any of the chalkstreams so I released it and went back to Halford's hut and had a cup of tea there with Peter. That trout was enough as to me as it had been caught in a special place that had been the spiritual home of dry fly fishing, I felt very privileged.
I had another few days with Chris Avery who is another Mataura man, in fact he has a house in Mossburn and we fished his club waters. It was a beautiful wee stream and for the first time I saw chub and Dace, I also saw an otter and in the evening we could see Barn owls hunting. I didn't manage to catch any trout although Chris caught several, I did manage to catch a few small Dace.
I also stayed with Barry and Jane Carey who are old clients and we visited some nice water and countryside near the Badminton horse trials and the city of Bath.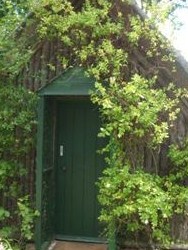 It was all a lot of fun but it made me realise just what we have here in NZ and how it must be protected, especially access, none of the rivers I fished could be accessed by the public. Here in NZ for a little over $100 we can fish most anywhere, anytime but in the UK it would cost thousands of ponds and then you may only get your beat once a week.


Tight lines
David
---