David's Blog 2011 - 2012
2009/2010 Seasons Blog 2010-2011 Seasons Blog Chiba-Chan's Blog
28 May 2012
Well the hatches never got going again, this seems to be the case now that halfway through May they stop rising, there were mayflies around and swallows working most afternoons around 2.00 but I never saw a trout rise. I may still go down in the afternoons for a look but I think it is really time to put my rod away and wait for the sea-runners in September.
I like a break, its good for the trout, it gives me a chance to catch up on my fly orders and we are all keen again when the season starts, I really would not like an open season at all.
We had a fun afternoon with Marcus Lush on Wednesday, he is doing a TV program of his travels around Southland on a motorbike and we did a fishing segment with him. There was not time to get him going on the fly rod and anyway the conditions were against it with a very strong NW blowing. But he did OK with a soft bait on a spinning rod and he hooked a couple and had several solid hits which rather surprised me as I thought the water might have been too clear for good spinning.
This will be my last blog for a while, Graeme and I may go somewhere over the winter if we get a nice day, also we will chase the flounders and make a start on the sea-runs in September. It was a very good season with Southland probably having the best weather in NZ over the summer and autumn, the autumn hatches were better than they have been for a year or two, especially the first half of May. Another interesting thing was that Graeme and I decided that the trout on average were much bigger above Mataura up to Gore for the second season in a row. Although we thought that the hatches were better below Mataura even though on average the trout were smaller.
We developed several new fly patterns that were very successful, there are photos of them through the blogs and they will become mainstays. The other big move was away from the use of CDC, it was a wee bit sad as this material has served us well but the new flies certainly worked a lot better. Thanks to everyone who read the blog and all the feedback.
Good luck to everyone for the coming season and tight lines
David
---
20 May 2012
I think the great run of afternoon rises has come to an end, Monday and Tuesday were good and I took this last picture of where I was fishing as the next day the river went out. I also included the shot of the small sea-run in the net as it was the first trout I caught on the dry that Tuesday afternoon and he fought as well as the next 9 put together but that was probably the end as on Wednesday the river came up.
It was coming down fast today so Ralph and I went to see what would happen around 2.00 and sure enough the mayflies came off but not a trout rose, this often happens in the middle of May and especialy if the rivers goes out as it just has.
But I did something today that I have never done before, I caught trout on a spinning rod! This week we will be doing some filming with Marcus Lush for QUE TV and as rising trout look to be over and he has never used a fly rod, I thought I had better learn how to use a spinning rod so I could show him what to do.
I have had spinning clients before and it was very easy as it didn't matter which way the wind was blowing, how high the river was or whether the trout were rising or not, all I had to do was point to the river and they did the rest.
So I took my wife's son Ralph who is a bit of an expert with a lure to point me in the right direction and after firing the lure in all directions I caught four trout on what are called soft baits. Ralph caught several too and lost a very big trout which we both saw as it jumped, it looked very silver so was possibly a sea-run, I tried Tobies and other types of hardware but the smaller soft baits were the only things that worked.
It was something different, very interesting and we both enjoyed ourselves immensely but I will stick with the fly rod and next season I will teach Ralph to use one as well.
Tight lines
David
---
14 May 2012
The hatches have continued again this week, usually around 2.00 and finishing about 3.00 or 3.30 and the weather and river conditions have been good aside from light east to NE winds all week. Although this is all about to change tomorrow with a change to very cold SW conditions but if there is not enough rain to put the river out the mayfly hatches may continue but generally they taper off about halfway through May so it will be interesting to see what happens.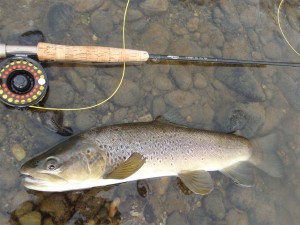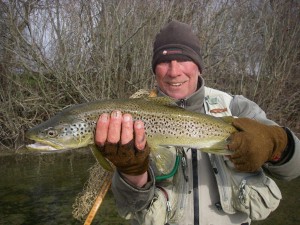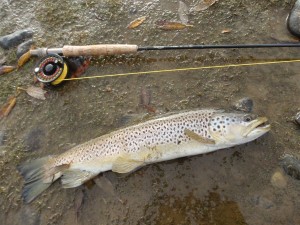 I have had my last clients and this week it has been great to go down to the river about 1.30 and wait for the hatch or swing a wee wet until something happens, then to catch 3/4 trout on dries and go home about 3.30, it is a great life and I realise just how lucky I am.
Michael Hartstonge sent me these photos of a trout that he caught that had this child's bangle around it's neck, how it managed this we have no idea but it is a good thing Michael caught it when he did.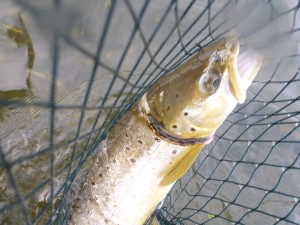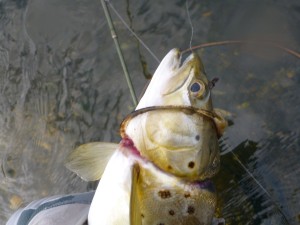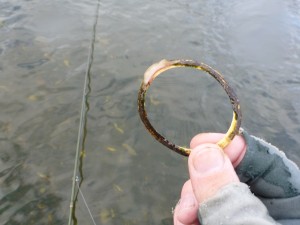 We have been catching a lot of super smaller trout which have been in great condition but anything bigger say around the 3lb mark have been a wee bit slim, even if they showed no signs of spawning. But Graeme hooked into a very big trout early in the week, he was trying for two average trout that were cruising around a slower pool when this huge head rose and took his #18 Aero emerger. He had it on in the pool for about 20mins and then it moved out into the ripple, he had it in close several times and then near the bottom of the ripple the hook just pulled free. He was able to have a good close look at it and as Graeme has landed plenty of big sea-runs down at Riverton he was able to have a good estimate of its size. Graeme and I fish together a lot and we have this no B/S rule so when he told me it was probably about 14lbs I didn't doubt him for one second.
"I had a very enjoyable day early in the week harling one of Stu Tripney's big eye saltwater flies around the mouth of the Mataura at Fortrose with Tony Dawson. It was a beautiful day and dead calm, we caught a few smaller sea-runs but did not do as well as we had at the same time last year for some reason. The one Tony is holding was probably the biggest, although I had something hit me that broke everything, there are a lot of sea-runs in the estury and we will have another go when we get a perfect winter's day." (See above)
The big trout are always there in the Mataura and you never know when you are going to hit one, that's why I always tell clients to make sure what they have on before they put to much pressure on. The biggest trout I had a client catch was an 82 cms, 13 lbs sea-run on an #18 Pheasant tail nymph, I think we got a bigger fright than the trout.
I hope the hatches keep going, it has been a wonderful finish to the season.
Tight lines
David
---
7 May 2012
The river did not come up much but it was dirtier than I have seen it at what I thought was not a high level and this made the fishing difficult on the Tuesday. But the rest of the week has been superb, lovely sunny days with just a hint of NW, just like last week with the hatches kicking off anytime from 1.00 or 2.00. As the river cleared the fishing got better everyday and the last afternoon was fabulous with nearly 20 trout each. The trout we caught were still all in that 2lbs bracket and many smaller, the biggest trout they caught was 52cms which is a little over 3lbs, I didn't get any photos that day as my camera was on the blink.
The hatches have been great but with clients I had to nymph in the mornings and it was tough, I don't think there is much nymph activity at this time of the year until the hatch starts so the trout are not looking for nymphs during the morning. The nymphing is much better in the early and summer season as then the mayflies are inclined to dribble off all day with a peak in the afternoon so there is plenty of nymph activity in the ripples.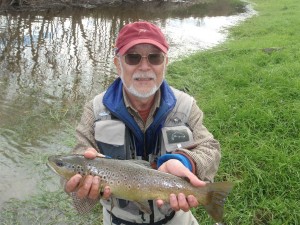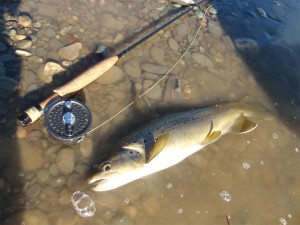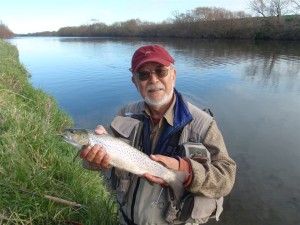 I have been very happy with my sage SP #4,#5,#6 fly rods for years now and over that time I have tried many clients rods and I never felt with any of them that I just had to have this or that rod. One of my clients last week had a #5 Hardy Zenith and it was pure coincidence that the week before Ron Granneman had told me to google the Yellowstone Angler and check out their #5 rod shoot out. They have this very comprehensive series of tests on all the #5 rods, cheap and expensive and in their opinion the Zenith came out on top, just ahead of the Z-Axis. Yellowstone Angler is well worth googling as you get a complete rundown on a number of current rods.
This is not a plug for Hardys but after trying the Zenith I couldn't keep my hands off it, I'am not a great caster but this rod suited me better than anything I have tried for years so I have been searching through ebay to see if I can find a deal.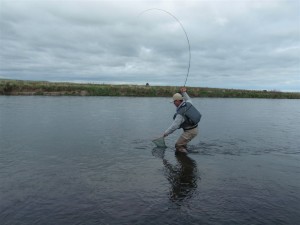 The river right now is at a superb level and the hatches are still going, often they slow down about halfway through May but this year it is a lot warmer and they may continue right through if we don't any adverse weather but it looks like rain on Tuesday and Wednesday, after that it looks great.
Tight lines
David
---
29 April 2012
It has been another good week on the Mataura with hatches every afternoon from around 1.00 until about 3.00, some people who have been hanging around after that are reporting spinner falls until almost dark some days. I have still yet to land a trout over 2lbs over the last couple of weeks, maybe it is just the places I have been fishing as I always make a point of going somewhere different every afternoon. The photos are just random trout I have caught over the week just to give an indication of size and condition.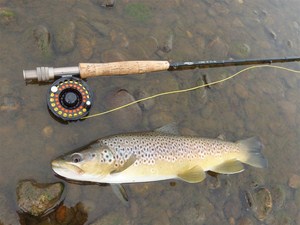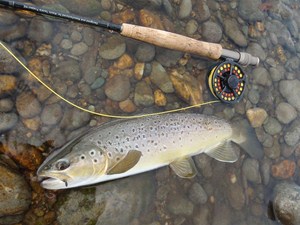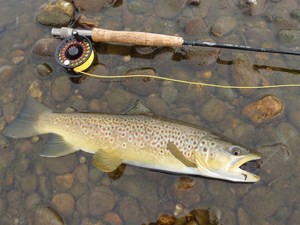 I have been using an #18 aero emerger all week and it has been working well although Graeme and I found them difficult yesterday afternoon. He eventualy solved the problem by hanging an unweighted hares ear nymph under his dry which eventuated in hits straight away and the one fish we killed confirmed this as it was full of mayfly nymphs. No emergers and no duns even though there were plenty of duns on the surface, this was a classic Mataura situation. I just trimmed the wing down to a stub on my emerger and tightened up every time I saw a swirl near where I thought my fly was.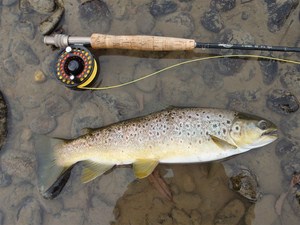 We are convinced that the #18's are working better than the #16's, Michael Hartstonge confirmed this on Saturday when he was fishing a shallow ripple and because of the light he could clearly see the trout and their reactions to the fly. He deliberately started with a #16 emerger and he could see the trout refuse the fly, he then tied on the same fly in an #18 and the trout did not hesitate to take the fly.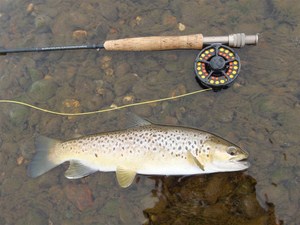 The river came up slightly today but started going down as this afternoon's rain came, it could rise again but we did not get much here and it will depend on what happens up country. A wee bit of water in the river will not hurt it but I don't want too much as I have my last clients for the seaon arriving tomorrow for four days.
Tight lines
David
---
23 April 2012
The weather has continued to hold, in fact it has been lovely, every day last week was fine, sunny with no wind and every afternoon after lunch there have been rising trout. Although yesterday which was Sunday absolutely nothing happened anywhere on the river, not as far as I could see, neither I or any other fishermen I spoke to saw a mayfly or a trout rise. It was very warm and there was a nasty downstream east wind which might have had something to do with it.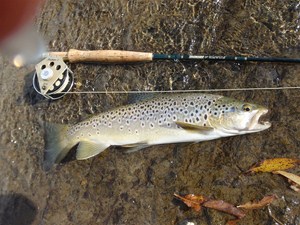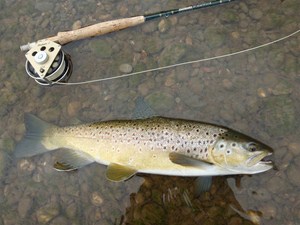 The trout we have been catching this year have not been as large as in other years, maybe a shade over 2lbs on average, the trout in the photos are the first of 20 I caught in a couple of hours on Friday afternoon so you can see the average size. I don't usualy pig out like this, 3/4 is plenty for me, but it was such a beautiful day and the fish kept rising, I had decided to stop at 10 but by the time I had crossed the river on the way home the tally had risen by double.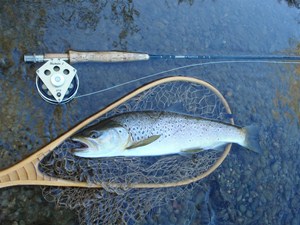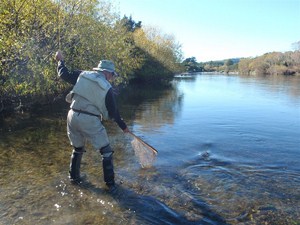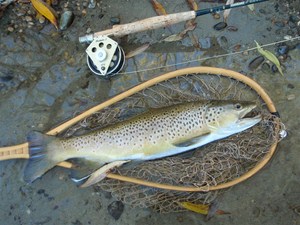 I have noticed that my leaders have been getting longer the last couple of seasons, this is not because the trout are spooky but more I think to avoid drag and they just seem to work better at this length. These are not the ultra long leaders you see in other parts of the country but from a standard 12' leader they seem to have grown to 16'/18', this is no problem on the Mataura as it is a very open riverbed.
I start off with 2' of .024(40lb) maxima which I attach to my flyline by poking a hole in the end with a thick needle, then I cut the maxima on an angle so it has a point and push it into the hole in the flyline. I then superglue it and this is what I tie my leader to, this heavy butt section helps with turnover, reels through the guides easily and everytime I tie on a new leader I am cutting into this section and not the flyline. The butt section would not be much further than 1mm into the flyline but I have never had this break as the tippet would break long before that happened, this method was shown to me by Ron Granneman over 10 years ago.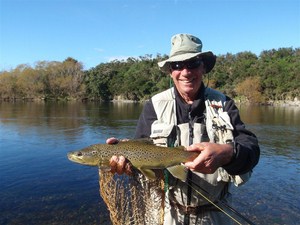 I then tie a 9' 3X tapered leader to the butt section with a blood knot (this is the only time I ever use a blood knot!), I then tie 3' of 4X tippet, then another 3' of 5X. If I think I am in a situation where drag is a real problem or the trout may be particularly spooky I might add a couple of feet of 6X. This is all mono, I never use Fluro as it sinks, it is also very expensive and for what we do I have never seen any advantage with it. I use exactly this rig when I am nymphing but I would leave the tippet at 5X.
The Mataura is getting quite low again but this won't hurt as the water temp. has been steady at between 11/12 most days, the weather looks good but there could be some rain later in the week.
Tight lines
David
---
16 April 2012
It has been a good week, we have had hatches everyday starting from about 2.00pm to 2.30 and going for about an hour or maybe two, depending on the area. They have not been as intense as I have seen them in other years but there are enough trout up to have a lovely autumn afternoon's fishing.
The fishing has been what we call "Goldilocks" fishing, not too difficult but then not too easy, in other words, just about right. I have not run into any spinner falls yet although there could very well have been some on other parts of the river. It looked as though there could have been a few starting about 4.00pm on Sunday afternoon by the look of the rise forms. There certainly will this coming week if the conditions are right as there have mayflies hatching everyday.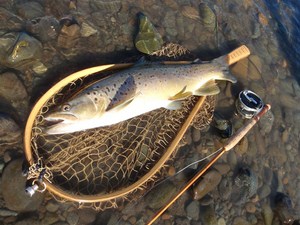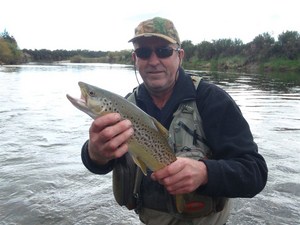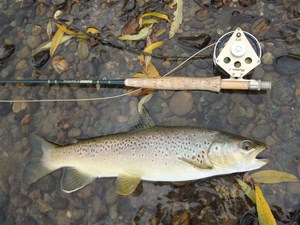 I had a really enjoyable afternoon on Wednesday with Michael Hartstonge, we caught some good rising trout and with the hatch virtualy over he found this trout feeding in a very shallow ripple. He was not much more than a rod length away from the fish and he was casting into the dark water so it was very hard too see the fly and we were not sure that he had actualy covered the fish. As he had already caught several trout on this fly he put some more floatant on the wing, this set the fly up and we could see it more easily. Several more casts and he got a drift right on the nose, the trout just lifted it's nose in the shallow water and took the fly and was on.
This was a salutory Mataura lesson, many people would have been changing flies but the simple fact was that the trout had just not seen the fly until that last cast. There is actualy not a lot of reason to changes flies on the Mataura, maybe only when they change from duns to spinners but as long as your fly is in the film and is #18 to a small #16 the only thing left is presentation. Right over the trout's nose with no drag!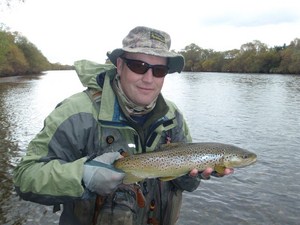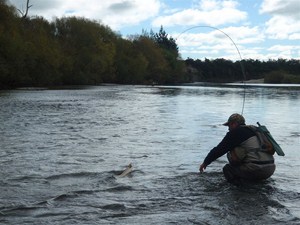 Michael, Graeme and I have been using the same fly all week, an #18 aero emerger and we are finding that the aerodry wing material is far better than the same fly tied with CDC. In fact I have had the same fly on all week and so has Graeme, I hear this is a no no with some up country guides who re tie their tippets every hour even if they havn't cast to a trout.
The weather looks good for at least another week and the river is getting low but is in perfect condition.
Tight lines
David
---
10 April 2012
At last, the hatches started today, I thought they would as a cold SW with showers was forecast and mayfly hatches on the Mataura are temperature related. The last three weeks of beautiful, warm, sunny days has been great but no good for mayfly hatches, although you will get spinner falls on calm, warm days.
I was busy in the morning and did not get to a favourite stretch until about 1.30pm, nothing happened until about 2.00pm when the terns and swallows started swooping over the pool. It was not long after that that I saw the first mayfly and them about 2.20 the trout started to rise and they were really going by 2.30.
That is the usual pattern, first you see the birds, then the mayflies and the trout are the last to appear on the scene. If you are trying to see if any mayflies are coming off, look at the willows opposite you and you will see them in ones and twos at first against this background.
They went for about 40mins where I was but my spies tell me they were going most places on the river and for considerably longer than at my spot. I hooked 6 while they were rising but only managed to land one, I think I had a bit of buck fever as I couldn't get them to stay on the hook and I also had two break me off. I hooked them all on a #18 aero dun as we now call that fly tied with the black aerodry wing material, there are photos of it several blogs back.
Conditions look really good for the rest of the week as the cool conditions look set to continue, also we didn't get the rain we could have so the river levels look perfect too, we could be in for some nice fishing over the rest of April.
Tight lines
David
---
2 April 2012
It has been another tough week on the lower Mataura, not for last week's reasons when all we could do was look at the high, dirty water and drive off in search of clean water. No, the Mataura has been at a perfect level and every day has been a beautiful autumn day with not a breathe of wind but all week I have only seen a couple of trout rise and maybe about half a dozen mayflies!
Trout have been caught on nymphs by some people but I gather that even this has been tough and all sorts of theories abound as to why the trout are not rising. One is that the river has been high and dirty for over a month and the trout and the nymphs have taken a pounding but a look under any stones will reveal heaps of mature mayflies. There is a thought that it has been too warm as the Mataura mayfly likes cool, SW weather, the last couple of days have been around 22 degrees but the mornings have been cool and this is the time of the year that we expect to see hatches.
The conditions during the week have been ideal for spinner falls but there have been none and to get spinner falls you need to have dun hatches so obviously for some reason there are no duns hatching anywhere.
It may yet come right as it has often been the last couple of weeks of April before the hatches really got going over recent years. The weather forecast is great for the next week out and I for one will be sitting on the bank everyday after lunch on my favourite pools waiting for the rise.
Tight lines
David
---
26 March 2012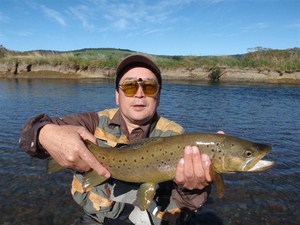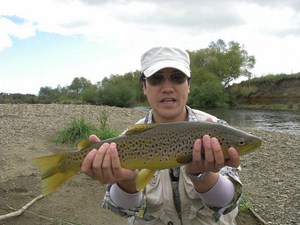 Well the Mataura never came right all week as we had rain on the Monday and that kept the levels up all week, although Greville and John from England caught plenty of trout on nymphs in it yesterday. But, I will say it again, the weather looks good for a while yet so things may at last be coming right and if it does we should see some good afternoon hatches.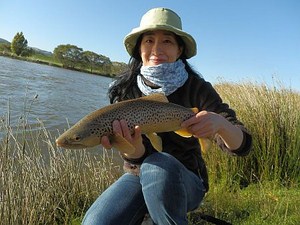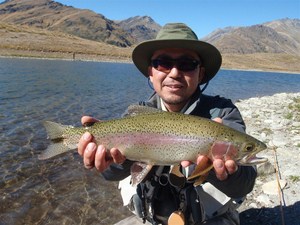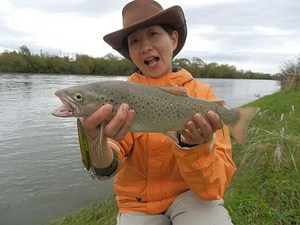 It was a tough week with my 8 Japanese fishermen, we never did get into the Mataura and we were forced to travel all over Southland and into Otago to find fishable water. We managed to find them fish in all sorts of places but it was tough as everything was running just higher than normal which made the fishing difficult.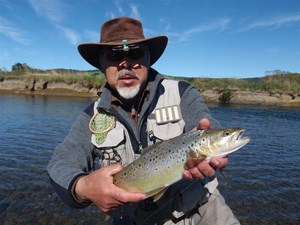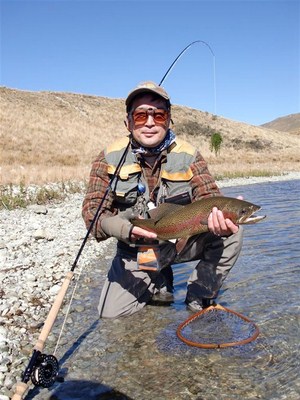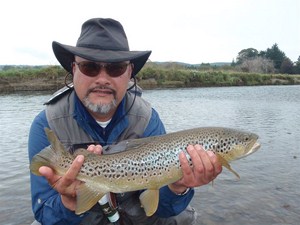 We also had another Japanese couple, Hiro and Noki Sasazaki,who were survivors of the Tsunami last year, they had no car so they fished with spinning rods in the dirty water above and below the Gore main road bridge. I don't know much about spinning but they caught a huge number of trout on rapalas in the high water last week.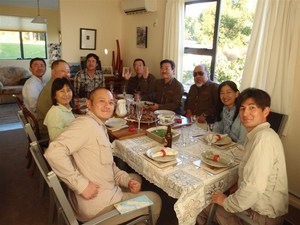 The bottom photo is of a new fly that we think will be just the answer in high water but seriously it is a WWII hand grenade that my fishing buddy and head guide Graeme Clearwater found sticking out of a bank on his favourite pool yesterday.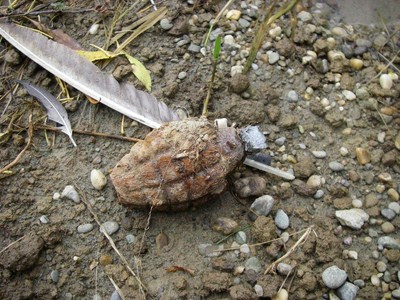 Tight lines
David
---
19 March 2012
Again the Mataura has been a write off all week as you can see from the photo taken off the Gore bridge although Hiro Sasazaki managed to catch a nice brown the same day. The Mataura is on the way down again quite quickly and we may be forced to have a look at it tomorrow as we have eight Japanese fishermen with us who need guiding over the next four days. But it should get better everyday if there is no more rain and it doesn't have to be that low to get some good hatches at this stage in March.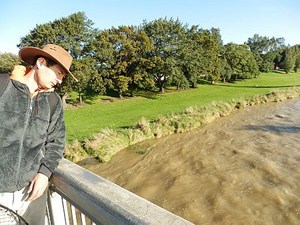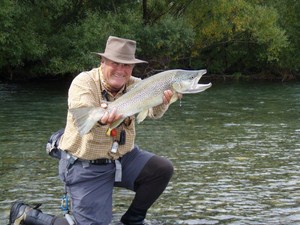 The weather looks good out for the next week but I have been saying this since the 22nd of Feb which was the last time I caught trout in the Mataura! When it is up around these levels it needs a good spell of fine weather to get down, at this level it only needs a cockie to pee in it up in the Waikaia and its out again.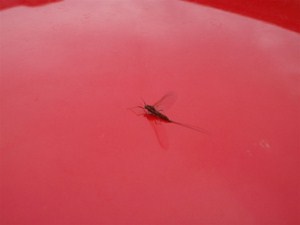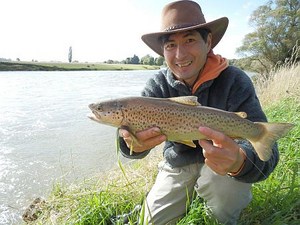 The two nice browns were caught in a small stream that was just marginal to fish by John and Greville from England. Often the small streams fish well when they are full as the trout are easier in the slightly discoloured water. We don't fish them much at this time of the year as the Mataura is usually the first choice but they are well worth a look as they have mayfly hatches just like the Mataura at this time of the year.
The mayfly dun was sitting on the roof of my wife's car this morning so maybe it is a good omen for the coming week.
Tight lines
David
---
12 March 2012
The Mataura started off on last Monday very full and unfishable but by Friday even though it was still high there were some big afternoon dun hatches, these hatches carried on on Saturday and Sunday. We are now nearly halfway through March so these hatches should be the norm from now on, especialy on cold, showery days like yesterday.
Once the autmn hatches start it is not so crucial if the river is a wee bit high as the Mayflies will still hatch even in quite dirty water and because there was quite a lot of rain on Saturday night and yesterday we may be looking at higher water conditions this week.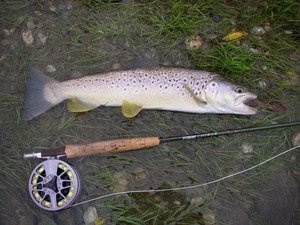 One good thing about these higher water conditions is that the trout are a lot easier, any accurate cast over the last three days would bring a response, you have to get it right over their noses in this cloudier water. The trout seem to have shed a wee bit of condition too over the last couple of weeks of high water but an abundence of mayflies will soon bring them right. Although the very pretty, 8lb brown in the photo that a friend sent me from some back country stream during the week is in superb condition.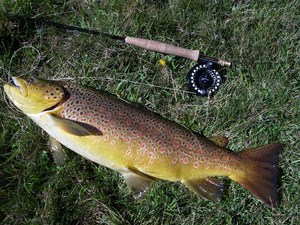 So even though the conditions are tough, check out some of the more sheltered pools from about 1.00pm on and if there is nothing in the smooth water just sit and watch a ripple for a while.
Tight lines
David
---
5 March 2012
The Mataura is out as you can see from the photos and it looks like it may stay that way for a while as there is more rain forecast for Tuesday night into Wednesday morning. I have not wet a line since I had that great spinner fall on the 22nd of February and have had to put several clients off as the small streams have been a bit of a mess as well. Hopefully when things clear up we should be looking at some mayfly hatches as the weather has been getting cooler and it has a real autumn feel about it.
Tight lines
David
---
27 February 2012
We had a lot of rain from Thursday on, especialy in the upper Mataura and the Waikaia, the Mataura at Wyndham peaked at 3325mm but since then has dropped surprisingly fast. It did the same in the January flood, the ground must have still been very dry as the Waikaia is usually the slowest to clear. It is now at around 1500mm and at this rate it should be fishable in certain areas in a couple of days, the edges of the long, slow pools are a place to look and I have caught them before amongst the thistles and docks as the river was dropping.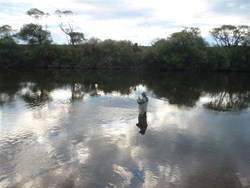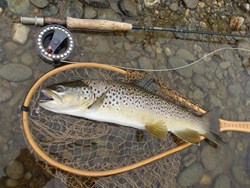 I guided Mike Benson just before the rain came and he caught some nice trout but it was unusually tough even though the river was in perfect condition. Before the rain there were some dun hatches in the mornings and in the calm before the storm there were some incredible spinner falls. We have been having a lot of success during spinner falls using that fly with the black aerodry wing, there is a photo of it in the 16th Jan blog but I have been tying it recently with a white aerodry wing and it is very easy to see amongst the spinners.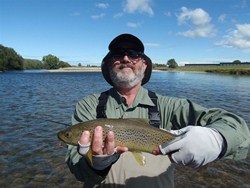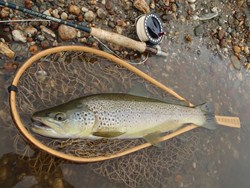 It will be interesting to see what the flood has done to some of the ripples, I hope it has changed some of my favourites back to what they were but unfortunately as seems to be the case recently they will have filled with gravel. This is a phenomonem which is occurring more and more, pools that had a rocky bottom are now covered with the lighter coloured gravel. I don't know what the answer is, maybe more gravel extraction but I do know it is destroying the character of many pools.
Tight lines
David
---
20 February 2012
The Mataura has been great for the last week, the weather has been cooler, the water temperature has been in the 15/16.5 degree range, there has been very little wind and what there was has been from the SW, perfect conditions. The nymphing in the mornings has been very good and we have been using a #18 black beadhead hare's ear nymph tied on a TMC #2499 hook. There have been no afternoon dun hatches as yet aside from a couple of good spinner falls but in a few select spots there have been small dun hatches in the morning and trout have been up on them. These have been at the shallow tails of slow pools, in the smooth water just before it runs over in to the next ripple.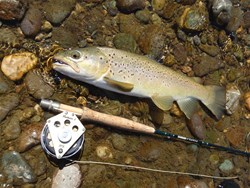 Over the last few weeks I have been working with Zane Moss from F&G and Andrew McMurdo of Cue TV, we are in the process of producing a DVD of fishing on the Mataura, the idea is to show people how to do nymph, wet fly and dry fly fishing on the Mataura. We have been nymphing with Zane doing the fishing and me guiding and we will do the dry fly segment when the autumn hatches hopefully start in March. The photos are of some trout Zane caught on the nymph in a shallow ripple on Friday. When the DVD is completed it will be available from F&G, Invercargill and you will also be able to view it on my website.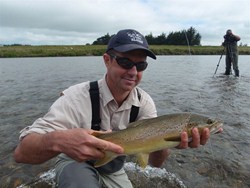 The weather looks good out for the next week although there could be rain on Tuesday but the river is so low it will take a lot of rain to put it out. Yesterday's rain made no difference down here but Cattle Flat and the Waikaia are up a couple of inches but I don't think it will be noticeable down this way.
Tight lines
David
---
13 February 2012
After a very warm, humid easterly wind start to the week which really made things tough, a cold SW change on Thursday really set the Mataura alight. I had Andy and Ted from Australia, a first for me by the way, on Wednesday and it was tough due to the hot weather, east wind and water temps of 21 degrees but they still caught some good trout. They were on their own for the next couple of days but with the cool weather change and a few tips they caught a heap of trout on nymphs and dries.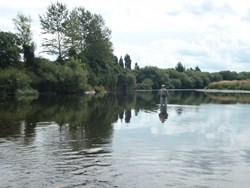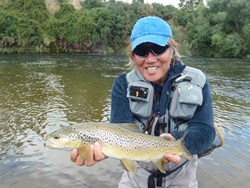 The Mataura is not the difficult river that many people make out to be, although it can be in certain weather conditions, use small flies, #16/#18, avoid drag and learn where the trout live. Most people walk right past the productive water, I was about to cross a tailout with Ted, the water was ankle deep and I said there will be trout in here, I could see that he was skeptical until we walked into it and he couldn't beleive the number of bow waves that shot away from us.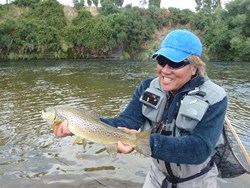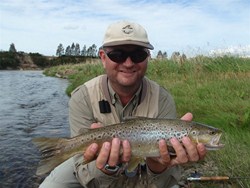 Later in the week I was guiding Yasuhiro Hamano of Team Hamano and we had some good fishing but he too could not believe just how shallow big trout would hold. There was a huge spinner fall which started about 11.0am and went all afternoon, conditions were perfect, cloudy, warm and no wind but for all the spinners on the water very few trout were up on them. Hamano san caught several on an #18 pale morning dun of his but they were tough as they were only coming up here and there and the fly had to be right on the money.
The weather looks good for a while yet and the river is cool and at a good level so it should fish well, especialy if we get a few cool nights to keep the water temperature down.
Tight lines
David
---
7 February 2012
The Mataura has dropped to a good level but it has been very warm this last week and water temperatures have been from 17.5 through to 20.1 today. I was given one of these temperature thingys that I only have to point it a couple of cms from the water, click a button and I have the temperature, a vast improvement over the old one which I used to dangle in the water for a minute. While not hot enough to harm fish they have had an effect on the fishing and the great nymphing we were raving about last wek has dropped off, although I got this beauty in the photo, which really doesn't do it justice, over a drop off. It was 60cms but as fat as a pig and it looked more like an Oreti trout, all the Mataura trout are in superb condition at the moment. There were a couple of others there as well as I could see their dark shapes moving on the lip but I left them for a client who is coming tomorrow.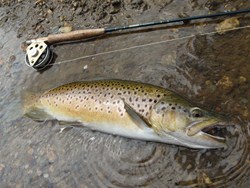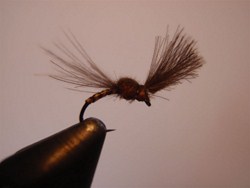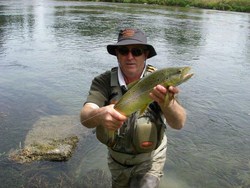 I have included a photo of a fly of mine that a fishing mate uses a lot, he loves it and we call it a quill emerger. It is very easy to tie, wind on a body of stripped peacock quill, tie in 3 CDC feathers with the butts forward, dub a thorax of mahogany superfine dubbing, bring the CDC forward and form a wing but leave some fibres trailing as we think this looks like a shuck, I tie it on a #16 Gamakatsu hook.
The forecast looks good for a week out and NIWA says that the same conditions of warmer, drier and less wind will carry on into the Autumn, we shall see but it sure feels like it.
Tight lines
David
---
30 January 2012
We had another great week on the Mataura until this last burst of rain will have put it out for a couple of days, although I see more rain Tuesday/Wednesday. We have had Seiji Kikuchi with us over the last week and he had some very good fishing, averaging just over 20 trout a day landed but he hooked and lost many more than that.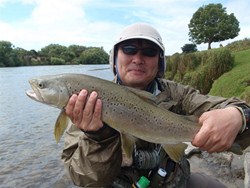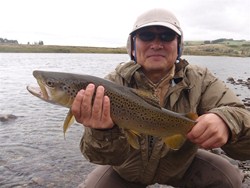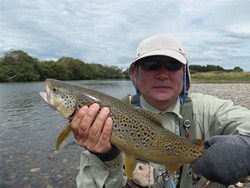 He caught a lot of his fish on nymphs and the nymphing was as good as I have seen it for years. Nymphing the knee deep ripples used to be a very easy way to catch trout on the Mataura but over the last few years it has got a wee bit tougher and I don't know why. I have been using smaller and smaller nymphs and I think this has helped, my standard nymph is now tied on a #16 TMC #2499 with a black bead head.
Seiji had a great first day on dries though, this was last monday which was very cold with a SW and showers, they started about 11.00am and went most of the afternoon. This was in the tail out of a long pool as it went into the next ripple and they were rising here and there, it was not a huge blanket hatch but if you watched closely there would be a swirl or a head would appear. He was using my #18 black aero dry wing dun, I must give this thing a name and if it went anywhere near one it would take. There is a photo of this fly several blogs ago.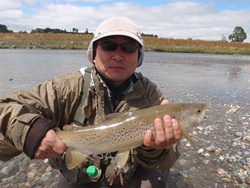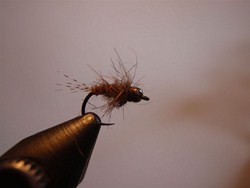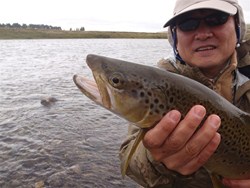 These cold, SW, showery conditions are when you will get your dun hatches in the summer, it also helps in the early and late season but it is generally colder then anyway. I tried to tell some Aussie fishermen that were heading for the pub on Monday that there could be a hatch later on but I could see that they thought I was having them on. A lot of fishermen have not yet cottoned on to these cold conditions and seem to think that nice, sunny days are when it happens. Sure on a warm, cloudy day with no wind you will get spinner falls anytime in the season but the duns like it cold.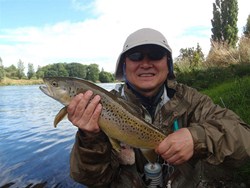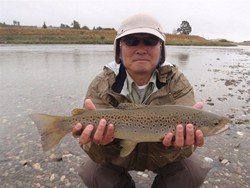 Tight lines
David
---
23 January 2012
The Mataura really surprised me with the speed at which it dropped, I thought it would be a week after the peak but we were catching trout on dries by Wednesday. It is now down to 665 at Wyndham, which is a good level and it has been fishing well for the last few days, especialy in the mornings. The afternoons have been a different story as strong winds have put the rises down and made for difficult fishing.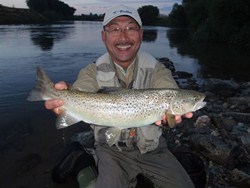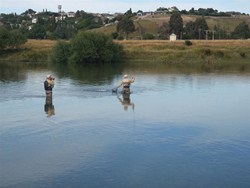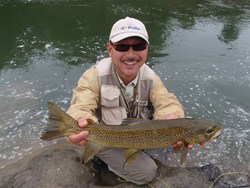 We have had Kenji Sugisaka san and his son Yutaro san staying with us and they had great spinner falls in the mornings but the afternoons were tough. So we headed for a small stream which had plenty of willows to shelter us, needless to say the trout were fully locked on to willow grubs. Personally I don't care for willow grub fishing as it is too hit and miss, no matter what people say about the perfect willow grub imitation, I don't even carry one in my fly box.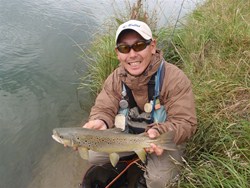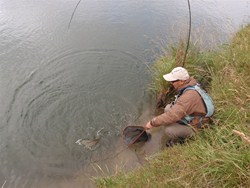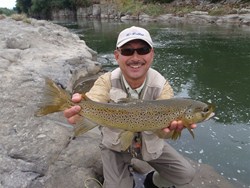 But Kenji and Yutaro were fascinated as they had never come across willow grubs before even though they have been coming to us for years. Kenji san is reputed to be one of the top fly fishermen in Japan and his casting is a joy to behold so I don't know whether it was this or the fly he produced but I have never seen willow grubbers caught on such a regular basis.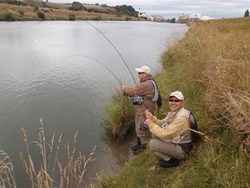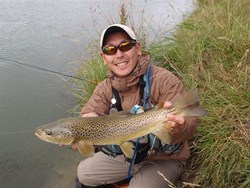 The fly was just an #18 TMC #2457 with a dirty yellow dubbed body with a tuft of CDC as the wing, it was a fly that he used in Japan for their trout. The thread is run up the CDC post a wee way so that the body is just under the water and is supported by the CDC. So in spite of my disdain for willow grubbers I think I will go out and try this fly and see if it works with an average fisherman, if it does I may post a picture.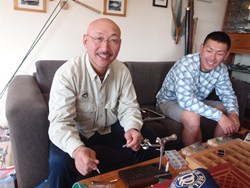 Today being Sunday is cold with some hail showers and a SW that is not too strong, it is just perfect for mayfly hatches.
Tight lines
David
---
16 January 2012
Conditions have certainly changed from last week, you have to be careful what you wish for in Southland, although the rain has been great for the farmers, gardens and the river. It is only halfway through January so there is still February which is a dry month and March/April can be dry as well so it has come at the right time.
There was a lot of rain in the Waikaia catchment although it seems to be dropping up there fairly quickly but it is going to be at least a week before we will have good fishing down this way.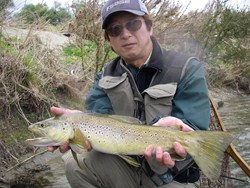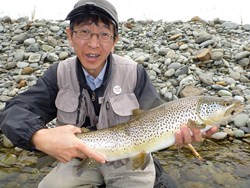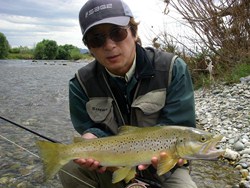 Enomoto san and his friends had some good fishing on the lower Mataura and the Oreti last week, Michael, Mike and Graeme gave me a hand as it was a busy week, thanks guys. Graeme also looked after Funamizu san who was a first timer on the Mataura and he had a lot of fun.
Over the last few months I have been using less and less CDC in my flies, it changed when I started using aerodry wing on a fly that we had previously tied with CDC and it has been a great success. So I started using the aerodry on my CDC emerger that I have been tying now for 15 years and it too has been working well. I have included photos of the two flies tied with aerodry that used to be tied with CDC.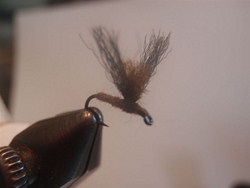 CDC is an excellent material but sometimes we were unsure if it was still floating out there in the dark and it is hopeless in the rain. This aerodry material is easier to tie, in the black colour it is very easy to see and with a wee bit of floatant on the wing it is great, you don't have to keep squeeze drying the wing or have to use that expensive "Frog's Fanny". I will still use CDC for some flies but the two aerodry wing flies pictured have been clicking all the boxes so far this season.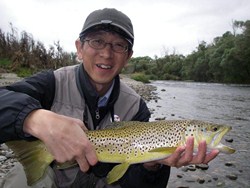 This rain will freshen up the small streams as well and they should be worth a look as they will come right before the Mataura does.
Tight lines
David
---
13 January 2012
The Mataura is as low as I have seen it for a long time it was just under 500mm at Wyndham today but it is still fishing well. The water temperature got up over 20 degrees a few weeks ago but over the last week it has been in the 16.5 to 19.5 range so the mornings and evenings have been the best times to fish it. The small streams have also just got too low and weedy for decent fishing.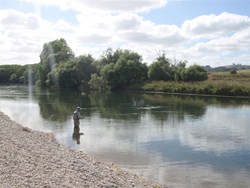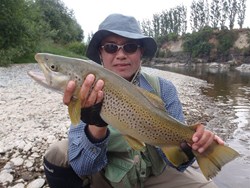 I have been flat out guiding and have just done ten straight days and the body has handled it well, I feel better than I have for years. I guided Nick Copeman first and he has become a fan of the Mataura and vows to return even though it was tough fishing when I guided him.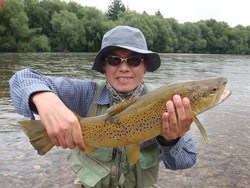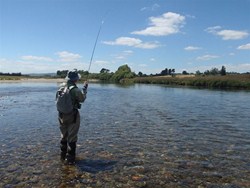 Then we have had Hide and Miyu Morimoto staying with us for eight days, we had some good dun hatches in the morning, in spite of the warm weather and spinner falls, plus they caught some good sized trout. The size and condition of the lower Mataura trout have been excellent, many trout in the 50cms(20") plus bracket and up to 61cms, a 50cms trout in good condition is 3lbs.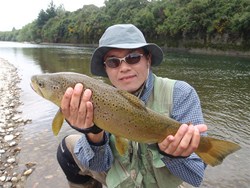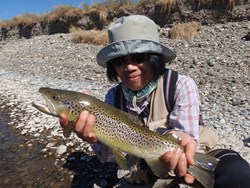 My wife Bev's annual new years day fishing competition was won by my client Hide with a lovely 54cms trout but the day before he had caught a cracker of a fish of 61cms, there is a photo of Bev presenting Hide san with his trophy.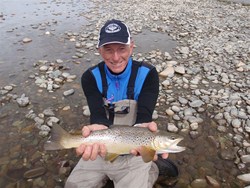 Hide caught a lot of trout on brown beetle patterns which I am sure were taken for green beetles, this was fun as the trout were taking in very shallow water, one of the photos shows just how shallow the water was that we were fishing.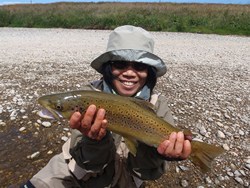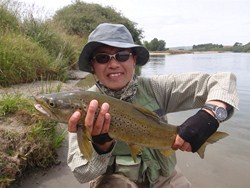 The dry weather looks set to continue although there looks like some rain on Thursday/Friday and this hopefully put some water back in the river.
Tight lines
David
---
26 December 2011
The Mataura is very low now at 620mm at Wyndham but it was lower last season at 524 so it has a way to go yet, there was even a wee fresh in it yesterday and it went up 10mm. The warm weather has stopped any mayfly hatches although there was a big spinner fall late yesterday morning so they have got to be hatching sometime. It is not in the evening as the evening rises have been poor and most of the trout have been taken on beetles, they have probably been hatching during the coolest part of the night.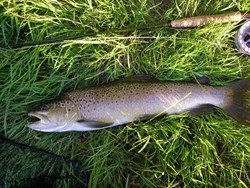 There has been a lot of Willow grub activity in the smaller streams but the trout will still take a beetle if you are having trouble trying to take them with a willow grub pattern. I have yet to see a willow grub pattern that works consistently and over the years I have seen plenty of guides and fishermen who swear they have the answer but I have never seen it. The problem is that when the grub hits the water it twitches and this is the hard part to imitate.
Several years ago we got all the trout bums in Mataura and Gore to concentrate on willow grubs for a couple of weeks and see if someone could come up with an answer or a pattern. The only consistent thing that came up with most of them was that you had to drop your fly only a matter of 2/3 inches in front of them, if it was nearer a foot away they had time to think about it and this usually resulted in them ignoring it. The particular pattern used was not that important, a beetle or a small nymph seemed the best.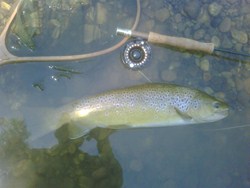 They are frustrating when they are grubbing but it is one time when you get to see some big trout cruising right in front of you and seemingly unspookable. We often do stretches of the Waikaia and we move from pod of grubbers to another, sometimes your first cast through a new pod will get a result but if you keep casting they just ignore you so we then just move on to another pod.
Everything is low and dry but it is still better than the summer floods we can get, trout are taking beetles, brown and green, soon there will be cicadas and there are always plenty of willow grubbing trout about.
Tight lines and a happy new year.
David
---
19 December 2011
The Mataura is still at a perfect level and the promised heavy rain did not arrive but there was just enough to lift the level 120mm which freshened it nicely. The small streams in our area are holding up well too, but it doesn't look as though there is going to be any significant rain before Xmas so they will come under some pressure by then.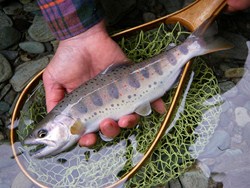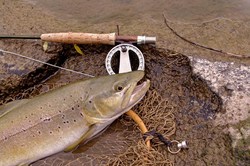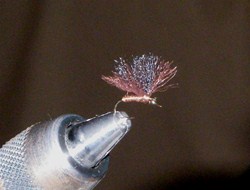 It has been a quiet week on the Mataura, no hatches or spinner falls although the last couple of days have been cooler and we caught trout on dries yesterday and today. I have included a photo of a variation of the fly we have been using a lot of recently, this one was tied by Hide Morimoto, he leaves his post higher than we do but it works just as well. I also put in a photo of his Amago which is a type of Char and this fish at 29cms is big for a Japanese stream but it is beautiful. I have never really been into big trout, all I ask of a trout is that it comes up and takes my fly and I have never understood this obssesion with only big trout.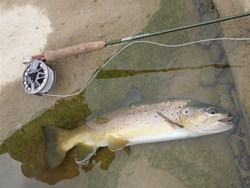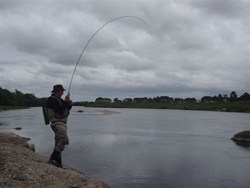 The trout are still taking beetles and my fishing mate took three just on dark last night on a beetle pattern as there were no mayflies about. We have been turning over a few rocks and checking the nymphs and there are plenty there but most of them seem to be the smaller, grey. imature nymphs. Maybe the mature nymphs have hatched or suffered losses in the high water recently but I doubt that because if that was the case they would have died out a long time ago.
A merry Xmas to all and I hope the new year is better because it has been a tough first three months.
Tight lines
David
---
12 December 2011
The Mataura is now at about a perfect level of around 700mm at Wyndham, I don't like it much lower so some forecast rain for later in the week should fix that. We fished small streams and the Mataura over the past week, most trout were caught on beetle patterns as there have been no mayflies around due to the very hot weather.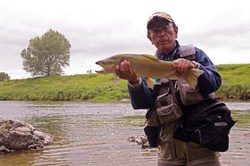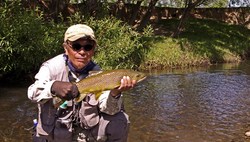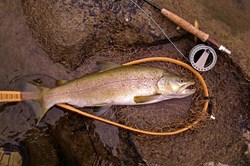 Evening rises have also been a mixed bag with some pools going well and others not so, again beetles have worked well as has a wee wet swung across and down. Caddis have been the main hatch so if you see a lot of splashy rises with the odd trout coming clear out of the water, this is a sign that the trout are feeding on caddis pupa. A wee wet fished across and down can be deadly when the trout are on the pupa as the lifting of the fly when it starts to swing imitates the rapid ascent of the pupa to the surface. The trout are chasing them as they rise and this is why the trout break the surface as they take them and sometimes come clear of the water. The adult caddis leave the surface straight away so the trout seem to concentrate just on the pupa, I have never had much luck using an adult caddis pattern at this stage, not on the Mataura anyway.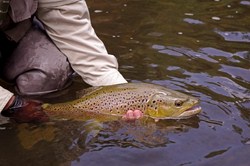 I did my first guiding job of the season since my operation on Saturday and I felt great so it is good to be back on the river again.
Tight lines
David
---
5 December 2011
We got sick of waiting for the weather to come right so at the start of the week we took off to a small stream in the Waitaki area that begins and runs through a friend's farm. The weather was beautiful and we had some great sight dry fly fishing to 3/4lb rainbows, they were not as easy as they looked but Toshio is a master caster and he did not put many down.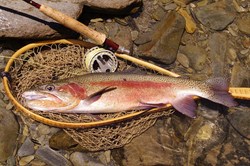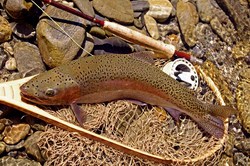 He was using what he calls a Light Cahill #14, it is tied using Wood duck flank feathers, if you google it there are heaps of photos and tying instructions. It is a great fly to use in those back rivers as it imitates the large sulphur duns and Coloburiscus mayflies and it is probably fuzzy enough to even be a beetle/cicada imitation.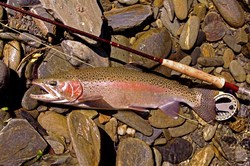 Talking about large mayflies, we were poking around on the lower Mataura today and there must have been a small hatch of Coloburiscus humeralis( Kakahi Queen) mayflies as we saw maybe 5/6 of them and I managed to catch one. No trout were up on them but this is a very rare sight on the lower Mataura as they are more commonly found in the back country. This was below Mataura township and one could hardly call this a pristine stretch of water!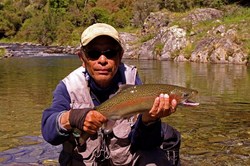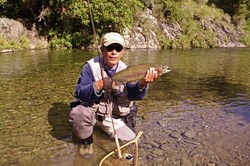 The Mataura is definately coming right and even the weather aside from a few showers looks pretty settled for the next wee while. Although it has been very warm, far too warm for afternoon dun hatches but if they have been hatching at night there is the possibility of spinner falls in the right conditions.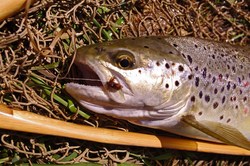 In the absence of any dun hatches we have been having a lot of success fishing a beetle pattern through ripples, just as you would if you were nymphing it, it is rather good fun as the fish come from nowhere and really hit the beetle.
Tight lines
David
---
28 November 2011
Again it was a week from hell, all the rivers and streams were blown out with the rain last Sunday, our plans to go to the Waitaki area had to be cancelled as well. We caught some fish in Te Wae Wae lagoon on the Monday but even that was tough as the Waiau was high and backing dirty water up into the lagoon.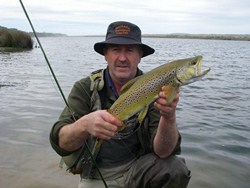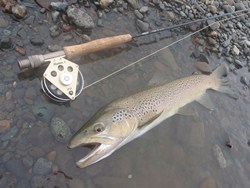 We tried the Hamilton burn on Wednesday as it is always the first to clear and it was in good shape but the wind that was going to plague us later on in the week was just warming up. So we gave up and everyday after that we had some of the strongest wind I have seen for a long time, we are fairly hardcore fishermen but last weeks weather was just too tough even for us.
Today, Sunday was a lovely day to end the week on and as the Mataura was still just a tad high and carrying colour we headed off to western Southland. Everything over there was still a wee bit full but very fishable and we had success with beetle patterns as the beetles are well out now. I walked out into the paddocks tonight just on dark with a torch and there were beetles buzzing everywhere. If you check back through last seasons blog you will see the beetle pattern that we use, it is easy to tie and very effective.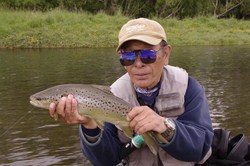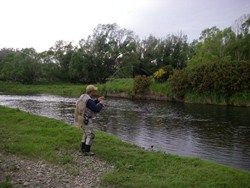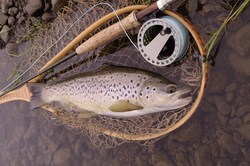 I keep thinking things are going to get better and they will sometime but I see the weather report is talking about more rain tonight.
Tight lines
David
---
20 November 2011
Again it has been a week of fighting the weather with some very strong winds but in spite of the rain the Mataura has been dropping steadily. There have been some nice afternoon hatches, not a lot of mayflies but enough to get trout up and looking although most of the trout caught have been on the small side.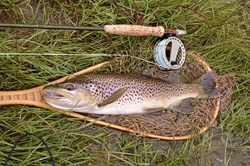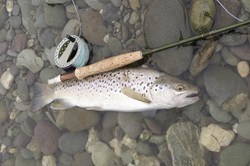 It was good today with very little wind although it got up a bit later in the afternoon, nothing much was happening below Mataura and Gore as the Waikaka and the Waimumu were high and dirty and pumping a lot of dirty water into the Mataura. But above the Waikaka confluence the Mataura was in good condition and my spies tell me they had rising trout from about mid day.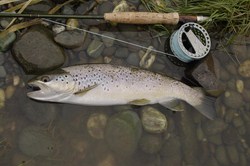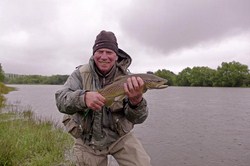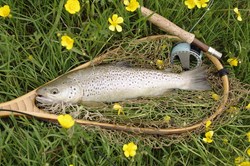 All of the tributaries and the Waikaia are ticking up on the Enviro-Southland graphs and more rain is forecast for tonight so the Mataura could come up again. We are going to head up into the Dansey's pass/ Waitaki area for a few days and hope that things have improved by the time we get back, surely this awful weather will improve sometime.
Tight lines
David
---
14 November 2011
It has been a very mixed week with some rivers coming right and then going out, it has been a case of checking the Enviroment Southland-rivers and rainfall website every morning and then making a decision on where to go.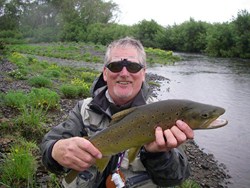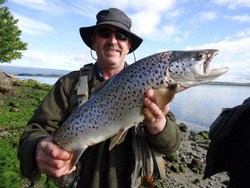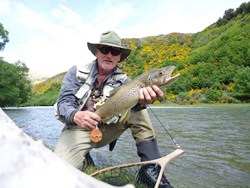 One day it was briefly OK up at Cattle Flat, then one of the small streams came right for a couple of days and Friday and Saturday on the lower Mataura were absolutely fabulous. The level was 1050 at Wyndham and there was a light, cool, SW, just perfect, the mayflies started about 1.00pm and kept going until about 4.00pm. My friend Toshio went to one long, slow pool on the Friday and there were many trout rising and although he landed 8/9 he said they were very picky but on the Saturday he went just one pool lower and lost count after about 20!
He is still using the fly that I featured a couple of blogs ago, on the Friday he had to go down to a #18 version but on the Saturday he used a #16 and as long as it was anywhere close to the trout they would grab it. This is typical of the lower Mataura, one day they are tough, the next rediculously easy and somedays they are going mad in one pool but nothing is happening in other parts of the river.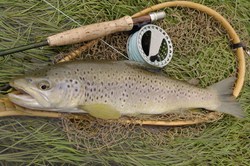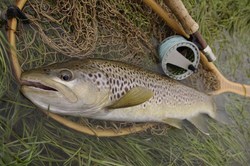 The trout in these photos are examples that were caught over last week in the upper and lower Mataura, small streams and the big sea-runner was caught in tidal water.
Again all waters are coming right again but it looks like more rain starting next Friday through until Tuesday, I just hope again that it is not as bad as it looks.
Tight lines
David
---
7 November 2011
Well, it is still wet with rain and there has been snow although none of our waters have got as bad as I thought they would after looking at the forecasts a couple of days ago. In fact as I write this blog all the waters that we fish are dropping and so as long as we don't get another bad weather event things may hopefully return to normal soon.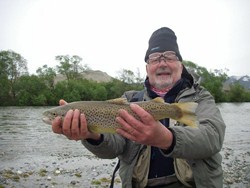 The bad weather has had one silver lining though in that it bought on some huge mayfly hatches on the Mataura over the weekend, the trout in the photos were all taken on the Mataura during the afternoon hatches. Graeme Clearwater had two of his English friends Greville and John out with him. Many people associate mayfly hatches with calm, warm and settled weather, this certainly applies to spinner falls but not dun hatches. A good example of this is on the Waipahi, fish there on a lovely sunny day and you will catch trout on nymphs but go there when there is a cold SW, maybe some hail and the threat of snow and the deleatidium mayflies will pour off at some stage in the afternoon and the trout will rise.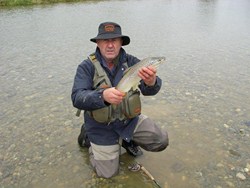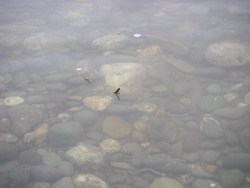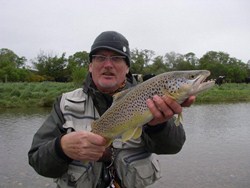 It is good to see the mayflies in such numbers as it shows that the state of the river is good, mayflies are rather like the canaries in the mines and if the river is unhealthy they are the first to go. Although the deleatidium vernale is really the only species of mayfly on the lower Mataura, there seems to be quite a variation amongst them. Over the weekend for example they were larger than normal, between a large #16 and a small #14 and very dark, almost black. At other times they can appear smaller and vary in colour from smokey grey to a soft brown, I am only guessing but I think they are all sub species of the deleatidium. But it is only a matter of passing interest as any of the flies we use seem to take them no matter what their colour.
My fishing mates have been giving me info and suppling photos but with a bit of luck I will be able to get out there myself next week and hopefully the waters will be in better condition.
Tight lines
David
---
30 October 2011
The Mataura is still coming down nicely and some of the long, slow pools should be worth a look in a couple of days but the forecast is bad with rain from Thursday for several days. We will just have to hope that it is not as bad as it looks, NIWA is still forecasting a drier, warmer spring and summer but I see no sign of it yet.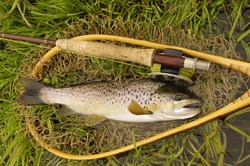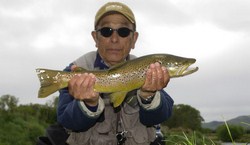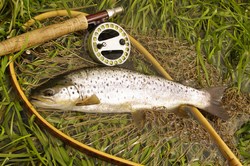 The small streams aside from a couple are not performing that well yet, maybe the trout have had a bit of a shakeup with them being so high for so long. Toshio went into one yesterday where he caught all those trout in the last blog and never saw a trout or one rise all afternoon yet it was at the same level as when he had all the success. Undeterred he went back today, conditions were the same, it could have been fractionally lower and he nailed 9 good trout on dries, he used the same fly again that I featured in my last blog.
Mayflies started coming off about 1.00pm and trout rose to them until about 3.30pm, sometimes it takes a day or two after a stream has been running high for the trout to settle down.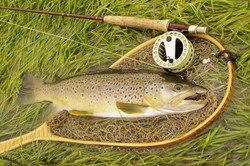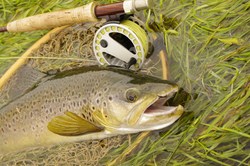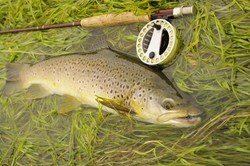 Hopefully the rain this week will not be too bad and the rivers and streams will settle down, it really has been a tough October.
Tight lines
David
---
25 October 2011
The Mataura is still high and dirty and although it was slowly coming down, the heavy rain overnight will not have helped, it looks like a week or more yet before it is fishable and even then only in select spots.
Some of the small streams were coming right and in fact some of them fish better when they are highish as the trout are not so spooky. Graeme Clearwater and my old Japanese friend Toshio had some great dry fly on Friday/Saturday and then they got blown off yesterday in the gale force winds. The overnight rain has lifted all these streams but they should be OK maybe tomorrow or the next day. By the way all these small streams are half an hour or less from Gore.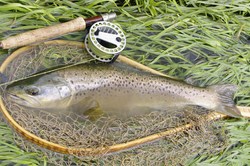 The trout in the photos were taken in these streams on the fly that I described how to tie in my last blog. I have included a photo of it which I hope will help in the tying of it, as it really is an easy thing to tie. It is also very durable, Toshio caught 8 trout and lost several on Saturday with one of these flies and never had to change it, just rub some floatant in and away you go.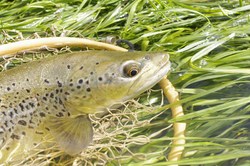 Hopefully the rain stays away now and we can enjoy the good early season fishing that is avaliable in the area.
Tight lines
David
---
18 October 2011
The perfect fishing over the last few days has come to an abrupt end after heavy rain in all the catchments overnight and it is still raining this morning. The lower Mataura is coming up fast and with the levels at Cattle Flat and Waikaia into the broadcast trigger levels it is going to get a lot higher yet.
Unfortunately the rain has affected all southland rivers and streams but the front is being followed by a huge high pressure system which will bring some good weather. It will take several days for some smaller streams to become fishable but with the forecast fine weather some of the high country lakes may be worth a visit.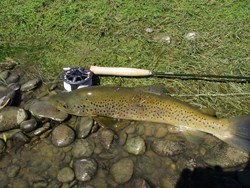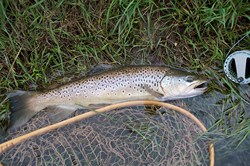 It is a great pity because the lower Mataura had dropped to a perfect level and was starting to fish really well to the nymph and yesterday afternoon there was a really good hatch of duns which started about 3.00pm.
The trout in the photos were caught on dries yesterday afternoon by Toshio Yatagawa who is an old friend who arrived from Japan on Sunday and will staying for two months. He caught them all on a fly that we havn't even got a name for yet but which fooled a lot of trout last autumn and yesterday was its first outing this season. I will put a photo of it up next blog but it is a very simple tie on an #18 or #16 TMC 900BL. We just tie in a post of aero dry wing, any colour you like, just as though you were tying a post for a parachute adams, this is just to spread the wing which is the next step. Take one strand of black aero dry wing, loop it under the hook and the post, pull it up and wrap a couple of turns front and back, then do a couple of turns around the base of the wing and post. Then wind the thread to the bend of the hook, clip the wing to the height you want, the post will have spread the wings but there will be some that is sticking out fore and aft of the wing. Trim this off and then dub the body with superfine mahogany dubbing and tie off.
It sounds complicated but it is a very simple and tough fly and coated with floatant will last for fish after fish, Toshio used the same fly for all his trout yesterday afternoon. I prefer it to CDC as it is better in the rain and I don't have to fuss with it too much.
Tight lines
David
---
11 October 2011
The Mataura is in perfect condition at the moment, it is 802 at Wyndham and slowly dropping. The Waikaia is still highish and releasing snowmelt every afternoon which is affecting the mayfly hatches on the lower Mataura. The mayflies like cold conditions but they really don't like even small amounts of snowmelt in the water.
My soures tell me that in spite of the lack of Mayfly activity the nymphing has been exellent but the trout are still on the smallish side, this will change as the river gets lower. Although over the next few days there should be rising fish in select spots, I just wish I could get out there and check for myself.
There have been some mayfly hatches in some of the smaller streams in spite of the nasty east winds we have had, although this afternoon looks perfect.
At least the weather is good, river and stream levels are perfect so there is no lack of choice on somewhere to go.
Tight lines
David
---
6 October 2011
Our 9 South Africans have just left and what an exercise in logistics that was as we had to organise all the tackle, waders and boots for them. I would like to thank the guides Graeme Watson, Graeme Clearwater, Mike Dennis and Michael Hartstonge for the great job they did with some very inexperienced anglers in some tough river and wind conditions.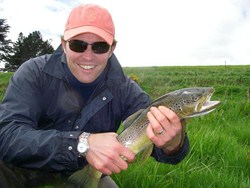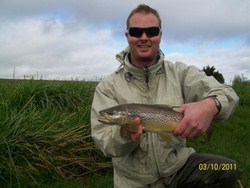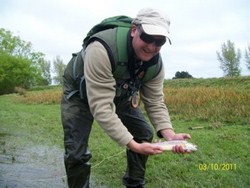 The South Africans who were mainly father and son combinations here to watch the RWC had only fished in dams and ponds so they found it really tough in moving water. Never the less they all caught trout although most of them were quite small in the pound and a half class but great wee fighters. They all thouroughly enjoyed themselves and the was much banter about rugby and various outcomes for the RWC.
The Mataura was highish at 980/1000 at Wyndham and this is usually no problem but there was snowmelt coming through every afternoon. The river would drop overnight and then come up in the afternoons. Snowmelt really inhibits mayfly activity and there was only one small hatch one afternoon. Also under these conditions only small fish are caught, generally as the river drops and the snowmelt goes the trout become progressively larger.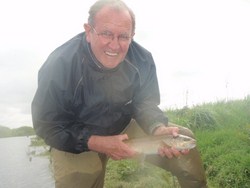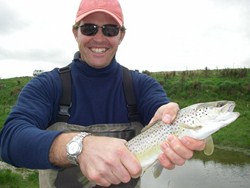 The Mataura is dropping steadily but there is still quite a bit of snow in the hills but things should improve and NIWA is forcasting a dry summer with not much wind, we shall see.
Tight lines
David
---
29 September 2011
The start of the season is only a couple of sleeps away and things are looking pretty good. The weather looks good, maybe a few showers but the wind mainly from the SW over the first few days. There is still plenty of snow up country but the days are still cool and that may hold off any snowmelt for a week or so.
The Mataura is at 1045 at Wyndham and dropping, which is quite fishable and by Sat/Sun should be even better. There should be mayfly hatches early afternoons, look for the edges of the long slow pools and some ripples as long as they are not too fast. Evening rises are fairly non- existent at this time of the season.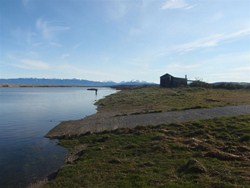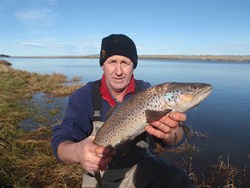 We have 9 South African RWC followers who are also fishing arriving for 4 days on Saturday, its going to be busy but I think it is also going to be a lot of fun. I am using 4 local guides who are also rugby fans so there should be plenty of streamside banter.
Unfortunately I am going to miss out on the guiding as I underwent bypass surgery just over a couple of weeks ago so I will be out of action for the next couple of months. But through my guides and observations of the river myself I will still be able to keep you up to date with the river and the fishing conditions.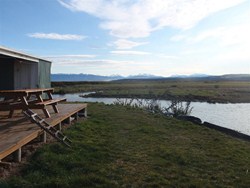 The photos are of a day that Graeme Clearwater and I had at Te Wae Wae Lagoon about three weeks ago. It really is a lovely spot with the sound of the sea and the mountains in the background. It is just the answer on a nice winters day when you are hanging out for a spot of fishing. Tight lines David
---