David's Blog 2012 - 2013
2009/2010 Season 2010-2011 Season 2011-2012 Season Chiba-Chan's Blog Lucky Lodge Field Blog
5 May 2013
It looks like this may be my last blog of the season as we have had a lot of rain down here and they have also had a dump up in the Waikaia which will put the river out. We have all of May from the Gore bridge down left of the season but as we are now looking at the second week of May and it is never really any good after that as the trout are well into spawning mode by then.
It really has been a poor season, some of my mates reckon it is the worst they have seen on the Mataura and they may well be right. Up until xmas the river was high and dirty most of the time and after xmas it dropped to the size of a large stream and aside from a big flood in January it stayed that way.
Whether the low flow rates affected the hatches we will never know but they were not good, very few mayflies and not a lot of fish up to them. I was guiding a spin fisherman all last week, he wasn't interested in rising trout but I was keeping a weather eye out for them and I never saw a fish rise or a mayfly hatch. It could have been the warm weather, mataura mayflies as I am always going on about like colder weather but the warmth of this April and May have been incredible for Southland, in fact the last few autumns have not been that flash for mayfly hatches either.
It was interesting doing the spin guiding and I thought we may have hit some bigger trout as the jacks can get quite aggressive as they approach spawning but most of the catch was quite average. I have never been a spin fisherman except for a wee go last season and the modern spinners and rappalas are wonderful things to behold but I think that a couple of rough nymphs and an emerger patten would catch far more trout.
So other than a few trips in the boat during May harling for sea-runs that will be it until we start again on the sea-runs in September. I am not sure whether F&G are going to get the September early opening on the Mataura, Oreti and Aparima but I hope so as most of us think it would be a good idea.
Tight lines
David
---
28 April 2013
We finally got enough rain to put the Mataura out on Thursday, it pushed a nice fresh through it and although it has dropped quickly it is now at a good level of 683mm. Prior to the rain trout could be found rising anytime after lunch for an hour or so but not in great numbers or very aggressively but if your presentation was spot on as Toshio's was they were catchable. He was picking up 6/8 every afternoon while there was some activity but the rises themselves have been very disappointing. My star pupil Abi Raynor caught her first trout on a dry fly in pretty tough conditions so we were all very chuffed about that.
I described in last weeks blog how we go about catching trout on the sort of water you can see in the photos and it is 90%, maybe more presentation and the rest is fly selection. And fly selection is not that important, size is first, followed by a nod to whatever stage of the mayfly hatch is at, followed by maybe colour, for example a red body in the case of a spinner fall. The most important thing is to get something that sits in the film in the size of the naturals and in the case of the Mataura this is #18/#16 and arrives in the trout's feeding zone with NO DRAG.
Sometimes you have to try another type of emerger as Graeme found the other day, they were ignoring his emerger and no hackle dun types but went for my very sparse no tail Adams parachute, the common denominator in all this is that flies are best not on the film but in it.
Part of the reason I think for the poor rises is that it has been so warm, 20 degrees at the end of April in Southland is not the norm but then again maybe with climate change it is. Hopefully it may cool down yet as we still have May to fish from Gore down, although my experience of May is that it can be very good for the first week and a bit but after that the trout are into spawning mode.
Tight lines
David
---
21 April 2013
The Mataura is still low and this may be contributing to the poor hatches of last week, although as fishermen we are always looking for reasons, its too warm/cold/east wind/barometer and many others. But last week aside from Monday which had a cracker of an arvo hatch the rest of the week was very so so and this was after the week before which held the promise of better rises to come.
Still I had some happy clients, John from England who caught some nice fish and Toshio from Japan who managed to pick up 6/7 on what was a very sparse rise on Tuesday afternoon. Toshio was interesting in that after every trout he caught he changed his fly but still managed to pick up trout in difficult conditions. I think what he proved was that presentation is probably 90% of hooking up and the fly doesn't matter as long as it is in the size bracket that the trout is looking for.
I was asked the other day how we went about hooking trout on those long, smooth flows which are typical of the lower Mataura, do not take the following as gospel, it is just how a few of us do it. Now this is just the smooth water, I will do the fast, shallow ripples some other time.
Casting up stream and across at 45 degrees will work sometimes but it is nowhere near as effective as getting across from and preferably slightly upstream of the trout. We start up near the head of the pool and work our way down the pool casting across with a reach cast and letting the fly drift down to the fish. What this does is minimise drag and if done properly you can get some very long drag free drifts and if your target fish does not take you can often pick up another one lower down before the inevitable drag sets in. Just try casting straight across or straight up and you will see that drag sets in almost straight away and trying to fix the drag with a surface mend is hopeless, it is best to do it in the air first. If you don't know how to do a reach cast, find someone to show you or google it, it is easy to do and once you master it you will find yourself using it in some form or other in most of your casts. Micro drag is the biggest killer of hook ups on the Mataura and this is why most straight upstream and straight angled casts don't result in many hooked fish but a reach cast eliminates that drag. If you move slowly you will not spook the trout and often if you think they have stopped just wait and they will come back
I was out on Friday by myself in showery conditions and I had run out of my aerodrywing material flies but I had a couple of CDC emergers which caught three of the trout that rose but I had forgotton just how much of a hassle CDC is. Several of us have been using the TMC aerodrywing since the beginning of last season instead of CDC and it is so superior to CDC, on Friday the CDC was affected by the showers and wouldn't float well and I was forever drying it out and doctoring it with "Frog's fanny".
The aerodrywing is lighter than water as it has three hollow channels running through it, plus it won't absorb water so in fact you might be wasting your time putting floatant on it, although I still like to. If you scroll back through the blogs there is some information on how we incorporate it into our flies.
Someone asked me the other day why I put up some photos of fairly ordinary trout, sometimes small, a bit skinny but as you well know that is what most of us catch along with a few nice ones. I try to covey a sense of reality in our day to day fishing that is absent in some other blogs and websites which only show big trout and posed to look as though they are 10 pounders.
The last two days have been hideous with strong easterly winds, I haven't poked my head out the door but it looks good from Monday on, not much rain though.
Tight lines
David
---
14 April 2013
The April, autumn hatches really started last Monday and have been going off every afternoon since, so all is well in the world and there is not a lot to write about. The river is still probably about a foot too low but the duns are coming off in smooth pools and shallow rippley water, generally starting anytime after lunch, I have hit hatches starting at 1.00/2.00 and 3.00pm this week.
So there are a lot of happy fishermen and clients, fly selection has been varied as I have been letting clients use their own flies and as long as they are in the #18/#16 size range and low riding they are being taken, no sign of any spinner falls though.
I had a friend catch 21 all on dries from about 12.00 till 5.30, he found them in a ripple, barely rising and only giving away their position by a subtle swirl but a dry fly anywhere near them would disappear with hardly a trace.
There is rain about over this coming week and anything could happen as recent forecasts have faded away to nothing much but sooner or later one is not going to fade away.
Tight lines
David
---
7 April 2013
The Mataura is still low although the showers of the past few days have pushed it up a wee bit, not that you would notice and the frosts of the last two days have dropped the water temperature to 10.1 which is good. So even though a lot of the ripples are low and not great for nymphing this cooling down should help the mayfly hatches which will be happening in the slower and deeper pools.
I have not seen any big mayfly hatches myself as yet, just the odd fish rising here and there but I have had reports of some, not many but good hatches in various parts of the river. Although checking through last year's diary I see that the big hatches never really got going until the last week in April and through into the first two weeks of May.
I was guiding a good old friend Abi Raynor during the week and we saw nothing rising but the nymphing was OK, the trout were strong but slightly smaller. I have still been using the gold bead heads and they are working well, if we ever get any rain and the river goes up a bit I will revert to the heavier tungstens and see if there is a difference.
I have included a photo of a book that has just been published with some of my flies in it, it is the second book by Tony Lolli that I have had flies featured in. Both books have some excellent and interesting flies with good coloured photos and clear tying instructions. I noticed in the last blog of a Queenstown based guide that he is touting a CDC emerger the same as mine as his own, I know you can't patent flies and I guess as the saying goes that imitation is the sincerest form of flattery but we were using this fly last century before this person was even guiding.
Fish and Game are proposing some changes to the regulations next season, one of the the proposals is to open the lower Mataura up to the Otamita bridge, the Aparima up to Jacobs bridge, the Oreti up to Lumsden and the Waiau to Monowai bridge in September. Speaking just for the Mataura I think this would be a great idea, I wouldn't like it open for the whole season as a break is good for fish and fishermen.
The weather is usually settled in Sept. just look at last season, the snowmelt has not yet come into the river and there are some great hatches of the Mataura mayfly, deleatidium vernale, vernale meaning spring in latin and that is when there are some wonderful hatches, early season. As a guide I am not dictated to by commercial interest as overseas anglers are all busy fishing their own rivers at this time, I would just love to fish it personally in September. I spend quite some time in Sept. observing the mayflies and the good fishing that could be available at that time. How many times have you watched lovely weather, although not always in September turn into floods and gales just as the fishing starts in October, this season was a classic example.
As an ex farmer I too would have reservations about anglers walking through paddocks of lambing ewes but dairy cows are different Calves are picked up soon after birth and taken to calf rearing pens so an angler walking through would do no harm, also the cows are in one mob and easily avoided. Virtually all the angler's accesses on the lower river are now through dairy farms as the sheep farms no longer exist.
Everyone I have spoken to is in favour of the idea but have not put in a submission as they have thought it was such a sensible proposal that it would go straight through with no objections. But one local angling club as usual, with their dinosaur like attitude to change or anything new have opposed it so if you are in favour send a short email to Fish and Game saying just that.
If you'd like to order a copy of Fly Patterns by Fishing Guides, please email arobinson@nhp.co.nz or phone 09 481 0210 quoting 'Mataura' for free p & p on the order of this book (RRP $29.99). Offer available until 8th May 2013.
Tight lines
David
---
31 March 2013
Again it has been a tough week, I didn't hit the river until Wednesday after being glued to the TV for five days watching that wonderful test match, this is why we prefer test cricket to all the other forms of the game.
The Mataura is getting lower everyday, 434mm at Wyndham or 10.44 m3/sec, I must start using this cumecs table, I have always used the level instead of the volume, somebody pointed out to me that the volume is constant but the level is variable according to the riverbed. And as the riverbed is in our opinion filling with gravel my mm method is going to change over the coming seasons. This was brought home this season with the level that we liked in the Aparima suddenly settling at 200mm above so I will use the two data in my diary until I become familliar with the cumecs.
I have only seen the odd trout rising during the day so we went out for a couple of evening rises as they were lovely evenings but although a few rose the first night nothing happened the next.
We have had Mike Scannell and his family with us for the last three days, they caught trout on nymphs, nothing huge but lots of stroppy sea run types. It was fun to see the boys progress from very little experience until on the last day I had Nick confidently nymphing a ripple on his own and catching trout.
There is rain forecast again tonight but none of the recent forecasts have come to anything so we shall see what the morning brings.
Tight lines
David
---
24 March 2013
Not many pictures this week as I only managed one day early in the week which I spent exploring the lower river in the Gorge road area, the rest of the week has been painting the roof of the house and watching test cricket. The rain last week pushed the river up 75mm but it has come back down to what is was very quickly and it has not improved the dry fly, as my spies tell me there has been no dry fly action at all, it may have to get a wee bit cooler yet.
Also I have heard rumours of some rising trout in the Riversdale/Ardlussa areas but as I never fish up there I can't verify the reports. The mayflies must be doing it at some stage though, I was at a BBQ on Thursday evening at a house not far below the Mataura bridge, the house backs down on to the river and just as the sun went down there was a huge spinner fall. They were everywhere and when you looked across the river you could see clouds of them against the dark of the trees, I have never seen anything like it. Conditions were perfect, warm and no wind at all so those mayflies have got to be hatching somewhere and sometime to produce that volume of spinners.
There are still reports of salmon being taken and I had it on good authority that a 24lb salmon had been taken that afternoon from the same pool that we watched the huge spinner fall.
A few showers tomorrow but things then fine up for a few more days, there is some rain in the weekend and rain is forecast in the Otago headwaters so we may get a top up yet.
Tight lines
David
---
17 March 2013
As I write this there is a lovely soft rain falling but I don't think it will be much, I see the river has gone up a few millimeters at Cattle Flat and in the Waikaia, more would be nice and we may get some this coming week. This morning it was 452 mm at Wyndham which is the lowest that I have ever seen it but aside from some brown gunge on the edges of the slow parts it is in good shape.
There have been reports of quite a few salmon in the river and I even hooked one myself early in the week, it wasn't that big, maybe 4/5lbs but I could tell it was a young salmon by the slight fork in tail when it jumped and broke me off. It took a nymph dead drift in a ripple which I didn't think they did but then it was the first and only salmon I have ever been in contact with. I was taking to a couple of salmon fishers about the number of sea run that we were catching and they had a theory that the sea-run follow the salmon up in most rivers so that could be the explanation.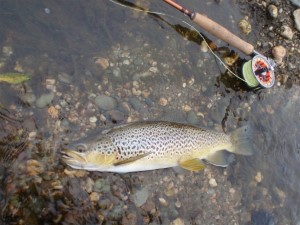 I have seen nothing rising and my spies tell me the same thing where they have been but the nymphing is good and those gold bead hare's ears are working well. They are tied on Black magic H12 3x short shank hooks which I have found to be a perfect size for the river, plus they are a lot cheaper than TMC hooks. I have not fished since Wednesday as I have been watching cricket, I love my cricket and when there is a test on fishing takes a back seat. But rain stopped play after lunch today so I shot down to the river below my house for an hour or so and picked up the trout in the photos on a nymph. It was cloudy, warm with absolutely no wind and I was really hoping for a spinner fall but I never saw a fish rise so after hooking four I raced back to see a bit more play before the rain stopped the game.
I hope we get a bit more rain for everyones sake and as I have said before, you have to be careful what you wish for in Southland but even if the river only came up 2/3 inches it would be enough to clear the brown gunge on the edges. But even if it stays relatively low it won't matter as it is getting later in the season now and it is unlikely to get too warm again.
Tight lines
David
---
10 March 2013
We are still into the big dry but the Mataura is holding up remarkably well, it has only dropped 18mm since my last blog and the water temperature at 15 degrees is in a good range for trout to feed. The main body of the water is good and clear but along the edges of anything slow there is some brown gunge that is not nice.
I have not seen any mayfly hatches over the last week, there may have been in other parts as the weather has been cooler over the last few days but no rises where I was. The nymphing has been exellent though, I have been guiding Kane and Sophie Fukamachi and in spite of it being only the third time that they had done any fishing ever, they caught some very nice trout on nymphs.
I was amazed at the percentage of sea-run types that they caught, usually when the river has been low for a while they are rare, only coming in after a fresh or when the river is high, they really took off when they were hooked where as the river fish were quite docile in comparison.
As the river is so low, I tied up my usual gold ribbed hare's ears with 2mm ordinary gold beads instead of using my regular 2mm tungsten black bead heads. I came away with the feeling, nothing scientific though, that the lighter gold bead heads had outfished the slightly heavier black tungstens. Maybe they drifted better in the lower water and didn't hook up in the shallows and pick up a bit of weed on a crucial drift, I don't know but I will use the "Golds" over the next few days and see how they go.
The experts are predicting rain next weekend, I hope they are right as another week or so of this and the river may not look so pretty.
Tight lines
David
---
4 March 2013
The river is now as low as I have seen it, 490mm at Wyndham but it seems to be in a flat line now having only dropped 3mm in the last five days, I guess it has reached a stage where it is being held up by the many nataural springs along the river. But it is fishing well and the cooler weather has kept the water temperature down, it is only 14.4 today and I don't expect to see it get too hot again at this stage of the season.
In fact in spite of the wonderful weather we have had it has never got much over 20 and certainly not into the higher lethal levels of recent years. The condition has remained good too, a few years ago when the river got low a black algae would cover the riverbed and the fishing would get really tough but I have seem no sign of this anywhere. Around Wyndham and below there is a lot of green weed on the bottom in the ripples and can be seen floating in the water column but above Wyndham up to Gore which is as far as I fish the river is clean.
The trout are in great nick too and the size is good, most of the trout are in 48/50 cms class and up as can be seen in the photos.We have had Yokota san and Obokata san with us for several days and they caught some lovely fish, mostly on nymphs although there were two huge spinner falls during the week. If you blow up the photo of Obo san changing a fly you can see the spinners on the water, they were actually thicker than that and their flies were just two amongst gazillions which made it difficult. I think this is what happens in the evening when they can be so difficult, your fly is just one of many that the trout can choose from.
As the spinner fall tapered off it became easier and a big spinner fall usually makes for good fishing for the rest of the day, as after it is over you can still find fish in foam lines and back waters picking off the remanents. Huge returns of spinners like this show that the river must still be in good heath as mayflies are to the river as canaries are to coal mines.
Although the weather was quite cool we never came across any dun hatches during the day but I fully expect then to get going if this cooler weather persists. We went out in the evenings mainly to show them how effective a swung soft hackle can be on a Mataura evening and bumped into some very good dun hatches between 7.00pm and 9.00pm.
It looks like another big high starting to cover the country so with cooler weather, a low river level we are in for some interesting fishing as we are in uncharted fishing territory.
Tight lines
David
---
24 February 2013
The golden weather continues with the river getting lower every day, luckily it has been cool late night and early morning so the water temperature has not got away on us, even so at 17.3 at Wyndham this afternoon it is getting up there, 12 to 18 is about the ideal feeding range. The level today was 529mm at wyndham which is low but I have seen it a lot lower, the outlook is for very little rain for a while so it could get down a lot more yet.
Yoshi and Nagi Takuji caught some nice trout during the week, there was a huge spinner fall on Tuesday but the mayfly hatches in the mornings have faded away although there were rising trout all day below Wyndham on Friday according to my spies. The trout are highly visable now, in the ripples and cruising the larger pools, look for pools where you can get a bit of elevation, they may not be rising but a carefully presented small dry will bring them up. It is interesting nymphing the ripples as you can see the number of trout that just ignore the nymph, it just goes to show that when we go through these ripples at normal levels we are probably only hitting a very low percentage of them.
We have had a lot of success using a small ant pattern, the last time I used ant flies was years ago when I came across a rising, very selective trout in the Kaiwera. I tried everything until I remembered a couple of ant flies that I had been given, I tied one on and put out a poor cast, too far to the right I thought but this trout came across and nailed it. I got an email from an English friend a couple of days ago about ant patterns, this jogged the memory and we have been using them on cruising trout that are looking up, if they keep working I will post a photo of one.
March is almost upon us so with some cooler nights we may see the start of some real mayfly activity.
Tight lines
David
---
17 February 2013
The Mataura is in lovely order right now, low but cool so there has been a surprising amount of mayfly activity for February. Early in the week mayflies could be seen coming off in dribs and drabs during the morning and the last two days trout have been rising to them. The hatching mayflies have been mainly in the tails of the long pools just before the ripple into the next pool starts.
I had Gary Kula an old client early in the week and he got then on an #18 aero emerger when they were rising and nymphs later in the day. I think it takes at least a month after a big flood for the river to come right which it seems to be doing over the last few days.
We have Yoshi Takuji and his family here for the next five days and Yoshi had a great start to his trip today. He got a few when they were rising in the morning but they stopped when the SW breeze got up so with the river low and the sun out we stalked a few elevated banks. This enabled us to see the trout cruising, they were on the move and only rising now and then but if Yoshi got a fly anywhere near them they would rise and take it.
It was absolutely superb dry fly fishing and he took everything on the fly with the pink post in the photo, I don't know how many he caught in the end as I lost count when he was in the teens. So if you can't see any rising at river level get up on a bank, it doesn't have to be that high, we would have only been 5/6 feet up with trees behind us. We didn't do any nymphing it was dry fly all day but I would say that the nymphing is probably picking up after the flood too.
The experts say the weather is good until the end of the month and them we have the autumn to look forward to.
Tight lines
David
---
10 February 2013
The lower Mataura is in superb condition right now but it has been a wee bit tough this past week with no mayfly on the water, it has been just too warm. The nymphing has also been slow and we have been catching some average sort of trout as you can see but the photos.
That is why I thought I would include these photos of some big fish that were caught by a Japanese friend of ours, they run around 20/22lbs. They were caught in a lake in Argentina known as Jurassic lake, apparently it is quite a new lake for fishing as nobody thought it had trout in it. They are certainly big fish but they look like the big trout that come out of the canals near Tekapo, big but sort of ugly, I'd rather have a big Oreti fish anyday.
I have reports that there have been mayfly hatches early in the mornings when there has been no wind and a couple of mornings last week we could see the birds working and the odd rise. That was about 9.00am so we could have come upon the tail end of a mayfly hatch, I have also seen no sign of any spinner falls.
Maybe we should have been up in the high country lakes as I have heard that the cicadas have started but we had to do some more filming on the nymphing segment of Fish & Game's instruction DVD on the Mataura.
There are showers and some rain forecast for next week and as long as it is not too much it should freshen things up.
Tight lines
David
---
3 February 2013
It has been an incredibly hot week for Southland with temperatures into the early 30's, the Mataura has dropped to a good level but the water is very warm, just under 20 degrees yesterday. The colour has gone right out of it now and even with the warm water the nymphing has been quite good but aside from the odd splash I have not seen a trout rise all week.
The trout on the lower Mataura don't seem to show any interest in willow grubs even though there are plenty of willows along the river. So other than an interest in beetles and the odd spinner fall, February can be a lean month for dry fly fishing on the Mataura. Although as soon as I hear a few more cicadas around I am going to try a few ripples with a small cicada pattern.
Early in the week to get away from the heat on the river Mike and I took the boat down to Fortrose and spent a pleasant few hours cooled by the sea breeze harling for sea runs. We caught a few but nothing very big, they took all sorts of flies from rabbits, woolly buggers and some sparkly silver things that Mike had tied.
I guided Giles again and he caught a lot of trout nymphing using a black bead head hare's ear, tied on an #18 TMC 2488T, again nothing big although I picked up the 55cms one in the photo in the net on the same fly the next day. I went out today to check some other ripples and pools and the river has changed quite dramatically in places after the flood of a few weeks ago. A couple of good places have gone but there are several new ones that will replace them.
It looks like a cooler SW with some rain coming through later tonight and tomorrow morning which should freshen things up.
Tight lines
David
---
27 January 2013
At last the river has come right although it is still carrying colour in the deeper water, the weather is very hot and there is no rain in the forecasts so the next thing we will be blethering about will be low water!
We had a busy week and the river was still very coloured on the Monday and Tuesday but I was surprised just how good the nymphing was in these sort of conditions. I had the clients using a big, #8 very rough tied hare's ear with a gold bead head that looked at least 3mm and the trout were nailing it in the murky water. Two days later we were back down to our normal sized nymphs and the trout were smaller and not quite as easy.
They also caught a lot of trout in the mornings especially, by plopping a beetle along a grassy bank into water anything from knee deep to no more than a metre deep. This is a really good technique to use as the Mataura starts to clear but is still quite full. Just cast into the water no more than a metre from the bank, work your way upstream, slowly and carefully and sooner or later a head will appear and engulf the beetle. You will often see a rise just ahead of you which will give you target to aim at.
The river is dropping fast but these hot conditions with usually a light NW are not great on the Mataura, the mornings before the wind gets up are OK but you are better off going to a shady small stream in the afternoons. This sort of weather is the time to head into the back country or to some of the higher lakes where the cicadas are begining to chirp.
There have been no mayfly hatches but that is to be expected in these conditions, they are probably hatching around midnight. Your only hope of rising fish on the Mataura aside from bank feeders would be a spinner fall and for that you would need cloudy, warm conditions with no wind.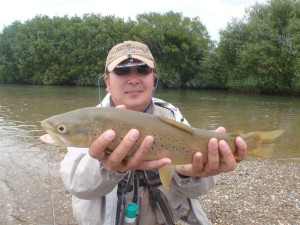 But it has stopped raining and things are looking good.
Tight lines
David
---
20 January 2013
There is not much to write about this week as the weather has been awful, even if the Mataura had been OK the weather conditions were not condusive to pleasant fishing. Although the Mataura is coming down fast and so are the small streams I seem to remember that I have been saying this since October. We have decided amongst our circle of fishing mates that this season so far is the worst in a lot of ways that we can remember!
Graeme got a few good days in guiding Takuji and Atsuko Watanabe who caught 49 trout in three and a half days which was pretty good considering the weather conditions.
Graeme and I checked out a small stream this afternoon and fluked a couple of trout on beetles but it was really a wee bit too full for good fishing.
I hope I have a wee bit more to write about next week and I am not even going to try and say anything about the weather.
Tight lines
David
---
13 January 2013
The wild weather continues with the rivers going out on what now seems to be a weekly basis. The Mataura had gone out again last week so I took Kazu Nishimura and his wife Yoshiko san to a high country lake where we had a lot of fun catching rainbows on green beetles. It is the same pattern as my brown beetle except that I use green foam instead of the brown foam.
I have always thought that the colour of the foam on the back made no difference, a beetle was a beetle to the trout and the silhouette was all that mattered. I still don't think it makes that much difference but up on the lake where we took all the trout on beetles and the same in a small stream the next day, I came away with a nagging suspicion that they prefered the ones with a green back.
The beetles both brown and green are a great fly to use, I have even plonked one down on the Mataura in the middle of a mayfly hatch when they were proving difficult and it is the only other pattern that trout will consider when they are locked in to willow grubs. The brown beetle makes its appearence about mid November and goes to about January. The green starts around xmas and goes to February which dovetails nicely with the cicadas which are usually full on by the first week in February.
So we had a few days of lovely fishing and then the rain came on the Wednesday, check out the photo of the Mataura at the bottom of the page and that was that. Everything went out in Southland and is now just starting to come down, quite fast in places but it looks an unsettled week so I am not holding my breath.
Tight lines
David
---
6 January 2013
Well the rain on Wednesday certainly freshened all the rivers and streams, as I said you have got to be careful what you wish for in Southland. Prior to that the weather was good and the fishing was great and on the Monday and Tuesday of last week there were even some really good dun hatches in the morning.
I thought the trout would be easy but in truth they were quite difficult, they kept changing from floating nymphs just under the surface to emergers and back again, I never saw a full blown dun taken both mornings.
Then the rain came and that was the end of the Mataura, plus all the small streams so it was of to a high country lake for a couple of days and then on Saturday one of the small streams in the area was OK. It was just OK with colour in the deeper water but it made the trout just a wee bit incautious and my clients picked up some nice trout all on my beetle pattern, the largest was 55cms.
The trout in the lake all took beetle flies but when the wind dropped and the lake was calm they went straight on to midge pupa and a pupa imitation twitched in at about two cms a second took fish. Ideally we would cast to a rising trout and begin a slow retrieve or just cast out, count for about 20 seconds as there is no weight in my pupa patterns and then begin the retrieve.
The Mataura has come down fast and could be fished now and all the small streams are in great order and would be perfect to fish before they get too low again. Hide Morimoto won Bev's annual new year's day big trout competition for the second year running.
Tight lines
David
---
30 December 2012
The last couple of weeks have been great, no wind in the mornings and spinner falls until 12.00pm-2.00pm, Hide and Miyu Morimoto are with us for a week and they have been loving it. The spinner falls have been petering out after lunch and the SW sea breeze about 3.00pm has made life easy for some upstream nymphing for the rest of the afternoon.
The nymphing has been a wee bit hard, we think that the water temperatures of around 19-20 degrees recently have been puting them off the feed. Although they have been feeding avidly in the mornings on spinners but it could be just that wee bit cooler then. But in saying that we have been averaging 1-2 out of every ripple which makes for plenty of trout by the end of the afternoon.
No sign of any duns hatching anywhere that we have been but they must be doing it sometime during the night to provide the huge number of spinners that have been falling as the evening rises have been pathetic. We have been taking all the trout during the spinner falls on an #18 red bodied, white winged aerodry pattern that I put some photos up on a blog just recently. All the nymphs have been #18/#16 GRHE's with a 2mm tungsten beadhead.
The Mataura is very low at the moment and a wee bit off rain in it would be good but you have to be careful what you wish for in Southland, there is rain for Wednesday, lets hope it just enough to freshen things up.
Tight lines
David
---
16 December 2012
At last the Mataura is in perfect condition and the weather looks settled, I was worried about the rain on Monday and Friday but it came to nothing so all is well. The Mataura has fished well all week, trout everywhere and happy clients, I had Giles from England early in the week and at the moment I have Lars from Denmark for three more days.
The mayflies have been coming off in the morning in the ripples and stopping about mid day but the nymphing has remained good all day, especially if you can find a drop off. The ripples in the morning have been fun, there has not been a big hatch but they are dribbling off all morning so just watch a ripple and in the very shallow water you will see a swirl or a head will come up and take a dun. They are in very shallow water and I think a lot of fishermen just walk straight past this type of water, I am talking ankle to knee deep max!
Now that we have some sun they are easily seen, although don't look for a trout spots and all, what you will see are dark shapes moving from side to side. At the drop offs you will see then lined along the lip just before it drops off in to deeper water, they look like black rocks until one of them moves.
The evenings have not been so good, trout coming up once and then nothing, they are very hard to catch when they are doing this. We have had sucess just on dark when the caddis start by swinging a soft hackle across and down.
It is so good to see the sun and low river levels, the last nearly three months has been tough.
Tight lines
David
---
16 December 2012
There wasn't much fishing done this week as we have been busy with house alterations and Christmas do's which was a pity as the Mataura has been getting better all week and is now in perfect condition. Everything looks great but I am nervous about some rain tomorrow afternoon and on Friday, after all the dreadful weather we have had any forecast of rain makes me jumpy!
Even though the river was getting better and I was busy during the day it was difficult to get in any evening fishing as the strong winds all week were not dropping until dark. Although Thursday evening was perfect, the wind dropped right away, nothing was rising in my pool so I swung a starling spider across and down but only got a few desultory tugs. I could see a few spinners in the air and by about 9.00pm they were on the water and trout were rising to them. It turned out to be one of the best dry fly evenings I have had for a long time, the trout were not difficult and I landed 8/9 and lost several others. None of them would have been over 2lbs but they were all in super condition, I took them all on an #18 upright spinner pattern and if you are interested there is a photo of the fly on the 20th September blog.
I think the reason that the trout were not that difficult was that it was not a blanket fall of spinners and there were not that many naturals on the water. Which is why sometimes they seem impossible to catch but a close look at the water at these times will reveal that it is carpeted with spinners and your fly is just one of many and it is only a matter of luck if they pick out your fly.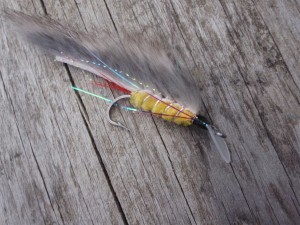 I forgot to put a photo up of the fly that the sea-runs were hitting last week, it is just a rabbit fly but I tied a plastic bib on it which makes it dart up and down just like a rappala. It is just a piece of stiff plastic cut to the shape and size I want with a hole drilled through it which slides on to the hook end before you start tying. The plastic is cut to the bib shape and a longer, slim piece is left on the bib which is used to tie it down on to the hook shank.
I hope the river is not affected by the forecast rain.
Tight lines
David
---
9 December 2012
The Mataura came up again over last weekend so Mike Dennis and I took the boat down to Fortrose to see if we could catch some sea-runs on the Tuesday. It was a lovely afternoon but the sea was still stirred up after all the wind we had over the preceding week so we were picking up a lot of seaweed on our flies. Nevertheless we hooked some smaller sea-runs, missed a lot of hits and I really got cleaned out by something large, it was a lot of fun as the Mataura was still not right.
I went down to the Mataura on the Thursday evening and it was looking really good but there was thunder all around and I could see the rain building, I caught a bunch of smaller trout on a wee wet that I had tied with two turns of CDC instead of the usual starling hackle. I tried the CDC on the advice of John White an English fly fisherman who often fishes the Mataura. His suggestion was and I will quote him from his email, "The CDC spiders work well on the swing, all I do is cast slightly up stream, give the line a couple of tugs to drown the spider and commence the swing across the current. The hackle does collapse in the current, similar to a starling breast feather but as the swing ends I've seen the CDC working sinuously and shrouded in hundreds of minute air bubbles that look like an encloding nymph".
This evening the Mataura had dropped to 1050mm at Wyndham, it was still quite dirty but the wind had stopped blowing for the first time in a week so I shot down to a long pool below my house. Nothing rose so I put on one of John's wee wet CDC spiders and hooked half a doz trout, the best of them are in the two bottom photos. You will notice that my rod and reel set up is different from the usual Sage rod and Ross reel, it is a Chinese made rod, reel and line and was sent to me by Bruce Coker of Gisborne. The idea is for me to give it a flogging and see how it stands up to some hard work and if it does Bruce is going to import some for sale here at a reasonable price.
It handled well and it was easy to cast so we shall see, I get all my tungsten beads from Bruce at a good price and with prompt service, he is the guy from Gisborne and he calls himself bgc- flyhooks and beads.
There is a small front coming through tomorrow but I don't think it will be much and things look good for the week after that so here's hoping.
Tight lines
David
---
3 December 2012
It was another dreadful week on the Mataura, the levels were slowly dropping but the winds were horrendous. I had a reasonable window of weather on Thursday and Friday when I guided Steve and Christopher Brown but on Saturday the rain and wind came again.
The Mataura came up about 100m but it came up clear and all the rain was at the Athol end and virtually nothing in the Waikaia catchment which is good because the river drops quicker from the Athol end than the Waikaia end. Things should be right again in a couple of days as long as it does not rain again but it does look unsettled over the next week, no sign of the long, dry summer that NIWA has predicted yet.
There have been some good hatches here and there though and Steve and Chris got into the tail of a big one on Thursday which was a lot of fun, Christopher is a young keen fisherman and he hooked a few on the dry and really got amongst them on the nymph. He hooked a seriously big trout that was cruising around a foamline on a beetle, it was quite spectacular to watch as the trout rose slowly with its mouth wide open to take the beetle, unfortuntely the trout took off into the hard water and that was the end of that.
The nymphing was good and we had a lot of success on a darker brown nymph than the usual hare's ear dubbing that I normally use, it is tied exactly the same as the gold ribbed hare's ear that I tie with the 2mm black tungsten. They may have taken my usual nymph just as well but I just had a feeling they liked the darker one better. I will experiment with them and if they work consistantly I will post a photo of it.
There were some very good hatches around the Gore area on Saturday but my spies tell me that they were very difficult to catch, the trout were apparently feeding on nymphs just under the surface and not on the duns. I don't want to mention the weather again but it has got to come right sometime.
Tight lines
David
---
26 November 2012
The same conditions prevailed on the Mataura this week as the last couple of weeks, rain on Sunday put it out and it was Thursday evening before I caught several smaller trout swinging a wee wet. So mid week Mike Dennis and I decided to revisit the sea-runners in the Mataura estuary, we caught 7/8 and several others that whacked the fly but came off.
We caught nothing big, the biggest wouldn't have made 4lbs but they were a lot of fun on light fly tackle. Mike and I had made a pact, no more spinning gear, only fly rods and flies and afterwards we had a sneaking suspicion that the flies worked better than the spinners anyway. We are going to have another go this week so we have been tying up some larger flies just for harling, these flies are probably not great for casting but harled at slow speed they should work. I remember catching trout, rowing a dingy around the edges on Lake Taupo with a parson's glory wafting up and down behind me.
The Mataura had dropped a lot by Saturday and the colour was better which was good as I was guiding Nic Copeman. We started the day in the Mataura and we were pleasantly surprised by the amount of trout that we saw rising. Nic who has not done any dry fly was a bit quick on the first few and the one he did hook well came off with the fly still in its mouth and there was some discussion as to the guides knot tying abilities!
In the afternoon we went to a small local stream and Nic didn't miss a one and we had a lot of fun catching beautiful, small but very strong trout on beetle patterns so the trout are obviously locked into beetles when they see one. Small streams like this are an absolute delight to fish, Nic just slowly fished upstream, casting along grassy banks blind and targeting a rise when he saw one, I'd rather do this than battle the crowds on an Oreti any day of the week. In fact considering that it was Saturday, we never saw another angler anywhere all day.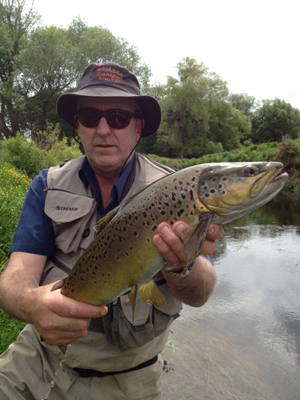 The Mataura is dropping fast and there don't seem to be any bad weather situations in the next week so maybe aside from a few showers and wind sometimes we can hope for summer days.
Tight lines
David
---
19 November 2012
Well this week was a re run of last week, the river went out again on the Monday and was starting to be fishable on Friday and Saturday but rain in the headwaters has put it out today, Sunday. Everything was starting to drop up Cattle Flat/ Wakaia way by Sunday lunchtime so it may drop back again quite quickly. The weather really does look settled for the next ten days so NIWA's forecast of a hot, dry summer may be starting, we can only hope as it has been a dreadful start to the season.
On Fiday evening and Saturday I managed to get some trout on Stewart spiders, you can see one sitting on the cheek of the small sea-run but nothing rose where I was. Graeme who was further up near Gore got a couple that were rising on an #18 aero emerger and some on nymphs. I see that the brown beetles are about, there was a bunch of them around an outside light at home the other night,they usually start about halfway through November.
I have started tying my spiders on Kamasan #14 B175 hooks, they have a wider gape than the TMC #16 100's, they are a wee bit heavier but shorter in the shank than the 100's, plus the spider just looks better on them. I have also stopped using the partridge hackle and I am now using starling hackle, the body is the same dubbed hare's ear but I just like the look better and with no concrete evidence I feel I am hooking more trout on them.
Anyway, enough about my piddly wee fish, have a look at this rainbow that was hooked and and landed in a combined effort by Lindsay Withington and Michael Hartstonge and amazingly the same trout had been caught in the same pool a week before by Daryl Paskell! It is quite a story and if you want to read about it, go to www.flyshop.co.nz go into the Forums, go to Articles and click on "Fish of a Lifetime".
Tight lines
David
---
12 November 2012
It was another tough week weather wise on the Mataura and I didn't get to fish it until Friday evening when I went down to a pool below my house, I took a photo of it just before the evening set in. It is a lovely evening pool for the dryfly but I fished a wee wet as there was a splashy, sparse rise to caddis and a swung soft hackle is the best way to take pupa feeding trout on the Mataura. They were not difficult and three of them were sea-run like the one in the photo with my rod, not big trout but into my backing in a flash, this size is typical of the ones you catch in the Mataura although you can catch them much bigger.
The Mataura was in better shape on Saturday and I thought there would be a good rise but the ripple I picked out had mayflies hatching from about 2.30pm but nothing was rising to them. I put a #16 beadhead Hare's ear nymph on and hooked four but not a one stayed on, I felt weight, a wriggle and they were gone, I don't know what I was doing wrong. Graeme who was not far up the river from me had hatching mayflies and rising trout from about 1.30-3.30pm and he caught a heap of trout, you can always tell his trout from mine in the photos, I have the Ross Evolution reel and he has the Lamsen Lightspeed.
I took Ralph out on Saturday evening, I had been giving him casting lessons on the lawn but this was his first time in the river, I caught three on a soft hackle and gave him my rod so he could get the feel of a fish on, he broke the first one off but he got the hang of it with the next two. Then I let him go on his own, casting across and down and he got two in short order before it got too dark, he was chuffed, there is a photo of him with his first one on the fly.
I have put up a couple of shots of a method of tying an extra hook which is hidden in the tail of a streamer fly, it was shown to me by a Danish friend. It is a technique that they use to hook sea-run trout that are inclined to come short and just hit the tail of streamer flies, the smaller hook is attached with 8lb tippet and he asures me it works. I havn't tried it yet but I am going to as often when sea-run fishing I can feel bumps and short takes so I have tied up several of the Grey Fred with the trailing hook, see photo and I will let you know how they go.
The bad news is right now the Mataura is going up at Cattle Flat and the Waikaia is going up at Piano Flat so after looking good this weekend the Mataura may not be too flash tomorrow.
Tight lines
David
---
5 November 2012
The Mataura sort of came right early in the week for evening fishing but it was no good during the day, then over the last few days it has gone out again but at 1200mm odd at Wyndham and if there is not much more rain, it may be OK in a few more days.
I had a couple of good evenings in a long, slow pool below my house early in the week before the last lot of rain came. I love fishing soft hackle flies in the evening, it is a relaxing way to fish, it is how I learnt to fish as a kid and I love the tug when a trout hits and it takes me back to that time. None of the trout were very big and I doubt that any would have got anywhere near 2lbs but they were strong and in great condition, I didn't take any photos as the light was bad.
I was using the spider patterns that are in the two fly photos, these flies are deadly on the Mataura in the evenings and they are patterns devised by W C Stewart 150 years ago. They are just so easy to tie, I tie them on #16 and #14, I won't go into the detail now but if you are interested just google W. C. Stewart and spider patterns. The Mataura trout can be difficult in the evening but if you swing a wee wet through them you can have a lot of fun so I rarely fish a dry in the evening, I much prefer to do my dry fly during the day. As I said it is very relaxing, I don't have to concentrate on trying to see my fly in the half light, I can enjoy the sunset and my surroundings and wait for the trout to do the rest.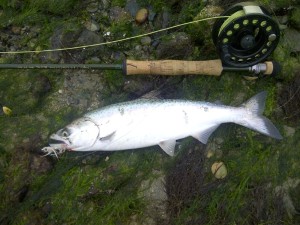 The salmon in the photo was caught in the Riverton estary by Jarred Martin and you can see the interesting fly he took it with if you look closely, he says it was a salmon and as I have never caught a salmon in my life I can't comment but several of my mates agree with him while others say it is a Kahawai. I caught a Kahawai there myself a few weeks ago and I thought that mine was a lot greener and not as silvery as Jarred's fish so I will let you decide.
While we are having this awful weather now, the met service people still maintain we are in for a dry summer so a bit of water in the rivers now may be good for later.
Tight lines
David
---
29 October 2012
It was another tough week, I didn't fish anywhere, although most everything was coming down it was still too high for fishing, besides the strong winds and heavy showers made for unpleasant conditions so I stayed at home and racked up brownie points. I thought about the Mataura today but the wind got up and that put an end to that, it was probably still too high anyway but the forecast looks much better for tomorrow so I may have a wee look somewhere.
Graeme braved a cool wind on a small tributary of the Mataura and he picked up some of the trout in the photos in the afternoon on a #16 pheasant tail nymph as nothing rose which was surprising given that there was a cool SW blowing. He went back in the early evening to the same place and he said they were rising everywhere and they freely took an #18 Aero emerger but it was all over by 8.30pm. He tried to get a closeup of the fly in the mouth of a couple of the trout but there is a good shot of this fly in the 20 Sept. blog if you want a clearer view.
October has been a dreadful month but I have a feeling the pattern may have changed, it looks good for the next week although there could be a bit of rain Thursday night and Friday morning. Everthing is coming down and with the high country waters opening on Saturday a nice spell of weather would be great.
Tight lines
David
---
21 October 2012
Well the weather goes from bad to worse, everything was trending down yesterday and we had a couple of small streams in our sights for today but the heavy general rain last night put paid too that Everything was up again this morning although a few places are starting to come down now but last week I did not fish anywhere, even our sea-run spots were affected by dirty water. This coming week does not look much better, I am working on the theory that it is better to get all this crappy weather out of the way now than later, we shall see.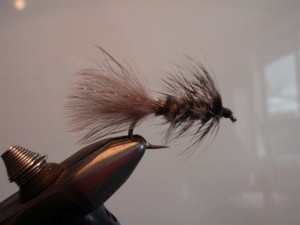 Something we used to do a few years ago, in fact it was last century, was when we had conditions like this when everything was out, was to head up to the Oreti walk zone, or the next few accesses down and fish big cone head streamers across and down. Ron Granneman showed me this technique and it really worked, I havn't done it since then because casting these big, heavy streamers was not my idea of fun but probably everyone does it now. Ron would cast across the river on about a 45 degree downstream, then give the fly three sharp pulls, then without releasing any line he would move his hand down to the first guide and then repeat the three sharp tugs. He would do this until the line had swung right across the river or it felt as though the fly had been hit by a steam train.
It was actially quite difficult to find the perfect conditions because even when we were crossing the Lumsden bridge and the Oreti was dirty with branches coming down it was never the really dirty conditions we wanted up in the C/R zone. Sometimes we even ended up fishing with dries but the lesson is that big heavy streamers work up there if you are having trouble finding somewhere to fish in dirty conditions.
Someone asked me for the instructions on how to tie the grey woolly bugger that I had up on the last blog, if you google "The Grey Fred" you will find some very good step by step instructions there, thanks Jim. It is actually a Danish sea-trout fly and they tie it with eyes and a head, I don't bother with the head but the instructions are the best and easiest I have seen for a standard woolly bugger. My sea-run version is tied on a #2 Kamasan B175 hook but the same fly tied on #10 and #12 with a small bead head is deadly, tie it in olive for a damsel fly imitation and in brown its a great dragonfly nymph pattern.
Lets hope the weather gets better.
Tight lines
David
---
15 October 2012
This week was no better than last, the river was just starting to clear up when we had the heaviest period of rain we have had for some time in Southland. Everything is out again although most waters are coming down fast but the weather looks unsettled to say the least towards the end of the week.
I got a couple of afternoons with rising trout on the Mataura but the hatches were of short duration and all the trout were small, about a pound and a half, the brown in the photo was the biggest. He was footling in ankle deep water and took an #18 aero emerger, it was the only fly I used.
I had two days chasing sea-run trout with my mate Mike Dennis but all we got was a bump each one afternoon at Riverton. The tides were very small and maybe that was the problem, the more we learn about these moody, enigmatic and ghostly fish is that big tides, early morning and evening going into dark tides seem to be the best. We are just getting the tide levels sorted as well, some places an hour before low tide is best and others right on the top of the tide seems to bring more activity.
Even though we didn't catch anything those couple of days we saw plenty of swirls and I saw a huge trout that bulged just like a Mataura trout taking nymphs just under the surface. I was sitting on a rock changing a fly and he rose just three meters away from me and the length from his dorsel fin to the tail indicated a seriously big sea-run.
I have included some photos of the flies that we have been using for the sea-run, all these flies have been tied on #4 B175 Kamasan hooks. I have enjoyed tying them as they make a change from the tiny, drab and nondescript flies that I tie for the Mataura. In fact this whole sea-run scene has been great fun as it is so different from our usual Mataura dry fly, I have never been salmon fishing but I think this sea-run stuff must be very simillar. We don't catch very many but when eventually you tighten up on one it is quite a thrill.
I don't know what will happen with the rivers as the weather outlook is still very unsettled which is a pity after all the lovely weather before opening but that is the way it always seems to go.
The fly tying desk and area is mine, it was a shot on my camera so I thought I would add it just for interest.
Tight lines
David
---
8 October 2012
Well it was a rough old week as far as the weather went, the Mataura stayed quite fishable all week up until the snow, rain and strong winds of Saturday, it is now 1200mm at Wyndham but should be OK in a few days. The nymphing may not be too good when it is a bit high but at this time of the year it is not hard to find rising trout about 2.30pm most days.
I had an old client and good friend Herbert Bremser here for the first five days of the season and the mission was to catch sea-runners and hit the afternoon hatches with some nymphing while waiting for the hatch. We achieved all our other goals but the nymphing was terrible, we never caught a trout on a nymph over the whole five days! Maybe it was the ripples we were in but I don't think so, we caught them on dries, and wee wets but not on dead drift nymphing.
The mayfly hatches were exellant and we hit a huge one on Wednesday in the cold and rain, there were mayflies and trout rising everywhere and Herbert got eleven on an #18 aero emerger. We caught nothing very big on the Mataura all week, 2lbs would have been the biggest with many smaller but they were fiesty wee trout and were a lot of fun, a surprising number of them were small sea-runners and they really went to town.
The larger sea-run in the photos were all taken from the shore in the tidal zones, we had one day on the boat but we had to pull the pin as the conditions were so bad as you can see from the photo of Herbert all rugged up, thank you all the same Tony. This was the Wednesday that we had the big hatch on the Mataura, we left the estuary and raced to the first sheltered piece of water we could find on the Mataura and hit the rise about 2.30pm. I know I keep repeating it but very cold, showery, SW conditions will always get mayflies hatching and trout rising on the Mataura, most months of the season.
All the Mataura trout although they were on the small side were in superb condition so things are looking good once the weather settles down.
Tight lines
David
---
1 October 2012
As I write this on Sunday the Mataura is looking good, it is 885mm at Wyndham, a good colour and if the fishing gods are with us it should fish well. The forecast is for some rain this afternoon and a SW change on Monday so we will just have to see what happens, the SW will cool things down a bit and that will help the hatches. The trout should also be in good condition as it has been a kind winter, the shot of Zane Moss is taken in the Aparima just recently during one of their surveys, Zane said the trout were in good nick.
I hear fishermen say that October is not a good month for mayfly hatches but that is because there is usually snowmelt, mayflies don't like snowmelt and the river can be high. But as I said before, it is at a good level and there is very little snowmelt, in my riverbank walks of the last week there has been quite a lot of mayfly activity around what is now daylight saving 2.00pm.
The sea-runs are still holding their fascination for us and we have been picking a few up here and there. I notice that more and more fishermen are starting to chase them and this is good because it will help us learn more about them as I think they are a huge and under utilised resource in Southland. Tying flies for them has been a lot of fun especially compared with tying Mataura flies which as a general rule are fairly simple and nondescript things. Look at the lovely articulated smelt fly tied by Jarred Martin to take this nice sea-run, I love the look of the eyes on these flies as well. I am probably behind the times but I have just got on to these "Fish skulls", Jarred has used one on his articulated fly, I think they are great, much better than bead heads and I have ordered some.
In the other photo you can see a fly that Michael Hartstonge uses, you can also see a comparison between a true sea-runner and what Michael calls an esturine trout. Look at the trout that Jarred caught and also the silver one I caught on Saturday and then look at the trout that Graeme and I caught when we were after sea-runs and you can see the other end of the spectrum, all these trout were caught in tidal water.
Good luck to everyone for the coming season.
Tight lines
David
---
20 September 2012
Someone asked me, now that the photos on the blog can be enlarged, if I could put up the flies we use so that they can be seen more clearly. So these are the flies I use when I am guiding and fishing on my own on the lower Mataura, they cover all the stages of the mayfly life cycle and if anyone is interested they can be bought from me or at Shooter's World in Gore. They work, otherwise I would be out of business and they are very durable.
I call this fly an Aero emerger, it used to be called a CDC emerger but last season I stopped using CDC on this fly and started using a material called Aerodrywing, it is lighter than water and when treated with floatant it will float all day. This material solved a lot of the problems associated with CDC, it is not affected by rain, you don't have to keep treating it after each trout and you know it is still floating out there in the half dark of an evening. It was hard to change materials as I had been tying this fly for 15 years with the CDC but I am now convinced that the aerodrywing is far superior. The origins of this fly came from a shuttlecock style CDC fly that Daniel Agar used to tie, he tied his CDC in the horizontal, his fly worked but it was hard to see so I lifted the wing from the horizontal and clipped the wee shoulder. Fish this fly through a dun hatch or to a rising trout, wet the body and only put floatant on the wing and shoulder so that the wet body sinks into the surface film.
This fly is called an Aero Dun, it also was tied with CDC wings by an old Japanese friend of mine, his fly worked well but it was a bugger to tie. So when I changed from CDC to Aerodrywing on the Aero emerger I thought why not try the same material on this fly instead of the CDC and it worked well, it is easier to tie and far more durable. My Japanese friend was convinced as well and it was the only fly he used on the lower Mataura last Nov/Dec, this is a Dun imitation so put floatant on the wing and the body.
After the success of the Aero Dun I started looking at my Upright spinner imitation which was tied as a traditional dry fly, if you looked at it you would call it an Owaka. So I tied it exactly the same as the Aero Dun except that I kept the white wings of the Owaka which makes it easy to see and the blood red body which is essential for any spinner imitation on the lower Mataura. I prefer the Upright spinner version as verses the spent as it is easier to see and also the spinners on the Mataura tend to stay upright for a long time anyway. Put floatant on the wing and body and fish to a spinner fall and in the evening if spinners are around. Graeme Clearwater and several others had great success with it last season.
This fly was shown to me by a Dunedin angler years ago, I never knew his name so that is why we have always called it the Dunedin Dun, it really is just a floating nymph as it has no weight. During a dun hatch it may look as though the trout are taking off the top but if you look closely sometimes they are feeding on the nymphs just below the surface. I fish it with no floatant but some people put a wee bit on, it is hard to see but if you see a boil anywhere near where you think your fly is just tighten up. Some people just trail it a few cms below their dry and it will work when the trout are ignoring the other emerger pattens.
This fly is called a Quill emerger and works well in conjuction with the other emerger styles, it pays to try say an Aero emerger first but if it doesn't work try the Quill emerger or one of the others and you will find that one will work but it may be quite different the next day. This fly uses a lot of CDC so don't use floatant, give it a squeeze dry and touch it up with the quaintly named "Frog's Fanny". It sits low in the water and the trailing CDC feathers imitate the trailing shuck of a crippled dun or emerger.
The bead head nymph is really just a Gold ribbed hare's ear, it is tied on a small hook with a large gape which is good for hooking, the fly itself is quite small but with the tungsten bead it sinks quickly. As we only nymph the knee deep ripples the nymph doesn't have to sink far and I prefer the smaller size as it is more like the natural, I like them tied roughly as this gives the nymph an emerger/ cripple style look.
Wee wet flies were once the main style of fly in use on the lower Mataura but have been superceded by modern nymphing methods. I learned to fish as a kid by swinging a wee wet through the ripples or through rising trout in the evening and I love the tug you get when a trout takes. Wee wets are very effective fished in the evening, especially if there is what looks like a poor rise with only a few splashy rises. This is a sign that the trout are on caddis and a wee wet fished across and down can be quite deadly.
The brown beetle is great on the small streams from mid November on when the beetle flights start but the Mataura trout are on the lookout for them too. I often have clients who don't want to nymph so I get them to go through a Mataura ripple fishing a beetle blind, it is a lot of fun as a head will suddenly appear as if from nowhere and engulf the beetle pattern. Put floatant all over the fly and the pink wingpost is very easy to follow.
Tight lines
David
---
17 September 2012
It has been a terrible week with rain, snow and the bad weather finally did arrive but there is just under a couple of weeks to opening so if we don't get to much more it might be OK. The snow is not lying in big dumps so a couple of days of warm nor-westers could burn a lot of it off. All the major rivers are very high so that has put a stop to our sea-run forays as the tidal areas are just dirty water and debris.
Now that we can blow the pictures on the blog up to a bigger size someone asked me if I could re do some shots of my Mataura flies so they could have a closer look at them. So at the moment I am trying to remember how to do my macro shots and I will put them up as soon as I get that sorted.
Tight lines
David
---
10 September 2012
We have been chasing the sea-runs when tide and conditions permit, these sea-runs were caught harling smelt imitations down at Fortrose. We had a go off the shore on Saturday but the NW was just too strong so we gave up, I think we have yet to work out whether it is best on an incoming tide or maybe an hour before low tide. An hour before low tide means that they are at least confined to the channel, after that they start to spread all over the place and the best way to catch then then is from a boat.
The rains finally came and put a good fresh through the Mataura and there will be further rain but hopefully we don't get any really adverse weather events before the 1st of October.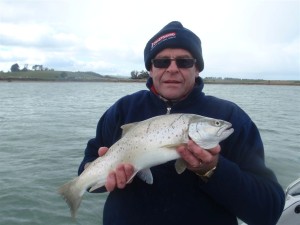 Tight lines
David
---
3 September 2012
We have just had a couple of days of very enjoyable fishing, chasing sea-run trout in the Riverton area and the weather was perfect with not a breath of wind. If you look at the photos, which by the way if you click on them they will enlarge, some of you will be able to work out exactly where we were.
We didn't catch anything really big, I think the biggest was 4lbs but they will get bigger as the whitebait start moving, this season they have been a bit slow according to whitebaiters we spoke to. We kept a few because they are such good eating, you can see the red colour of their flesh in one of the photos but there were no whitebait in their stomachs just lots of silveries. I included one shot of a resident brown which we kept as it was bleeding and a sea-run and you can see the difference between the types. The sea-runs are very silver with maybe only one spot on their gill plates, the spots on their sides are like crosses and they have an iridessant blue on their gill plates.
We have been trying lots of smelt type flies but we have been most successful with Olive woolley buggers tied on a #12 long shank, I would have thought the smelts would be better but it is always the trout who decide. Because of the lack of wind the water was dead calm everywhere and it was fun to look for the swirls of feeding trout and then cast to them instead of just fishing blind.
We went after flounders below the Riverton bridge on the Saturday night but only got one, it was a big tide and a full moon which might have made some difference. We have been using these new solinoid lights which come on we they are put under the water and go off when removed so it is a luxury not to have to carry or tow batteries. I will have another go down at Fortrose when there are some good tides next week.
I don't know how long this weather can continue, I'd like a change now and get it over with so it doesn't interfere with the opening of fishing or the lambing.
Tight lines
David
---
31 August 2012
I was in Gisborne in June, the season up there finishes on the 30th of June and an old fishing friend suggested a day on the Ruakituri, the Ruakituri was one of my home rivers when I lived in the area so I jumped at the chance. It is a superb river carrying a good head of browns and rainbows but it was a wee bit full this day so the fishing was difficult but we managed several trout, they were all taken on nymphs although I did see the odd splashy rise over the day.
One of the main features of the Ruakituri are the rocks, some are the size of a small house so it is not like strolling along the grassy banks of the Mataura. My friend had just bought one of these tools for attaching indicators to your leader, he was already set up so he asked me to try it, I thought it was good, the indicator material floated all day and was easy to see. I also thought they were a wee bit expensive for what they were and I thought I would stick to attaching indicators with a slip not until another fishing friend gave me some made out of a brass pin. He just makes a hook in one end of the pin and a ring in the other with a swivel and hooks it on to a zinger, its an awful lot cheaper.
Yesterday I went down to the mouth of the Mataura right where the sea comes in, I hit it just as the tide was coming in, I thought I might pick up a sea-run or two but I touched nothing. The only thing aside from the whitebaiters was a rather large sea lion, maybe the sea-runs were keeping out of his way.
The beautiful weather is still holding on, I really would like to see some rain, better now than in a months time.
Tight lines
David
---
27 August 2012
The weather has been fantastic, it has probably been one of the driest and mildest winters on record, the Mataura was at about 700mm at Wyndham a few days ago and that is a summer level. If we don't get too much rain over September, October will be great as there is very little snow in the back country either but as we all know it will probably stay perfect until the 30th of September and then lookout! There have only been two other occasions over the last ten years when the Mataura was in perfect condition during October and the dryfly fishing was fantastic, usually it has been up or full of snowmelt so lets just keep our fingers crossed.
We are starting to target sea-runs this month, the ones in the photos were taken down at Fortrose on 70mm Berkley 3B Walking Stick lures, these lures are new in the shops this season. I have got some of these new silocone smelt flies from Hamils and I will also be trying some of Stu Tripney's smelt flies with the big eyes.
Graeme and I had a go at Riverton yesterday but we touched nothing except a small Kahawai that I hooked on an X-Rap lure. The sea-run fishing should really come right over September and hopefully conditions are good for trout in October. I have checked out a few pools in the Mataura and there has been some mayfly activity but not as much as I had expected but then it has been warmer than usual and the wind has been from the east most days.
Tight lines David
---
24 August 2012
During the winter I lost my very good friend and Fishing buddy Peter Lenihan who died in July, Peter and I met on the banks of the Mataura years ago and over time became firm friends. We mainly fished the lower Mataura and the upper reaches of the south branch of the Maraewhenua.
I will miss his pleasant company and dry wit as we spent many an hour just sitting on the river bank and solving the problems of the world. Over the last week or so I have taken to walking the banks of certain pools looking for trout and mayfly activity and as I do I remember places where he caught a good fish and his amusing comments somewhere else when I mucked one up. So I am grateful that I will always have memories of Peter whenever I am on the river.
So tight lines Peter and I will catch a few for you this season.
David
---
From now on this blog's images will be clickable for a larger view.